NHL Playoffs 2011 Power Rankings: 10 Players Who Got in Their Opponents' Heads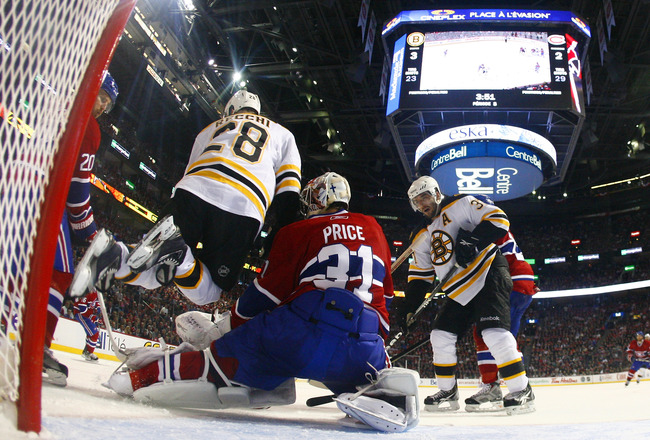 Phillip MacCallum/Getty Images
During the postseason, so often, there are certain players in each series that really stands out as making the biggest impact on the route the series takes.
Whether it's a stellar goaltender who is standing on his head to make impossible saves, or that one winger who can't seem to do wrong when the puck hits the tape on his stick, there are so many individuals who contribute, but who has really stood out so far?
Here is a list of the 10 players who have really worked their way into their opponents' head in a way that in one way or another makes them a series standout.
10. Eric Brewer: Tampa Bay Lightning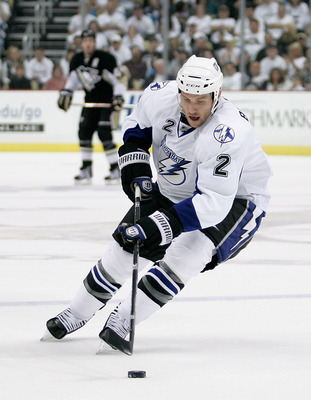 Justin K. Aller/Getty Images
To jump start our list, we begin with Eric Brewer, a defenseman from the Tampa Bay Lightning, who is currently leading his team in points with four, including a single goal and three assists.
The Lightning are currently facing off against the Pittsburgh Penguins, a team that is fighting without their two main point producers—Sidney Crosby and Evgeni Malkin. Brewer has tallied an impressive three assists against the Penguins and seems to dominate every single time that he has the time to make a play with the puck.
9. Henrik Sedin: Vancouver Canucks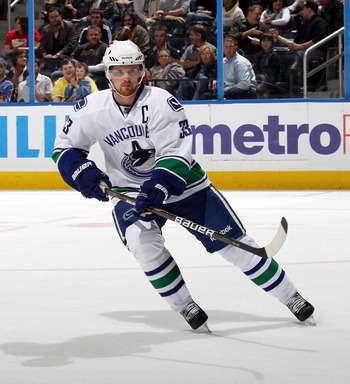 Bruce Bennett/Getty Images
There isn't much of a surprise that at least one of the Sedin twins has managed to wiggle into the Chicago Blackhawks' head, considering this partnership of brothers is one of the most lethal in the league.
Captain Henrik Sedin has yet to score a goal in the playoffs, however has assisted on an impressive four goals for the Canucks. Henrik Sedin, the former Hart Trophy Winner, has proven that you do not want to give him any space because he will make you really regret that. Henrik might not be the one getting credit for the goals, but these goals are tracing back to him on some level because he's tallying the credit for the helpers.
8. Daniel Sedin: Vancouver Canucks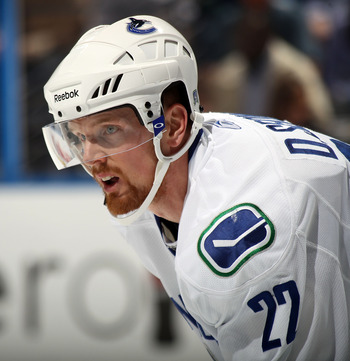 Bruce Bennett/Getty Images
Daniel Sedin is currently leading the Canucks in points, goals, +/- rating, power-play goals and game-winning goals and is tied for the league lead in points.
This Sedin twin is on the other side of the story with three goals and two assists, adding up to five points. Daniel's name is more often the one that gets the glory of scoring the goal, however, he also has a few assists, so he's almost twice as lethal considering you can't let him ever touch the puck because he's dangerous if he shoots or if he has a passing lane.
7. Drew Doughty: Los Angles Kings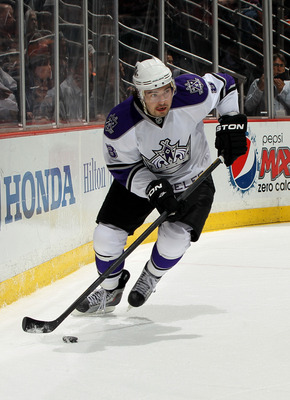 Stephen Dunn/Getty Images
The young Drew Doughty might not be the most likely candidate for this sort of list, but considering he is leading the Kings in points with four, split evenly between goals and assists, he's absolutely been a bit of a thorn in the Sharks' side.
Doughty, along with Brewer, is the second defender to lead his respective team in points, and he's also leading the LA Kings in goals with two. Doughty might not have the most showstopping numbers, but this young defender has been the one consistent player to break through San Jose and find the net or find the right pass to make. Impressive for a 21-year-old.
6. Teemu Selanne: Anaheim Ducks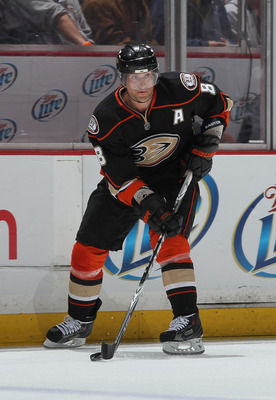 Jeff Gross/Getty Images
Teemu Selanne is currently leading the league in playoff goals with a total of four in three games, so there is not much of a surprise that he made his way onto this list and onto the radar of most Nashville Predators players.
You could argue that he's just constantly in the right place at the right time, but there is so much more to it than that. Yes, he's playing with fellow Finn, Saku Koivu, with who, he has some pretty surreal chemistry with, but on top of it all, Teemu really sees shots that most players don't even dare to take, and he scores on them.
And, in case you haven't heard, he's 40-years-old, but no one tell him that because I don't think he even knows.
5. Mike Fisher: Nashville Predators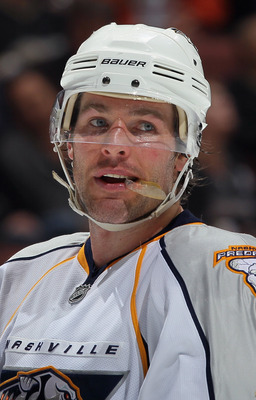 Jeff Gross/Getty Images
On the flip side from Teemu Selanne is the Nashville Predator that has completely preyed upon the Anaheim Ducks' defense, and that's Mike Fisher, more commonly known in most households as country superstar, Carrie Underwood's husband.
Fisher has tallied an impressive three goals and two assists totaling five points so far in the postseason. For a player that tallied less than .45 points per game during the regular season, the 1.67 average points per game that he has posted in the playoffs has absolutely put him in the Ducks' line of sight.
4. Michal Neuvirth: Washington Capitals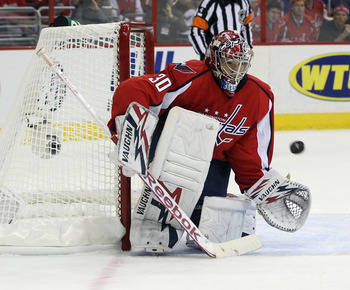 Bruce Bennett/Getty Images
Michal Neuvirth has been a pretty impressive rock between the pipes for the Washington Capitals and has posted some very impressive numbers including a 1.22 goals against average in the postseason and a .951 save percentage.
When you have a goaltender who seems to be completely unbeatable between the pipes, it starts to weigh in on the opposing team, and it really starts to get frustrating. The Rangers have lobbed a total of 82 shots against Neuvirth, and he has fought off 78 of those, making him our first goaltender to get on his opponents' nerves.
3. Pekka Rinne: Nashville Predators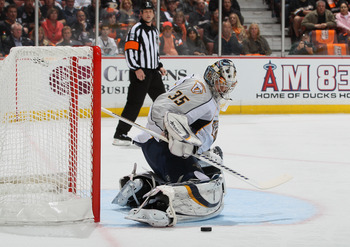 Jeff Gross/Getty Images
Here's a player that has some numbers that don't really tell the whole story. Nashville goaltender, Pekka Rinne has a pretty weak .887 save percentage and a 2.70 goals-against average, so why did he make this list?
Anaheim has been coming up completely empty when trying to break through the Nashville defense, and on the off occasion they get to shoot on Rinne, he has been making some acrobatic saves look quite simple. Rinne has really been playing better than the numbers that he is sporting, but there is absolutely no doubt that he has been Anaheim's "Achille's Heel" in this postseason.
2. Carey Price: Montreal Canadiens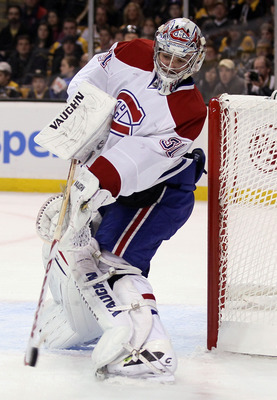 Elsa/Getty Images
Carey Price was originally put in at my No. 1 slot, however after his loss to the Bruins in Game 3, he slipped to the No. 2 spot. Price has faced a total of 90 shots against, stopping all but four of them, giving him a .956 save percentage and a 1.34 goals against average.
Price essentially carried the Canadiens to their first two wins and posted an amazing 0.50 goals against average through those first two contests. There is no doubt that it took a lot for the Bruins to try and start over and get Price out of their minds when going into Game 3, however, they managed to do just that and pull out a win.
1. Pavel Datsyuk: Detroit Red Wings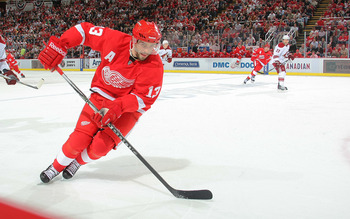 Dave Sandford/Getty Images
My No. 1 player that's getting under the skin of his opponents is Pavel Datsyuk of the Detroit Red Wings, who has absolutely become a major focus for the Phoenix Coyotes who struggled to contain Datsyuk in the first two games.
One of the key reasons that Datsyuk is tied for first in the league is postseason points with a total of five, and he's also ranked first with a plus-5 rating. Datsyuk has also proven himself to be unbelievably skilled when it comes to the stick handling and dekeing around any player that opponents throw at him.
Now it can be argued that as much as he's a fantastic player, he was held at zero points in the most recent game with Phoenix, however that just proves that the Coyotes have focused in on him and made it a clear priority to shut Pavel Datsyuk down, proving him as the No. 1 player on his opponents' mind.
Keep Reading