Kim Kardashian, NBA Playoffs 2011, Mike Leake and More Hot Swagger News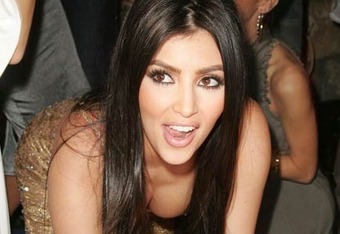 It was a strange day in and around the sports pop culture world.
First, news broke of an arrest of a millionaire athlete over $60, as well as murder charges for a tangential sports name from a while back.
But what's a day without news from the Kardashian clan.
Let's get to the bottom of these stories and many others as we buzz about:
Cincinnati Reds Pitcher Mike Leake has his mugshot in papers all over the country for making a not-so-smart decision. One thing we know is that Mr. Leake takes what he wants—even if it isn't paid for.
In slightly more serious news, Crystal Magnum, the young lady who falsely accused Duke University lacrosse players of raping her at a 2006 party where she was performing as an exotic dancer—okay, stripper—was charged with first-degree murder today.
Now for more swagger-like buzz, Kim Kardashian squashed rumors of her New York move, saying she is not leaving LA anytime soon. According to Hollywoodnews.com, Kim stated, "LA is my home and I will always live there."
Hmm, that leaves one of three possibilities for her relationship with Nets baller Kris Humphries:
A. She works a trade to one of the LA teams (she's got pull, but I don't know if she has that much sway).
B. They open up the relationship so she can have some photo ops in LA with Kanye West and/or Blake Griffin.
C. Rhymes with "break-up" (break up).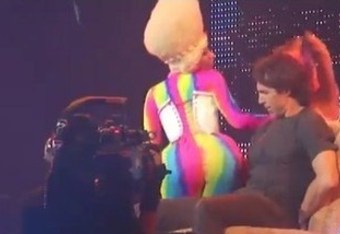 Nicki Minaj Lapdance does wonders for Chris Paul.
For those who don't know who she is, Nicki Minaj is a female rapper signed to Li'l Wayne's Young Money label. She has had hit songs like "Moment 4 Life" with Young Money label mate Drake.
A few days ago, Nicki Minaj gave All-World point guard Chris Paul of the New Orleans Hornets a lap dance on stage while performing during the "I Am Still Music" Tour in New Orleans.
Mr. Paul used that invigorating performance to upset the Lakers in the first game of their first round best of seven playoff series. Since then, the powers have run out, and Andrew Bynum is dancing all over the Hornets. (Get it? Okay, moving on.)
Well, unfortunately for the Phoenix Suns, Ms. Minaj has continued her All-Star point guard lap dance tour by giving Steve Nash his own performance days later. If only she could have done this around mid season, maybe Nash would have found a way to get the Suns into the playoffs.
According to the LA Times, Nicki is stealing the show at the ongoing concerts including the one recently in Los Angeles:
Playing material largely taken from her platinum debut, "Pink Friday," Minaj stole the show, ushering in a level of theatrics and color worthy of Cirque du Soleil. She gave an audience member a lap dance. She passed out T-shirts. Her cadences oscillated like a kite in an electrical storm. Alternately performing alongside and apart from her mentor, Lil Wayne, Minaj created her own archetype: part vamp, part Barbie doll and part character from a Prince song.
I'm hoping Minaj could get to Boston soon and help Rajon Rondo out.
On second thought, Rondo is kind of small, now sure he could handle all Nicki is bringing.
This article is
What is the duplicate article?
Why is this article offensive?
Where is this article plagiarized from?
Why is this article poorly edited?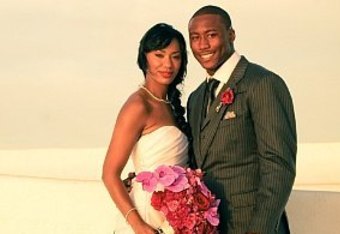 Michi Nogami-Marshall was arrested Friday on a charge of aggravated battery with a deadly weapon domestic violence.
According to several sources, Miami Dolphins receiver Brandon Marshall's wife Michi, 26, was arrested by the Broward Sheriff's Office for allegedly stabbing him. The actual charge is aggravated battery with a deadly weapon.
Marshall was admitted into the ICU of Broward General after being stabbed Friday night, but that wasn't the story that he initially told.
According to the police, Marshall said that he slipped and fell on a broken glass vase, but deputies found no blood anywhere near there.
His wife on the other hand, told deputies in the arrest report, that she stabbed Marshall with a kitchen knife in self-defense.
Domestic violence is never pretty, so the best we can hope for is that Marshall fully recovers and that the truth comes out so this sort of thing doesn't happen again.
Or even worse next time.
Marshall has been a controversial and prolific receiver since he's been in the league, this will just add to the list of stories.
Though the story broke this morning, his agent has now released a statement, according to the Sun-Sentinel:

"This is a very difficult time for Brandon and his family, thankfully he will make a full recovery. We simply ask during this time we respect his privacy," Marshall's agent, Kennard McGuire, said in a statement.
Interestingly enough, the Florida paper also points out another interesting detail about Marshall's past:
This isn't the first time Marshall suffered a serious injury during the offseason. During the 2008 offseason he suffered a bad laceration to his arm when smashing through a television set at his home.

Marshall initially said he slipped on a McDonald's wrapper but then admitted he also was involved in "horseplay" with a family member.
Let's hope he gets past this one as well. And he might want to start telling the truth as soon as the story breaks. Makes it a little easier to believe him.
This article is
What is the duplicate article?
Why is this article offensive?
Where is this article plagiarized from?
Why is this article poorly edited?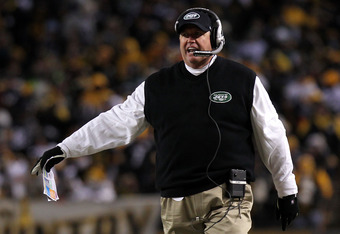 The 2011 NFL Schedule is out.
Time to see which one of the top two AFC East rivals have the upper hand in terms of winning the division.
The Jets start the season with a home game against the Dallas Cowboys on the tenth anniversary of the 9/11 tragedy. So that game should be filled with emotion, tributes and hopefully great play.
Most people assumed it would be the Giants that the Jets would be playing that day, but those two teams won't meet until Christmas Eve.
Before their bye week, the Jets play at Baltimore Ravens and at New England in back to back weeks, but then close out the first half with home games against Miami and San Diego.
The second half of the season seems considerably easier with only a visit to Philadelphia as the one game that they might not be favored.
The Patriots on the other hand end the first half with a game against the Cowboys, before going through a four game stretch after the break against Steelers, Giants, Jets and Chiefs.
The two teams meet on October 9th in New England and then November 13th in East Rutherford, New Jersey.
At first glance I would say that the Jets have the inside track to grab the AFC East as far as schedules go.
For the full schedules go to NFL.com
This article is
What is the duplicate article?
Why is this article offensive?
Where is this article plagiarized from?
Why is this article poorly edited?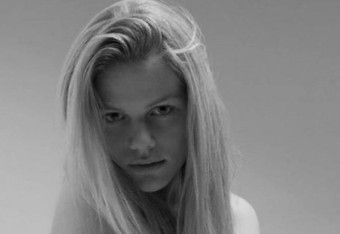 Brooklyn Decker nude pics are awesome.
I'm sure Mrs. Roddick heard all the talk. Kate Upton is doing the "dougie", Kate Upton is at the Clippers Game, Kate Upton can solve the budget crisis.
But what about Brooklyn Decker?
She was the hot SI model with a link to sports long before Kate Upton was dancing and singing like an angel and pulling our attention from Blake Griffin's harassment of the rim.
So what does she do to steer the conversation back towards her?
Well she got with a famous photographer and she did what anyone who looked like her would do to stop the internet from functioning, she posed nude.
Of course since I am kind of fond of my job, I won't post any nude ones here.
But the good guys over at Egotastic have them. And so does Mark Squires, the photographer. I just thought I would let you know.
I know, I know... you're welcome.
This article is
What is the duplicate article?
Why is this article offensive?
Where is this article plagiarized from?
Why is this article poorly edited?
Umm, rap and basketball. Hip hop and hoops.
They go together like peanut butter and chitterlings. I have never tasted chitterlings but I hear they are nasty. So I pretty much could have said anything with it and you could get the point.
Swizz Beats seems like a cool guy. I think he did better than okay for himself by marrying Alicia Keys and he is a very well respected DJ and music producer.
But for some reason guys always want to pay homage to their favorite teams and / or players in song. Every once and a while it works, like Whiz Khalifa and his black and yellow song.
That was cool. But this minute and four seconds of my life I will never get back.
With lyrics such as "Go New York, Go New York Go!" the song goes on at least forty five seconds too long.
Full disclosure, I cheer for the Celtics. But if they did this thing, I would be ripping them as well.
I love the obligatory posing by Melo and STAT. Right as the camera is about to roll they both looked at Swizz and said what do we do?
His reply had to be "I don't know, dog. Look cool. Go with it. Do you."
Hence, the results.
I realize the comments of "hater" are coming. But come on, folks.
Am I wrong about this? No, New York, No New York, No.
This article is
What is the duplicate article?
Why is this article offensive?
Where is this article plagiarized from?
Why is this article poorly edited?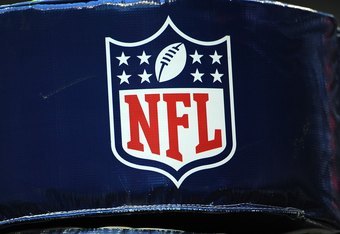 The 2011 NFL Schedule comes out today with a bunch of pomp and circumstance. Both ESPN and NFL Network are all over it. People are wondering who the Super Bowl Champion Green Bay Packers are going to play on the now traditional opening Thursday Night Matchup.
Folks are also wondering who their team will play, and when the rivalries kick in. There are also a few more key dates to keep an eye on, as The Sporting News points out:
Sunday, the 11th, marks the 10-year anniversary of the 9/11, and the thinking is that with the Giants and Jets on each other's schedule, those teams will meet in New Meadowlands Stadium as a tribute to New York City.

One other interesting note is the schedule Bucs-Bears game in London. According to the NFL, if there is no labor agreement by August 1, the game would be moved from London to Tampa.
But there is a pink elephant sitting in the corner of the room waving at everyone.
I hate to be the snickers bar in that punch bowl, but with two networks running specials on the release of the schedule, is anyone going to bring up that there might not be a season?
Here are a couple of cool pieces just in case there is no season. You can look at these over and over.
This article is
What is the duplicate article?
Why is this article offensive?
Where is this article plagiarized from?
Why is this article poorly edited?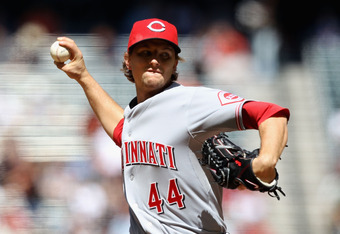 Mike Leake apologizes for getting heavy handed with Macy's property.
It's not often you can get sports fans, or people in general to agree on one thing. But I am pretty sure if you polled any group that heard the news that Reds Pitcher Mike Leake was arrested for shoplifting even though he has close to half a million dollar contract, they would most likely all have the same question to ask him... "what were you thinking?"
According to wire reports via the LA TIMES:
Cincinnati Reds pitcher Mike Leake was arrested Monday on a shoplifting charge at a Macy's store in downtown Cincinnati, accused of trying to steal six T-shirts with a total value of $59.88.
Yeah, under $60. So at least he was smart enough to hit the sale aisle.
Though the first degree felony can carry up to three months in jail, it's still a misdemeanor, so he probably won't serve any time. But the puzzling situation will stay with him for a while.
The reports continued on the say:
Leake said in a statement released by the Reds that his attorney told him not to discuss the arrest. Leake apologized to his family, to the club and to fans "for this distraction."
I would love to see what those t-shirts looked like. They had to be hot, right? No pun intended.
This article is
What is the duplicate article?
Why is this article offensive?
Where is this article plagiarized from?
Why is this article poorly edited?