Floyd Mayweather: Money May Rolls with 50 Cent to Weekend Bout and Gets Booed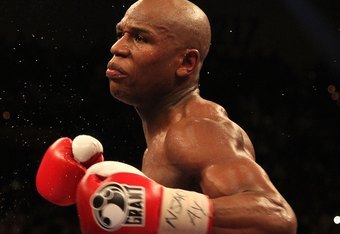 Floyd Mayweather Is Greeted with Chorus of Boos at Weekend Fight
In the battle between Manny Pacquiao and Floyd Mayweather in the court of public opinion, Manny is winning in a landslide. There is no need to go to the cards with this one. It's unanimous. Manny is the fan favorite, and Money May is fan fodder.
Professional fight ducker, Floyd Mayweather, attended this past weekend's bout. It was a WBC Welterweight clash between Andre Berto and Victor Ortiz.
Ortiz took home the title, which is a huge victory with a plethora of implications for upcoming fights. For this column, we want to concentrate on the chorus of boos that accompanied Floyd Mayweather when he was pictured on the arena's jumbo-tron.
MUST READ: 2011 NBA Mock Draft: Cheerleader Edition
Mayweather was sitting ringside with buddy and Hip-Hop star 50 Cent. As soon as his image was shown, the entire crowd let's him have it.
Rich Mazon writing for PhilBoxing.com reports from the fight.
As the action in the ring heated so was the booing and the jeering Mayweather received whenever he was shown in the screens here. Shout of "Stop running Floyd." were heard from the very animated crowd. He was shown again the period between the eight and ninth rounds and the boos became louder and louder from the crowd watching the fight. This was followed by chants of "Fight Manny, Fight Manny, Fight Manny." Mayweather was smiling as the cameras beamed on him seemingly mindless of the disapproval shown to him by the crowd. Mayweather and 50 cent left with their entourage at the end of the fight without even waiting for the announcement of the winner. They were escorted by a group of bodyguards and also with continued boos from the crowd as they exited the arena.
Floyd Mayweather can no longer continue this charade. He has placed a higher degree of testing on Manny Pacquiao for their hypothetical fight. Testing that is above and beyond what is asked by the sport.
His demands have been greeted by the public with complete disdain. The man that wants to be considered as the best of all-time will be known as a coward if he keeps this up. The message from fans is being read loud and clear, fight Many Pacquiao.
I am but the messenger, but I agree with the sentiment. The time is running out for Floyd to salvage his image. If the fight never occurs, this will go down as the biggest duck job in history.
Win or lose, Mayweather gets a whole lot more respect in fighting Manny than he does by just boxing stiffs.

Most recent updates:
This article is
What is the duplicate article?
Why is this article offensive?
Where is this article plagiarized from?
Why is this article poorly edited?