Skylar Diggins: Lil Wayne Gets Poetic About Feelings for Skylar Diggins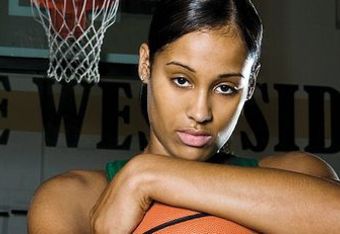 Skylar Diggins Has A Big Time Admirer in Lil' Wayne
It is nice to be admired.
I once had a dog that would frequently attempt to get down and dirty on my leg. That is as close as I have gotten to procuring a fan base. I will take it.
Skylar Diggins has an actual human fan base. One of her biggest fans happens to be one of the biggest names in Hip-Hop, Lil' Wayne.
Lil' Wayne is completely taken with the Notre Dame star guard. He has tweeted all about it. Weezy even took to the stage recently rocking a number four Notre Dame jersey. That would be a Skylar Diggins jersey if you needed your hand held.
MUST READ: 2011 NBA Mock Draft: Cheerleader Edition
Well Lil' Weezy has some more words for the lovely Skylar. He was on tour in Indiana recently. That is where the rapper took the time to make a video to officially thwart rumors that he was dating his stylist.
You can view the video at Rap-Up.com. In the video, Lil' Wayne does well to clear once and for all the relationship that he has with Marissa Torres. He states the she is the reason he looks so fly, and that she is merely his stylist and not his girlfriend.
That brought Lil' Wayne to perhaps the real reason for making the video, a shout out to Skylar Diggins. At the minute mark in the video, Lil' Wayne simply states, "I'm in Indiana, looking for Skylar Diggins."
That is when we are transported to Weezy doing his thing on stage wearing Skylar's jersey.
Diggins is the biggest name in women's basketball right now. Much of that is thanks to the popularity she has received from the Hip-hop world. She really should send Lil' Wayne a gift basket of some sort.
However, if he is still on this Skylar kick in a few weeks, I may have to downgrade the affection from adorable pully love to creepy stalker. There is a fine line between love and overbearing crush. That is why I had to keep a water hose near for my over zealous dog.
Most recent updates:
This article is
What is the duplicate article?
Why is this article offensive?
Where is this article plagiarized from?
Why is this article poorly edited?