NFL Draft 2011: The Top 10 Prospects from the Big Ten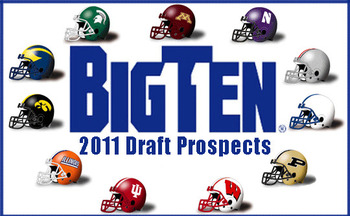 Don't ya just love the Big 10?
Some of the best college football comes from within the Big 10 and it just so happens that some of the best NFL players also emerge from the storied conference.
But whether you're a fan of the classic Ann Arbor rivalry between Michigan and Ohio State, or just have an affinity towards the classic Penn State-Iowa match-up, the real excitement comes in April when we get to see where these kids will wind up in the NFL.
The NFL is no stranger to the Big 10, of course. Current players such as Drew Brees, Charles Woodson and Tom Brady are just a small sample of the 100-plus Big 10 players who have come along and made football what it is today.
So, with that said, I thought we would take a look at the 2011 Top 10 Prospects from the Big Ten. We'll take a snap shot look at each player mentioned and who he could wind up playing for in 2011.
One caveat to add here: I will simply choose one player from each school who is either ranked the best player out of that institution, or whom I feel is the best offered (otherwise there would only be five or six schools mentioned here and I want to be fair, ya know.)
So here we go!
J.J. Watt, DE, Wisconsin: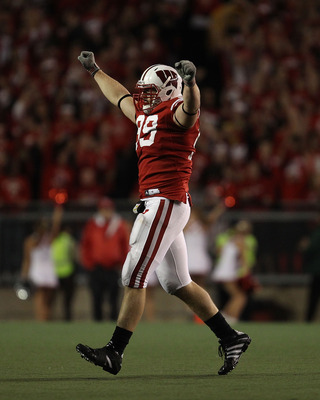 Jonathan Daniel/Getty Images
Great bull-rusher and outside pass rusher who can use his athleticism to get around multiple defenders.
Has enough agility and speed to defend against the run vertically and laterally.
Low center of gravity provides great leverage, but a little vulnerability to being double teamed.
Needs to focus on simple strength building to compete in the pros.
Has good ability to play out of both "true 4' defense and 3-4.
Projected Team: Jaguars.
Ryan Kerrigan, DE, Purdue: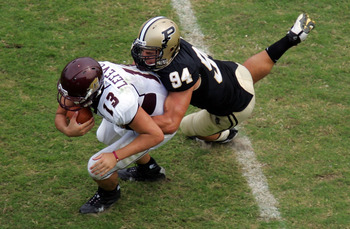 Ronald Martinez/Getty Images
Excellent power rusher who forces himself upon the defender. Often gets "taken" back into the pocket.
Has exceptional height and reach which makes up for a lack of closing speed at the end of a rush.
Has a genuinely high motor against the run even in the face of double teams. Won't quit the pursuit, rarely misses on tackles.
Despite lack of overall speed and line burst capabilities, Kerrigan uses height advantages to get under pads of defenders and football IQ to "get the job done."
Has enough skill sets and leadership experience to be an immediate contributor at the pro level, especially on running downs.
A true three-down end who can get to the QB and hold his own on the line even against additional defenders.
Projected Team: New England.
Adrian Clayborn, DE, Iowa: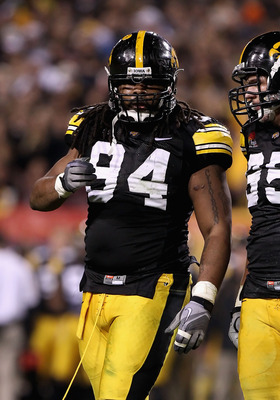 Christian Petersen/Getty Images
Incredibly aggressive end who uses a frenzy-like attack to get to the QB, even after being dealt that initial defensive blow.
Excellent run defender. keeps shoulders low and lateral, consistently uses hands during play, plays contain very well—especially useful against mobile QBs…Mike Vick anyone?—aggressive enough to penetrate third and one plays for the stop.
Wonderful closing speed, great upper body strength which he uses in tandem with low center of gravity.
A sure tackler, Clayborn is rarely beat in contact even off the tackle. Will need to adjust to heightened speed in the NFL laterally.
A bona-certified project for aggressive hybrid defenses.
Projected Team: Atlanta or Green Bay, if he falls to the end of the first round.
Corey Liuget, DT, Illinois: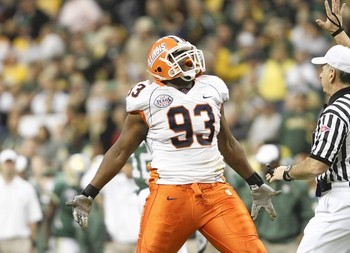 Extremely speedy pass rusher off the line who caused a lot of havoc against a lot of interior lineman during his three years of play. Getting to the QB and disrupting the play seems to come naturally to him.
Doesn't have much acceleration when in pursuit of a running back, but compensates by playing great contain. Can also use his initial burst of speed to get inside the line.
Is a player who can play multiple positions on the line. Can acclimate himself to most situations but will need some additional upper strength to handle pro level double teams.
Can change direction better than most tackles but lacks motor after 10 yards or so.
Great three and five technique players who should fare well in most 3-4 systems, especially hybrid ones where he wouldn't have to play end so much.
Projected team: New York Jets
Cameron Heyward, DE, Ohio State: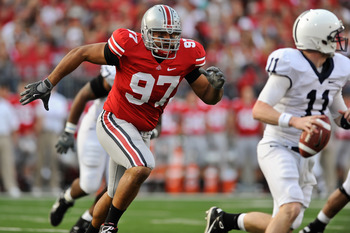 Jamie Sabau/Getty Images
A true utility player in the sense that he will cause trouble regardless of where he lines up.
Better against the run than pass—in my opinion anyway—can utilize spin moves, swath techniques and lateral pursuit to contain ground game. Keeps eyes a little too forward focused which contributes to susceptibility to being knocked down but can recover quickly.
Not a flashy guy sizewise but can be huge trouble for slower lineman, and teams who struggle to defend the QB.
Excellent fundamental tackler; always follows through.
Perfect fit for any team in need of a run oriented end.
Projected Team: Cincinnati
Stephen Wisniewski, C, Penn State: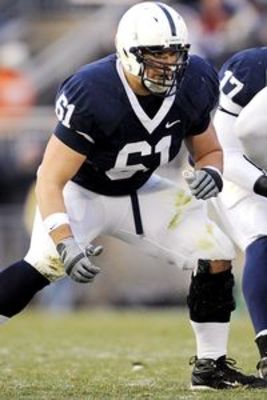 Solid pass blocker off the line, rarely get knocked out of play.
Has solid leverage and plays very good physical technique which is a plus.
Keeps defender in front of him when blocking for the run. Won't over power defender, but rather uses his smarts to open the play.
Great assignment and positional blocker who can also be used on pulling plays.
Can be an immediate impact player for just about any team with a quality back and a QB in need of a sure handed center.
Projected Team: Oakland
Greg Jones, ILB, Michigan State: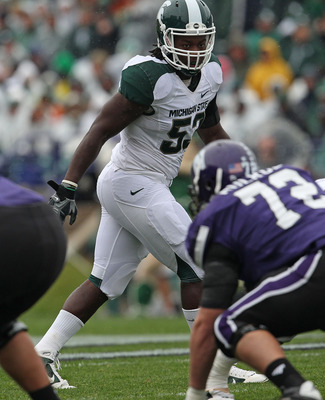 Jonathan Daniel/Getty Images
Quality backer off the line who can react to play, while disrupting action at the line. A solid pass defender, especially against slot receivers.
Doesn't possess great size as a run blocker but can actually use lack of presence to penetrate line and traffic. A better backer against the run on the outside, rather than in the box.
An elite tackler who has exceptional motor when getter after players.
A true play maker who can also be highly effective on the blitz with speed and ability to "get lost" in QB vision plain.
Could be immediate impact player, especially on special downs until he gets up to speed.
Projected Team: Cleveland or Houston.
James Brewer, OT, Indiana: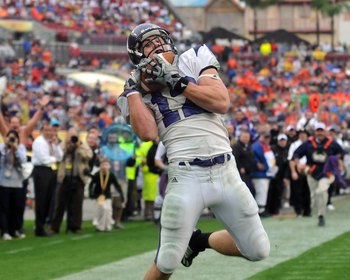 Al Messerschmidt/Getty Images
Seriously, how difficult is it going to be to get by a 6'6" 323 pound tackle with excellent base technique?
Incredibly athletic player given his massive size, and very agile as well. Can sustain block upon contact and keep passing window open.
Excellent job of fending off interior blitzes and knows how to stretch himself in defense of the run at the second level.
His end of year performance against Purdue's Ryan Kerrigan was both memorable and a grand example of what is to come at the pro level.
Needs to find another level of aggression as a passive; finesse tackle if he is to succeed in the pros.
Projected Team: Indianapolis
Stephen Schilling, OG, Michigan: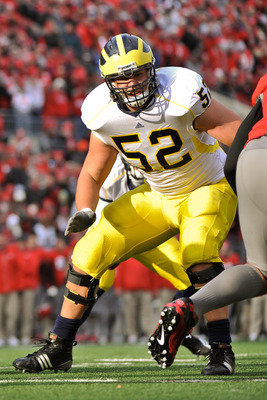 Jamie Sabau/Getty Images
Flexible and athletic guard who can "stay with" defender, forcing him (defender) to get stuck in pursuit.
Excellent usage of hands and arms, prevents himself from playing a 'catch-and-grab' type of style by initiating contact and keeping arms stretched.
A rarity (at his rank–115) in the respect he is an exceptional run blocker particularly in zone schemes.
Excellent downfield blocking ability but needs to show better sustain.
has solid technique with his hands, feet, lateral play, blocking—both run and pass—a true mid-to-late round diamond in the rough.
Projected Team: Green Bay (click on the link for additional coverage of the Packers' needs if you'd like)

Adam Weber, QB, Minnesota: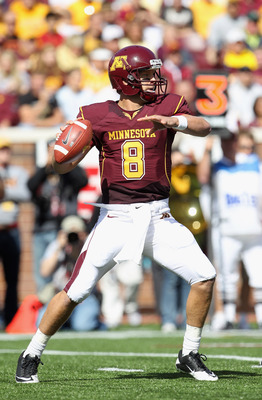 Jamie Squire/Getty Images
Lead team in 2007 completing 59.5 percent of his passes for 2,895 yards and 24 touchdowns; also led the team in rushing (617 yards, five scores). Ran with a 62.2 completion percentage while earning second-team All-Big Ten accolades as a sophomore, along with throwing for 2,761 yards and 15 touchdowns.
Solid execution as a deep ball passer, Weber has all the tools for a developmental helmsman who has a bright future in the NFL
Able to keep his head down field, keeping safeties in check allowing other route to open more freely.
Has quick feet and can move in all four directions around pocket to make plays happen.
Below average height in the eyes of the NFL but certainly chock-full-o-talent.
Projected Team: San Francisco
Quentin Davie, OLB, Northwestern: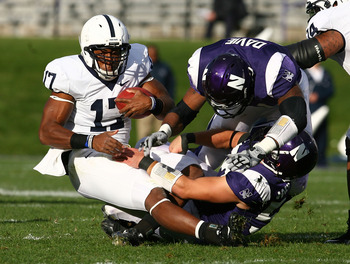 Jonathan Daniel/Getty Images
Davie is a rare late rounder with incredible range and solid technique that would fit most hybrid 3-4 systems.
Excellent size for a linebacker with great range in coverage. Solid blocker at the point, especially against tight ends. Solid flat pass defender who knows how to use his hands rather than miss an opportunity with poor technique.
Displays the ability to fire off the line in blitz packages, knows how to flow traffic to his side. Would excel in systems that flow work to the weak side.
Has a strong motor but needs to gain better balance once in play.
Sure handed tackler, IF he can stay on an opposing player
Projected Team: Carolina
Keep Reading