NBA Playoffs: Dwyane Wade to Wear Sunglasses at Night for Miami in Game 2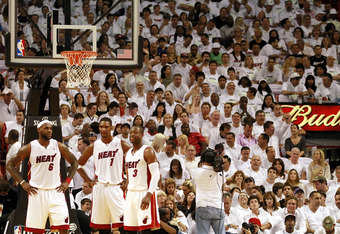 Dwyane Wade appears to be likely to suit up for the Miami Heat's Game 2 matchup against the Philadelphia 76ers tonight, and he may be indirectly paying homage to Corey Hart.
You see, Wade is going to be wearing his sunglasses at night, in an attempt to prevent from getting migraines during and after the game.
Wade helped lead the Heat to a Game 1 victory on Saturday afternoon, but severe migraines caused him to miss practice on Sunday. But he was able to return to practice on Monday morning, sporting tinted glasses so that he will be able to be pain free against the Sixers tonight.
This is the second time this season that Wade has been sidelined with migraine symptoms. Light sensitivity has been an issue that usually lingers for Wade, and that again is the case. Considering the lights in the arena as well as all of the bright white shirts in the stands, it is no wonder why Wade suffers from migraines.
Maybe all of the Heat fans could wear black or red tonight. It may be the answer to saving the postseason for Miami.
Hey, stranger things have happened.
Well, to a certain extent.
According to Barry Windhorst of ESPN, 76ers head coach Doug Collins humorously said that he has a new defensive strategy to counter the strong play of Wade.
"I have a set of cymbals that every time he runs by the bench, I'm slashing them," Collins said. "And I went out and bought the brightest flashlight I could find, and every time I get eye contact I'm shooting it at him. He's going to be great. He always is. He's a lot like [Michael Jordan]. I think his mental capacity to fight through these things is off the charts and we expect him to be terrific."
Clearly, Collins was kidding about the cymbals, but he right in saying that he does not expect Wade to be affected by the symptoms tonight. His team should expect nothing less than Wade's best in Game 2 on Monday night.
Yahoo! Sports reported that AP Sports Writer Tim Reynolds said that since Wade has been through this before, he has a pair of shades that are all set to go for tonight.
"If Wade, as expected, chooses to wear goggles again, he has a pair that the NBA has already approved," writes Reynolds. "The league—which banned a pair Wade planned to use earlier this season in what [Erik] Spoelstra lightheartedly dubbed "Goggle-gate"— said the lenses should not totally conceal his eyes from defenders, noting that would be an unfair advantage.

The migraines have typically shown up about once every couple years, which makes the issue even more befuddling for Wade, since he's never been able to identify the exact triggers. He missed a game in January 2005 with a migraine and many practices during college at Marquette with the problem, though never had to sit out for a headache before turning pro."
Wade may still be struggling to find answers for his migraine issues off of the court, but he appears as confident as ever on it to start the 2011 NBA Playoffs.
Most recent updates:
This article is
What is the duplicate article?
Why is this article offensive?
Where is this article plagiarized from?
Why is this article poorly edited?