New England Patriots: Will This Team's Lack of Experience Rear Its Head in 2011?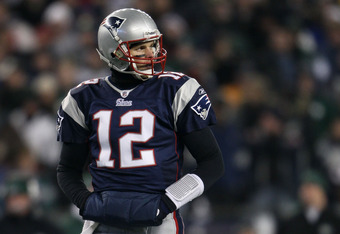 Elsa/Getty Images
Bill Belichick has won three Super Bowls during his career as the New England Patriots head coach. Those three are the only three that the franchise has ever won.
The first of those Super Bowls was won in 2002 after a 20-17 victory over the St. Louis Rams.
The Patriots may have been led by a young Tom Brady, who had become the starter three games into the season, but they were a team laden with veteran football players. Brady's leading receiver was Troy Brown, a 30-year-old veteran, while Antowain Smith, the team's reliable running back, was in his fifth year also 30 years of age.
Defensively the team also had a stellar youngster excelling in Richard Seymour but relied on an even greater veteran presence. Guys like Willie McGinest, 30, Mike Vrabel, 26 and Tedy Bruschi, 28, were all veterans leading the linebackers while Ty Law, 28, Lawyer Milloy, 28 and Otis Smith, 36, had seen it all in the secondary.
Veteran leadership was a staple of all three of the Patriots' Super Bowl victories. This football philosophy has been somewhat abandoned in recent years.
The Patriots haven't won a playoff game since the AFC Championship matchup with the San Diego Chargers in 2007. Since that game many veteran leaders have left the team.
Offensively the team moved Randy Moss on this past year while Donte' Stallworth wasn't re-signed after his one-year deal expired.
Donald Miralle/Getty Images
Nick Kaczur remains on the team but lost his starting place to youngster Sebastien Vollmer. Matt Light and Logan Mankins may or may not be Patriots next season but the drafting of Nate Solder coupled with Mankins' recent tension with the team could lead to them leaving.
Richard Seymour was traded to the Oakland Raiders for the pick that turned into Solder. The whole of the team's linebacking corp is now gone. Adalius Thomas was released, Tedy Bruschi and Junior Seau were left go to eventually retire, while Mike Vrabel was traded to the Chiefs as part of the Matt Cassell deal.
Asante Samuel wasn't retained and left to become a Philadelphia Eagle through free agency while Ellis Hobbs became an Eagle after being traded.
The Patriots' current roster has more young players getting on the field than they have had in any other part of the Bellichick era. Ten of the team's 22 starters from last season's playoff loss to the Jets had been in the league three years or less at that point.
Offensively that figure is set to rise with the addition of Nate Solder while it is difficult to consider Alge Crumpler the team's starting tight end even though he is listed there.
Defensively is where the problem really rears its head. Seven of the team's starters from that game had been in the league for three or less years. Vince Wilfork remains the only starter from the team's most recent Super Bowl starting lineup.
Will the Patriots overcome their inexperience next year?
Wilfork was singled out by Bill Belichick during the most recent season alongside Tom Brady, for not providing enough leadership to the team. Brady, Wilfork and Jerod Mayo were the team's captains last year but Mayo has only been in the league three seasons so Brady and Wilfork must set the tone.
Tom Brady has obviously understood his role on the team which culminated in an outburst during the regular season mauling of the Pittsburgh Steelers.
The Patriots' offense doesn't look like faltering as it ranked first in the league last season. The offense has a strong mixture of youth and experience from Deion Branch and Wes Welker to Aaron Hernandez and BenJarvus Green-Ellis.
The defense however is only getting younger with the recent addition of Ras-I Dowling into the team's cornerback position. Dowling wasn't the only addition however, as Belichick has obviously noticed the team's lack of experience and picked up Marcus Stroud ahead of the lockout.
Stroud is a quality run stuffer that will be entering his eleventh season in the league next year. Should he and Ty Warren, who is returning from injury, become the team's starters next season that will give them an experienced front three to work with.
That likely won't be the only veteran addition to the team however. Their need for a pass rusher has been repeatedly referred to by many media outlets but the need for more experienced veterans is overlooked constantly.
Elsa/Getty Images
Young players like Devin McCourty, Brandon Meriweather, Brandon Spikes and Pat Chung have all shown how talented they are with their regular season performances.
However miniature moments such as Chung's infamous fake punt in the playoffs must be avoided in the future. It was a bold move that a more experienced player may also have made in the regular season but definitely not in the playoffs.
It's not fair to dwell on that single play to make this point but those moments can destroy seasons. The less experienced that your team is, the more likely those mistakes are to happen.
Talent-wise the Patriots look set to have another stellar season in 2011, but like any team, they have their obstacles to overcome.
Will this new football philosophy allow the team to win now? Or will it take too long for these draft picks to mesh into a Super Bowl team?
You never know, maybe Ryan Mallet will be the quarterback when Bill Belichick picks up his next Super Bowl ring.
One thing is for certain, the question marks are there, only time will tell if the team has enough adequate answers.
This article is
What is the duplicate article?
Why is this article offensive?
Where is this article plagiarized from?
Why is this article poorly edited?

New England Patriots: Like this team?