Fantasy Baseball Advice and Updates: MLB News and Notes for Fantasy Week 3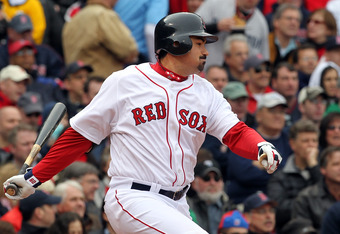 Fresh off a new contract extension, Adrian Gonzalez is bound to pick things up soon for the Red Sox—and fantasy baseball owners.
Jim Rogash/Getty Images
Fantasy baseball can be a fickle mistress, and that's feeling especially true right now for anyone who drank the Kool-Aid on the Boston Red Sox and drafted players like Adrian Gonzalez, Carl Crawford or Clay Buchholz.
Crawford has been the poster child for fantasy baseball disappointment thus far, as he's dug holes for fantasy teams nearly as deep as the one the Red Sox are enduring with their sparkling 3-10 record.
There are similar fantasy ails with players on other struggling MLB teams, too—the normally superb trio of Joe Mauer, Justin Morneau and Joe Nathan have floundered for the 4-10 Twins, and pretty much anyone not named Chris Young has pitched very "generously" for the 4-11 Mets.
The way this season has gone so far across baseball with so many poor starts, chances are your fantasy baseball team has at least one hole to fill. But Week 3 of the fantasy baseball season is typically a great time to fill those holes, as there has been enough time to gain a decent sample size of information without it being too late to snag the undiscovered sleepers in your league. There is hope to improve (or prove your early hot start is no fluke, you smug jerk).
So whether you're in a rotisserie league or a head-to-head points league, stay tuned here as I pass along any and all updates below that might help you make those crucial early-season adjustments.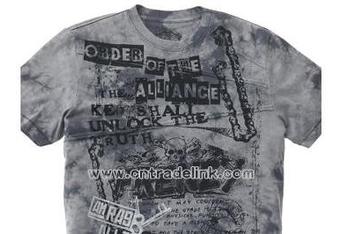 Mike Leake isn't your typical MLB pitcher.
Leake was drafted by Oakland out of high school in the seventh round of the 2006 MLB amateur draft and opted to go to college at Arizona State, where he pitched for three years. He was then drafted again, this time by the Reds, with the eighth overall selection, and became the first pitcher since Jim Abbott in 1989 to skip the minors and go directly from the draft to the majors.
So why he decided it was a good idea to steal $59.88 in tacky apparel from Macy's on Monday is, well...not typical either.
As Craig Calcaterra put it, "Leake makes around half a million bucks a year, by the way, and got a $2.7 million signing bonus in 2009, so your guess as to why he's stealing T-shirts from Macy's is as good a guess as mine."
The Sports Show with Norm MacDonald, surprisingly (though at the same time not surprisingly, as the show is great), dug up a scoop on what type of shirt Leake stole (pictured), noting the following:
Surely the rebellious tone of the T-shirts themselves are to blamed (sic) here.

Police say he was caught on security cameras.

Leake is slightly better at pitching than he is at stealing, with a 2-0 record and a 5.50 ERA.
Zapped.
Will Mike Leake be suspended? If this was Roger Goodell's NFL, there would be little question, so it'll be interesting to see how Bud Selig acts here. Recent memory doesn't bring any similar cases of petty theft to mind among MLB players aside from the occasional accusation of stealing from the locker room.
If you own Leake in your fantasy baseball league, keep an eye out here and be prepared to replace him in your rotation for a start.
This article is
What is the duplicate article?
Why is this article offensive?
Where is this article plagiarized from?
Why is this article poorly edited?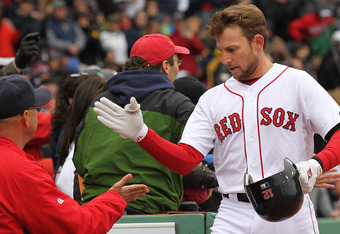 Jed Lowrie was already off to a sizzling start for the Boston Red Sox, and he cushioned that in the Patriots' Day game vs. Toronto on Monday morning with a 4-for-5 day that included a home run and four RBI. His numbers sit at a .516 batting average and two home runs (with just three strikeouts) through 33 plate appearances, making himself out to be a regular Ted Williams at Fenway so far in 2011.
OK, so maybe that sample size is ridiculously small and Lowrie has a little more to prove before he should be compared to the Splendid Splinter...
In all seriousness, though, his hot start has to be making manager Terry Francona think twice about Marco Scutaro being the starting shortstop for his club. Jed Lowrie has simply been too good to ignore.
And with the way the Red Sox have had trouble scoring runs and winning games until this recent Toronto series (to which Lowrie has been a significant contributor), it'll be hard to keep his bat out of the lineup.
If you rely on Scutaro in any way for your fantasy baseball team, hit the panic button. If you own Lowrie, hang on to him and try to seek updates on the lineup card in advance of each game (Bleacher Report's Team Stream App for iPhone often helps in this regard via the Twitter updates from newspaper beat writers, actually).
If you don't own Lowrie, pick him up now. That is if he's still available. I drafted and dropped him early on, and now he's long gone. With shortstop and third base eligibility in most leagues and more to follow—Lowrie could gain it in the outfield, second base and first base by the end of the season—there are few better utility options than Jed Lowrie.
For some context, Lowrie's prospect pedigree and overall track record is much better than that of fellow breakout player Sam Fuld. So while "The Legend of Sam Fuld" is still intact, Jed Lowrie is a much better and more useful fantasy option.
This article is
What is the duplicate article?
Why is this article offensive?
Where is this article plagiarized from?
Why is this article poorly edited?
Seth Smith is being listed by the Colorado Rockies as "day to day" after coming out of Sunday's game against the Cubs due to tightness in his left groin, according to MLB.com.
Smith left in the fourth inning after scoring on a double by Jose Morales to tie the game at 5-all. Smith, who reached base on a double of his own earlier in the frame and also hit a home run in the second, is batting .313 with two home runs and eight runs batted in.
Smith has been a great sleeper outfielder in fantasy baseball this season, but fantasy owners will have to keep an eye on him over the next couple days to make sure this injury doesn't keep him out of the lineup for an extended period of time.
Smith has never compiled more than 358 at-bats in a season, but he's had more regular playing time in 2011. That may change if this groin injury persists.
This article is
What is the duplicate article?
Why is this article offensive?
Where is this article plagiarized from?
Why is this article poorly edited?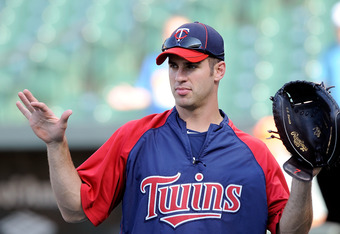 Joe Mauer is on the DL. You know that by now.
But when will he be back?
Things were sounding pretty grim when the team said he had "bilateral leg weakness" and a look at his stats showed a .554 OPS, but recent reports of a viral infection that's caused him to lose 12 pounds may mean Mauer will be back to his Superman-caliber self sooner than later.
Per FoxSports.com, Mauer may not be out for long:
"We feel pretty good about that now," (manager Ron) Gardenhire said. "We were a little concerned yesterday. Joe was, too, because he does nothing but want to play. He wants to get out there and play, and that's hard to do when you're aching all over the place and sore everywhere. This is a step in the right direction. Now we know where we're at, and we can handle it a little bit better and get him back on the baseball field."
Some Joe Mauer owners have been panicking, but someone like Ryan Hanigan or Josh Thole can get you by in the meantime if your league is too deep to provide more obvious options.
Thole has elite contact skills and is very capable of finishing the season with a batting average over .300, if that is a category in your roto league, but he won't provide much in the way of power, runs, RBI or steals. Hanigan doesn't play every day, but he's already hit two home runs and has proven to be a solid backup catcher option in deeper leagues.
Ryan Doumit may also be worth a look if you'd like someone who can slot in elsewhere when Mauer returns, as Doumit has OF eligibility.
This article is
What is the duplicate article?
Why is this article offensive?
Where is this article plagiarized from?
Why is this article poorly edited?
New York Yankees manager Joe Girardi decided to sit Alex Rodriguez Sunday vs. the Texas Rangers due to a back injury, giving Eric Chavez the start and the No. 6 spot in the order.
Rodriguez came out of Saturday's game against Texas due to "lower back and oblique stiffness," according to ESPNNewYork.com.
If your fantasy baseball league allows for mid-day roster changes up until shortly before individual game times, like Yahoo! does, you might want to scramble to replace A-Rod in your lineup if possible.
Rodriguez, who is hitting .385 with four home runs, could miss several more games. Right now Rodriguez is making it sound like he's day-to-day depending on how he feels before a game. Per ESPN:
"We'll see. See how I wake up. I don't have a crystal ball but hopefully I feel much better and the weather helps."
The ESPN report also noted that Girardi said he will be "cautious" about playing A-Rod, so fantasy baseball owners should definitely make sure they have an able backup. Eric Chavez is probably the only valid option for sneaking in a replacement to today's lineup.
This article is
What is the duplicate article?
Why is this article offensive?
Where is this article plagiarized from?
Why is this article poorly edited?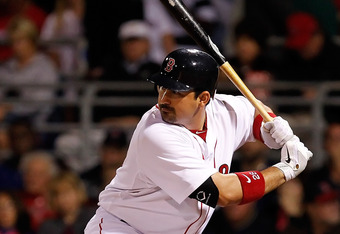 Adrian Gonzalez might seem like he's off to a poor start, and indeed he is sitting at one home run and a .269 batting average for the Red Sox.
But don't let those numbers—or Boston's terrible 4-10 start, for that matter—fool you into thinking Gonzalez is any less valuable now than he was before the season began. We've only seen him play 14 games in a Red Sox uniform, after all.
More persuasively, a closer look at Gonzalez's numbers will show that he has eight walks vs. five strikeouts—an excellent ratio that indicates he is seeing the ball well. Let's also keep in mind that he's hitting in one of the more favorable lineup spots in baseball, with Carl Crawford and 2008 AL MVP Dustin Pedroia hitting before him and Kevin Youkilis (.975 OPS in 2010) and David Ortiz (.899 OPS in 2010) behind him.
That means a lot of RBI, and it means a lot of runs scored.
Remember, this is a guy who hit 71 homers between 2009 and 2010, finishing with an OPS over .900 in each season. In PETCO Park (which had the fifth-most pitcher-friendly park factor in 2010).
With that in mind, Adrian Gonzalez should be considered one of the better trade targets in any fantasy baseball league, especially if you feel he has an impatient owner in yours.
Using the wise teachings of Master Bai Lo, here are 10 somewhat random trade targets in terms of underachieving MLB players who are sure to give you a high return:
Adrian Gonzalez, Boston Red Sox
Hanley Ramirez, Florida Marlins
Kevin Youkilis, Boston Red Sox
Yovani Gallardo, Milwaukee Brewers
Dan Uggla, Atlanta Braves
Carlos Santana, Cleveland Indians
Francisco Liriano, Minnesota Twins
Michael Stanton, Florida Marlins
Wandy Rodriguez, Houston Astros
Ted Lilly, Los Angeles Dodgers
Think of this list more as an inspiration to hunt for players whose owners might be getting impatient. Each one of these 10 names is bound to be better as 2011 continues, but you might be able to parlay an overachieving player like Starlin Castro into Yovani Gallardo if you have another option at shortstop.
As noted elsewhere in these updates, now is the time to make moves before "the market corrects itself" and it becomes harder to find or pry gems for your team.
This article is
What is the duplicate article?
Why is this article offensive?
Where is this article plagiarized from?
Why is this article poorly edited?
Justin Verlander had some indecision that led to a bizarre-looking pitch on Saturday.
Justin Verlander threw a bizarre pitch at Oakland's David DeJesus on Saturday that appeared to begin as a throw to first before becoming one of the odder balks you'll see in an MLB game.
According to Yahoo.com's Big League Stew, "A's manager Bob Geren called it 'the strangest thing he had ever seen.'"
Verlander and the Tigers lost the game, 6-2, and Verlander's overall line indicated that he wasn't his normal self, with 11 baserunners in six innings. Verlander is now 1-2 on the season, though his 3.41 ERA and 1.07 WHIP don't suggest any real warning signs for his fantasy baseball owners.
That said, the imposing Verlander isn't too far removed from a nightmarish 2008 campaign in which he went 11-17 with a 4.84 ERA. He's not the safest of bets among the elite arms in fantasy baseball.
Everything looks OK with a glance at his PITCHf/x numbers, though, including a very healthy 94.3 mph for his average fastball velocity despite it being April. One interesting thing to note is that Verlander is throwing significantly more changeups this season (22.4 percent) than his career average (14 percent), but that's probably a good thing for the sake of his durability when you consider the stress on his arm from dialing it up past 100 mph sometimes.
While Verlander may hold more trade value than actual value in most fantasy leagues, he's a no-brainer must-start in all formats, so don't let this goof concern you unless he starts pulling a Rick Ankiel.
This article is
What is the duplicate article?
Why is this article offensive?
Where is this article plagiarized from?
Why is this article poorly edited?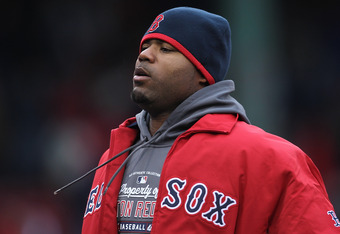 Carl Crawford has been off to a dismal start for the Boston Red Sox, mustering just a .130 batting average with seven hits and two walks in 56 plate appearances through three hitless at-bats in Sunday's game against the visiting Blue Jays.
It's safe to say that Crawford isn't the Carl Crawford who hit .307 with 19 home runs and 90 RBI with the Tampa Bay Rays last year.
Maybe it's not too surprising, though. Crawford's career on-base percentage is a paltry .336, and it was only an average .356 in 2010. Crawford makes up for some of that with his five tools by slugging at a decent clip (.441 in his career) and being a perennial MLB leader in stolen bases, but it shouldn't be too surprising to see him struggle to reach base for stretches.
Partly with that in mind, Nick Cafardo of The Boston Globe questioned today why the Sox let Jayson Werth go to the Nationals for a cheaper price ($126 million over seven years) than Crawford ($146 over eight).
Hindsight is 20-20, and Werth isn't really off to a torrid start this season (.697 OPS), but he's reached base safely 19 times (vs. nine for Crawford) and has two home runs to his credit. More importantly, though, is that Werth has a career on-base percentage of .365 and slugging percentage of .479. Last season Werth posted a .296/.388/.532 line for a .921 OPS, about 70 points higher than Crawford's.
Defense plays a factor for sure (Crawford was about seven runs better in the "total fielding runs above average" stat last year, according to BaseballProjection.com), but one has to wonder if Werth was the safer choice per dollar.
In terms of the fantasy impact, which is relatively irrelevant to Boston's decision-making, it's still an interesting comparison...though it all depends on what kind of league you're in.
Crawford is still the better choice in a rotisserie league that factors stolen bases, so don't go selling low on him if you own him in a roto league, but Werth is a much better choice in points-based leagues and holds a value that approaches Crawford's in roto leagues due to the extra power he boasts. It'd be interesting to see which team would get the better deal if one was traded for the other in a fantasy league.
This article is
What is the duplicate article?
Why is this article offensive?
Where is this article plagiarized from?
Why is this article poorly edited?
Grady Sizemore was activated off the 15-day disabled list and pitcher Mitch Talbot was was sent to the DL in his place on Sunday morning, according to MLB.com.
The MLB.com report says that Michael Brantley will move from the leadoff spot to make room for Sizemore. Talbot, a righty who was boasting a 1.46 ERA and 11 strikeouts in two breakout starts this season, is expected to miss at least three weeks with an elbow strain in his pitching arm.
Talbot's fastball was only averaging 89.3 mph so far in 2011, he was never a significant pitching prospect and he was pretty crummy in 2010 (4.41 ERA with little in the way of attractive peripherals to suggest bad luck, including a 4.48 FIP), so, while it's a shame we won't get to see if he'd be able to continue his hot start, it's safe to drop him in all but fairly deep leagues. No one's going to pick him up while he's hurt, and it's unlikely that he'll ever build significant trade value when he returns.
As MLB.com's Jordan Bastian said, "Tough break for Talbot. Exciting news for Sizemore."
Like Alfonso Soriano, Sizemore is a former rotisserie darling who can really fill up every category if he gets hot. Coming off a knee injury that sidelined him for most of 2010, Sizemore hit well in his five-game rehab stint (.353/.450/.647) and is still young enough at 28 to have a comeback season. If he's somehow unowned in your league, pick him up immediately.
Remember, Sizemore hit 33 home runs and stole 38 bases in 2008.
UPDATE: Sizemore homered and doubled in his 2011 debut today, finishing 2-for-4 overall. If he is on the waiver wire in your league, don't sleep on him.
This article is
What is the duplicate article?
Why is this article offensive?
Where is this article plagiarized from?
Why is this article poorly edited?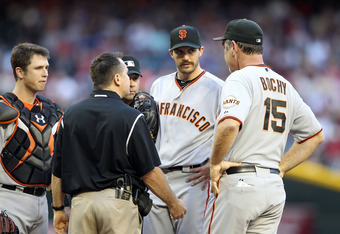 Barry Zito is making his first trip to the 15-day disabled list in his 12-year MLB career after spraining his foot during his start on Saturday.
Zito only got five outs in the game before departing, and he hasn't looked so hot this season with a 6.23 ERA. He will be replaced on the 25-man roster by Ryan Vogelsong, who has almost zero fantasy value.
If you own Zito and your fantasy baseball team has an open DL spot, hang on to him and pick up someone like Charlie Morton (1.64 ERA, 1.14 WHIP) off the waiver wire. Zito was decent last year, with a 4.15 ERA and 150 strikeouts, but don't hesitate to drop him (if need be) for Morton or Jair Jurrjens, who's coming off a scoreless victory for the Braves (7 IP, 2 H, 1 BB, 4 K).
In somewhat-related Barry Zito injury news, today TMZ.com posted the 911 call from Zito's March 31 car crash.
This article is
What is the duplicate article?
Why is this article offensive?
Where is this article plagiarized from?
Why is this article poorly edited?
Joe Nathan entered the season as a risky commodity in fantasy baseball terms, so fantasy owners can't be too up in arms about his awful start (8.44 ERA, 2.06 WHIP, two blown saves in five chances).
Most, though, probably didn't expect Matt Capps to overtake Nathan as the Twins closer this early.
According to the Star Tribune, Minnesota manager Ron Gardenhire is doing just that to take pressure off Nathan as he shakes off the rust from missing the 2010 season due to Tommy John surgery. Nathan blew his second straight save in a loss to the Tampa Bay Rays on Saturday and has seen his average fastball velocity dip from 93.6 mph in 2009 to 91.2 mph so far in 2011.
According to the Tribune, "Nathan realized that he was hurting the team by trying to close and regain his closing form."
Matt Capps will become a pretty valuable pickup this week if your fantasy league is shallow or doesn't value middle relievers enough for him to have been owned.
Capps' numbers don't look so hot at a glance if you only see the 4.50 ERA, but his 0.88 WHIP thanks to zero walks in eight innings indicate that he is pitching pretty well overall. Last year Capps went 5-3 with 42 saves with the Twins and Nationals with a 2.47 ERA and 1.26 WHIP.
No matter what kind of league you're in, Capps is a guy who can help your team if he's available.
If you own Joe Nathan (or if someone drops Nathan) in a rotisserie league and you can afford to stash someone on your bench, he's still worth owning. If he goes on the DL for a rehab stint to build arm strength, he's still an above-average guy to stash on your DL. Outside of a scenario in which you need fliers for saves, though, it's probably safe to cut bait if there's another player on the wire worth a pickup.
This article is
What is the duplicate article?
Why is this article offensive?
Where is this article plagiarized from?
Why is this article poorly edited?