A Dream Deferred: The Magnificent and Tumultuous Career of Allen Iverson
April 17, 2011
Ezra Shaw/Getty Images
"What happens to a dream deferred?"- Langston Hughes
He walked among giants and at times stood the tallest. His career will be loved by many and loathed by others. There is no one word that can define Allen Iverson, except maybe indefinable.
With one of the most anticipated and exciting postseasons taking place, it is difficult to fathom that it has almost been 10 years since Allen Iverson led the Sixers on a meaningful postseason run.
It was the 2002–2003 season, and he scored over 40 points five times that year. For good measure, Iverson opened up the playoffs with 55 points and 8 assists as he led the Sixers to a victory against the heavily favored New Orleans Hornets.
The Sixers would take that series in six. This would be the last time the Sixers won a playoff series and coincidentally, it was the last time A.I won a series as well.
On Nov. 1, 1996 A.I. hit the CoreStates Center and everything changed: the franchise went from nonexistent to relevant once again. He brought notoriety to a team and a city that the NBA world had forgotten about. All the while he became one of the most notorious athletes in Philadelphia history.
In his first season, Iverson scored 40 or more points in five straight games, rocked Jordan TWICE, told Scottie Pippen to kick rocks while dropping 44 on him, and gained the admiration of Red Auerbach during All-Star weekend.
There was his first game at Madison Square Garden where he fouled out Charlie Ward and Scott Brooks, in three quarters. It was their first win at MSG in two years.
Then there was the game where he told Jordan that he did not have to respect him; oh, the media loved that. He was a breath of fresh air for a new generation. A generation that did not wear dress shoes with jeans. A generation that listened to hip-hop at 7 a.m. on their way to work.
Iverson had just begun his career, and already he was legendary. Hall of Fame NBA beat writer Peter Vecsey compared Iverson's rookie year and its impact on the NBA to Michael Jordan's rookie year.
One of the most exciting rookie campaigns in NBA history began with a 30-point explosion against the Bucks, and ended with A.I. scoring over 30 points in eight of his final nine games. His final numbers that year were 23 ppg and 7 apg.
He only failed to score in double figures three times the entire year and for good measure hung 50 points on the Cleveland Cavaliers, who were No. 1 in opponent's points per game that year.
However, in typical A.I. fashion, he giveth and he taketh away. The 40 or more points in five straight games were overshadowed by the fact that all five games were losses. The Sixers subsequently fired Head Coach Johnny Davis.
Off the court, there was the marijuana charge, the gun possession charge, the fights with Jerry Stackhouse and the civil suit regarding Iverson's moniker "the Answer."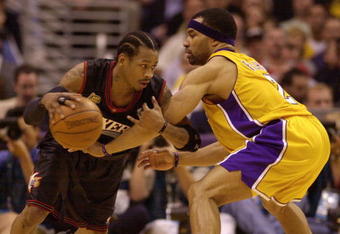 Otto Greule Jr/Getty Images
Before anyone got an opportunity to celebrate his outstanding rookie year, he was chastised for his perceived attitude and off-the-court issues. SportsCenter, in fact, led each Iverson story with "if he's the answer, I don't want to know the question."
So the Sixers brought in veteran Head Coach Larry Brown, who had worn out his welcome with the Indiana Pacers the year before, to right the ship and get the most out of this talented rebel.
For many, this would have been an indication to slow down, but A.I. just went harder. That year, the Sixers beat the Rockets, swept the Lakers, and defeated Jordan's Bulls.
Now it was time for the Sixer dynamo to reach the next level, and that following year he did. With the NBA reeling from another Jordan retirement and a lockout, the league was searching for its next Jordan to lead them; instead, they got their first A.I.
The bald head was replaced by cornrows, and Italian suits were replaced by Girbaud jeans and Tims.
More importantly, the old lottery Sixers were replaced by the new perennial playoff Sixers. From 1998–2002, the Sixers never lost in the first round of the playoffs.
In the summer of 2001, after numerous feuds and a much anticipated album, the Sixers had grown tired of Iverson and tried to banish him to the Pistons.
Some would say Matt Geiger saved him by refusing to waive his no-trade clause, but it was fate intervening and he remained a Sixer. That year the Sixers started 10–0 and had a different look to them.
Jonathan Daniel/Getty Images
2001 culminated with a trip to the NBA Finals against the heavily favored Los Angeles Lakers. Many did not pick the Sixers to even win a game after all the Lakers had not lost a single playoff game.
This meant nothing to the Sixers and for one night the world was theirs, or better yet A.I.'s. For one night, A.I. was the greatest basketball player ever.
For one night, David literally beat Goliath. He was at times in that series undeniable and there was no greater vision then watching him hit that baseline jumper over Tyronn Lue in Game 1 and if not for a late Derek Fisher three the Sixers would have won Game 2.
While the Lakers won the series in five games, Iverson had done something he failed to do at Georgetown, in high school, or even in his first few years in the NBA. He finally made them love him.
That Finals appearance would be the last time this star among stars shined brightly, from that moment on, he was never the same. On the court, his body began to let him down; he still scored, but not at the pace or ferociousness that he once did.
His dunks and fearless drives to the hoop became floaters and pull ups. He no longer bounced back up quickly after being knocked on the hardwood; instead, he rolled up slowly.
The Sixers went from legitimate championship contenders to barely making the playoffs. Off the court, it became about "practice" and where he went after the game. The games were the subplots, and fights with Larry Brown were the lead stories.
Larry Brown resigned at the end of the 2003 season and went to coach the Detroit Pistons, the team who had knocked the Sixers out of the playoffs the year before. A litany of coaches followed but none could handle Iverson the way Brown did.
There was the Chris Ford fiasco, where he wanted Iverson to come off the bench. Iverson sulked and eventually did not play.
Allen was invited to participate in the 2004 Olympics and be reunited with Larry Brown. The team was scrutinized for playing selfish basketball and managed to escape with a bronze medal. Things continued to spiral out of control for the Sixer.
Then the Sixers traded him away and once he left a little bit of all Sixer fans left with him. A.I. was Philly; he was not Lansdale, Cherry Hill, or Bryn Mawr.
Allen Iverson was Philly and he connected with that city and its residents the way a fictitious boxer connects with Flyer and Eagle fans.
Who can forget him sitting at the podium after winning Game 1 of the NBA Finals with a Donovan McNabb jersey on?
He was the NBA's begotten son. Iverson was not what they wanted. but what they so needed. For 10 years, he stole our hearts and made us forgot about trying to "play the right way" and just play.
Yes, he never won a championship and in that regard he is a failure, but what he did for and to the NBA will never be forgotten.
No matter how much they try to distance themselves from him. No matter what dress codes are implemented. No matter how many pundits sigh anytime his name is brought up.
He played with a burning desire to succeed at that moment and unfortunately never grasped that it took more than a successful moment to truly be successful.  
Yesterday, we all watched Derek Rose take over Game 1 against the Indiana Pacers and will his team to victory. Pacers coach Frank Vogel described Rose's performance and MVP-worthy style of play as "Iverson speed with Jordan athleticism."
Ten years since being on the NBA's biggest stage he is still mentioned when people describe an unstoppable player.
The Sixers are now playing against a Miami team in a series they have no chance of winning. When A.I. was in a Sixers uniform, you knew they always had a chance.