NBA Playoffs 2011: Power Ranking the Key Players in the Boston Celtics' Rotation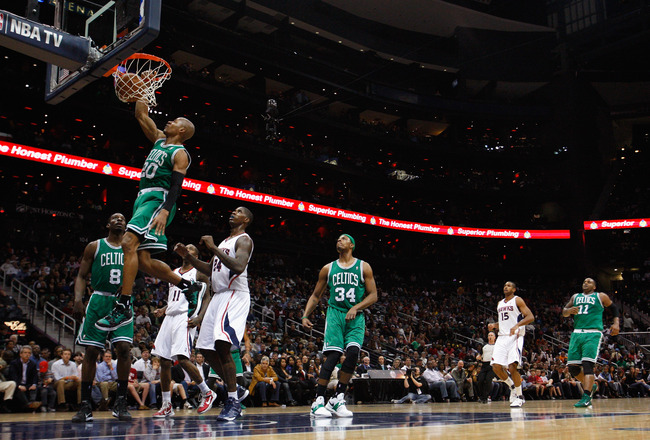 Kevin C. Cox/Getty Images
After months of anticipation, the 2011 NBA Playoffs have begun.
After a day of upsets that saw several heavy favorites suffer Game 1 losses (including the West's top two seeds, the San Antonio Spurs and the Los Angeles Lakers), the Boston Celtics survived the melee, edging out the New York Knicks 87-85 Sunday night at TD Garden, on the back of a late go-ahead three-pointer Ray Allen. On a day of upsets the favorites reigned supreme in Boston.
With the postseason now in full swing, how do the players on the Celtics' roster stack up? Of course, it's always a team effort, but Boston will absolutely need its stars and role players to come ready to play every single game this time around.
Here, we'll look at key players who need to step up this postseason in order for the Green to make another run at the title.
Honorable Mention: Glen Davis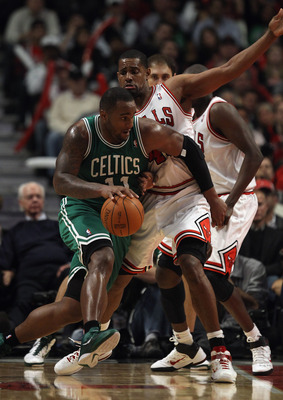 Jonathan Daniel/Getty Images
PPG: 11.3
RPG: 5.4
Big Baby has had to be "the man" at various times in the past, filling in for the injured Kevin Garnett during the 2009 Playoffs. Once again, Davis finds himself back in the "sixth man" role, playing some significant minutes so that KG and the bigs can stay fresh.
With a return to the postseason, Big Baby may be called on again to play a big role down the stretch, especially if KG is playing poorly. Davis is a big guy, and he can take up a lot of space in the paint, creating problems for guards and undersized forwards who try to go to the hoop. He's pretty scrappy as well, fighting for balls and even hitting the parquet for them if the game depends on it.
He needs some serious minutes this postseason; he's a great weapon down low that Doc Rivers can use in place of KG for a while. As long as he's not over-utilized, he'll be a force to be reckoned.
6. Jermaine O'Neal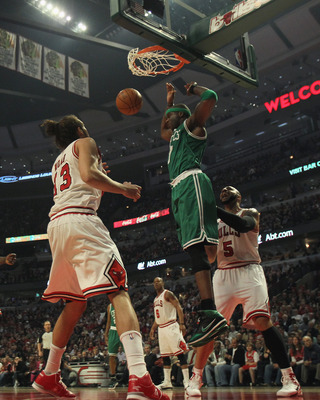 Jonathan Daniel/Getty Images
PPG: 5.4
RPG 3.7
BPG: 1.3
His statistics seriously underestimate J.O.'s potential usefulness. After battling injuries for much of the year, Jermaine O'Neal appears to finally be turning a corner in regards to health. If he can stay healthy throughout the playoffs, and try and gain a little more quickness on his feet he can add another big and tall body to the Celtics' interior defense. Not only that, he can score quite a few points if he's not afraid to use his strength.
This year has been a been a big drop-off for J.O., who has been relegated to limited play after averaging 14.0 PPG for his entire career. However, he can still salvage this season and be a big contributor to the Celtics' title run if he can stay healthy and use his strength at both ends of he floor.
5. Shaquille O'Neal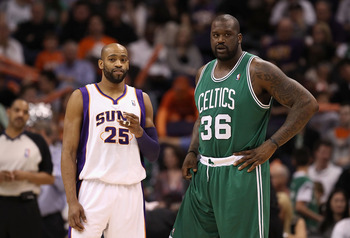 Christian Petersen/Getty Images
PPG: 9.2
RPG: 4.8
BPG: 1.1
It seems that when it comes to the Tale of the Two Not Related O'Neals, it's the same song, second verse. After such a prolific scoring and rebounding career (23.7 PPG, 10.9 RPG), Shaq's numbers have dropped off severely over the last several years due to injuries. However, like J.O., all is not lost in 2011.
Once again, Shaq adds a GIGANTIC down-low presence. He can score, rebound, and block extremely well if he's healthy, and can stop almost anyone who tries to get to the rim. Not only that, he can get opponents into foul trouble quickly, as Hack-A-Shaq has shown itself to still be a useful strategy.
If he's healthy, I'd love to see Shaq in the starting lineup consistently. If the Celtics can slow the interior offense of their opponents, they can convert those stops into points and get ahead from the outset. Maybe then they could avoid the sluggish first halves similar to what we witnessed Sunday night against New York.
4. Ray Allen
Elsa/Getty Images
PPG: 16.7
3-PT%: .444
The man we call "cool hand Ray" is having one of the best seasons of his career in 2010-11. He may be taking slightly fewer shots, but he's shooting .491 from the field (.452 for his career), and .444 from three-point land (.399 on his career). It's almost a definite that the Celtics would not have beaten the Knicks on Sunday without him, as his go-ahead three-pointer with less than 15 seconds to go in the game put Boston ahead 87-85.
As always, Ray Allen will be a vital part of this team in the postseason, as his he is almost unstoppable from the field once he gets a little space to get the ball. If you've seen the timing of his release, you know exactly what I mean. Not much more needs to be said here; his reputation for clutch-itude is renowned throughout the league, and will be a big factor down the stretch.
3. Rajon Rondo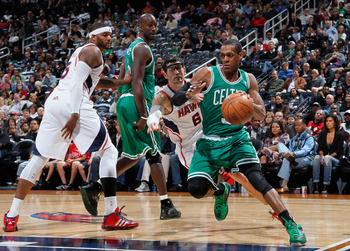 Kevin C. Cox/Getty Images
PPG: 10.6
APG: 11.2
Rajon Rondo has finally emerged as an elite NBA point guard, and has done an outstanding job of leading this team at both ends of the court. Despite a few lingering questions about maturity (he's been known to get hot under the jersey at times, even arguing with Doc Rivers on occasion), he's shown teammates and fans alike that he has a very high basketball IQ and excellent court vision. He knows how to move the ball and get scorers in position to rack up points, and can fool defenders with his driving to the hoops before quickly dishing the ball out to open up an outside shot.
Rondo has fallen victim to inconsistent play as of late, but I feel that this is just a case of end of the regular season malaise. As the Playoffs progress, Rondo will most assuredly improve his play, and will resume early-season form once the level of competition increases around the Celtics.
2. Kevin Garnett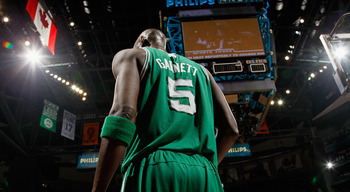 Kevin C. Cox/Getty Images
PPG: 14.9
RPG: 8.9
When Pau Gasol of the Lakers seemingly mocked KG's prowess in the paint after Game 1 of the 2010 NBA Finals, Celtics fans knew those were fightin' words. What did KG knew? He didn't trash-talk (at least not to the media); he didn't threaten Pau Gasol (at least not publicly). He showed up the next night, went toe-to-toe with Gasol, as all great big men do, and played his game.
Sure, he's getting older, and sure, maybe he has lost a step or two against the younger bigs like Andrew Bynum and Gasol, but it seems he's actually gained back some of that lost step this year. Another season removed from that devastating knee injury in 2009, he's averaging more points and rebounds per game this year compared to last year (14.3 PPG vs. 14.9 PPG, and 7.3 RPG vs. 8.9 RPG), and he's a huge force to be reckoned with in the paint at both ends of the court when he's on it, as well as when he's off it.
Like everyone else on this team and throughout this fan base, KG is likely well aware that this might very well be the last opportunity this roster has to win a title. Look for him to take his game to a whole new level this postseason, as he knows this could be the end. Consider it, as Billy the Butch from Gangs of New York says, "one more time for the sweet souvenir."
Pau Gasol, you have put on notice. Be very afraid.
1. Paul Pierce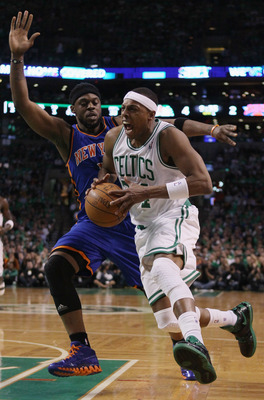 Elsa/Getty Images
PPG: 18.9
FG %: .497
Paul Pierce has seen it all in Boston. He's seen the best of the best (the 2008 Championship, the Cinderella run to the 2002 Eastern Conference Finals), and he's seen the worst of the worst (almost every other season, the election of Mitt Romney to the governorship). But through it all, Paul Pierce has been the rock of stability that a lowly fanbase has looked to for guidance through the lean years of the 2000's. It was on Paul Pierce's watch that the Celtics returned to relevance, and it will be a sad day when "The Truth" retires.
Pierce has been a more efficient scorer this year than in seasons past, shooting .497 from the field, compared to .448 for his entire career. Like Ray Allen, he's taking fewer shots, but they're better, higher-percentage shots, and it's showing up in box scores. He needs to continue to be a leader on this team, through thick and thin. Boston has a ton of leadership and talent, but they're nothing without Paul Pierce.
This could be the end of championships for the Celtics for the time being after this year, so Paul Pierce will want to play the postseason of his career. Look for some of the best play by Paul Pierce in a good while.
Keep Reading

Boston Celtics: Like this team?