MLB Trade Rumors, News and Reactions To the Early Season Story Lines
Doug Pensinger/Getty Images
The Major League Baseball season is only about three weeks old and already we've seen all sorts of mayhem break loose, not all of it confined to the baseball diamond.
The Colorado Rockies (12-3 entering play on Monday) are off to a blistering start, powered by Troy Tulowitzki's torrid start and buffeted along by a favorable schedule. The Boston Red Sox, meanwhile, took the opposite approach. Instead of bursting from the gates, the Sawks broke stride immediately and opted for the ever-graceful faceplant.
The second-best team money could buy has shown signs of life against the Toronto Blue Jays, but Boston has a ways to go before it's totally out of the 5-10 hole in which the club currently finds itself.
And then there's the media's favorite baseball black hat, Barry Bonds.
The former San Francisco Giant all-timer is back in the news as the jury found him guilty of obstruction, but couldn't reach a verdict on the three more serious counts against him. Now, Barry's lawyers are trying to get the obstruction conviction tossed while the prosecution is deciding whether to re-try baseball's home run king.
In other words, about what you'd expect from the increasingly inept United States government after eight years and millions of taxpayer dollars.
So there's already plenty to discuss and more is on the way as the season progress.
Check back for updates throughout the week and visit Bleacher Report's MLB homepage for further coverage.
For years now, Major League Baseball has been struggling to reverse what some call a disturbing trend. Back in 1995, a whopping 19 percent of all players in the Show were black. Since that year, the ratio has been in relatively steady decline and the trend continues in 2011.
Based on Opening Day rosters, only 8.5 percent of MLB players are black this season, down from 9.1 percent in 2010. Every year, a similar study gets released and, every year, there is a mild ruckus raised by various talking heads.
However, the question remains: what is the great tragedy here?
If the Majors were making a concerted effort to exclude black players from the game, the issue would be obvious.
On the contrary, however, MLB is doing the exact opposite—the league is making a concerted effort to include young black ballplayers through initiatives like the RBI (Reviving Baseball in Inner Cities) program. Rather than any nefarious plot by the Bigs, it is the spacial, numerical and equipment requirements of the beautiful game conspiring with socioeconomic realities in the United States that are working against the sport through no fault of its own.
And what about the popularity contest?
Major League Baseball just doesn't have the youthful cache to compete for teenage attention with leagues like the NFL and NBA, both of which have substantially higher representation from the black community.
Consequently, it would appear many elite black athletes are choosing the greener pastures (in their eyes) of football and basketball.
In a nation that prides itself on its citizens' freedom of choice, shouldn't that be a wonderful thing?
This article is
What is the duplicate article?
Why is this article offensive?
Where is this article plagiarized from?
Why is this article poorly edited?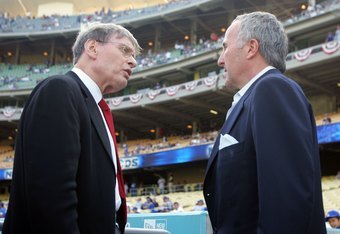 Frank McCourt, the embattled owner (for now) of the Los Angeles Dodgers, isn't going quietly into the night.
Reports came trickling out on Wednesday that Major League Baseball would be assuming control of the Dodgers. Commissioner Bud Selig informed the club that a trustee would oversee the day-to-day operations of the Bums, a move spurred by his "deep concerns regarding the finances and operations" of the team.
And since no massive ego likes to be humiliated or outdone, McCourt seems to be in the process of seeing MLB's ante and raising it a lawsuit. According to TMZ, the filing will seek an injunction against Selig's "arbitrary and capricious" decision to assume control of los Doyers.
Needless to say, this story is still in its infancy.
The league office has a point because the Dodgers have been an embarrassment for the last two years—rife with homegrown, young talent that's withering on the vine in the absence of any reinforcements from management.
On the other hand, McCourt—who is a Bay Area hero for crippling the Bums—also has a point. The New York Mets aren't exactly thriving in either their finances or their baseball operations so why, pray tell, should LA feel the heavy hand of Major League Baseball?
It appears we're gonna find out.
This article is
What is the duplicate article?
Why is this article offensive?
Where is this article plagiarized from?
Why is this article poorly edited?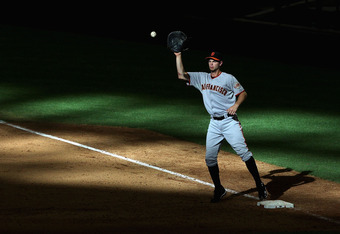 The San Francisco Giants have called the major-league dogs off highly touted prospect, Brandon Belt, according to San Jose Mercury beat report Andrew Baggarly.
The young first baseman was given a shot with the big club right out of Spring Training and showed plenty of promise, but management ultimately decided he would be better served by reps at Triple-A Fresno. Frankly, it's hard to argue with that assessment.
Belt made fast friends by launching a deep home run off Chad Billingsley and the Los Angeles Dodgers—always a good idea if you want to get the faithful on your side. Additionally, he was seeing the ball well and running up pitch counts (4.29 pitchers per plate appearance) while getting on base at a decent clip (.305 OBP).
Nevertheless, the newly minted 23-year-old—yeah, the brass sent him down on his birthday—was clearly struggling at the dish. He was stuck on the interstate with a .192 average while posting an anemic .275 slugging percentage.
Definitely time for a change of scenery before any permanent damage was done to the kid's psyche.
Belt will be back and seems to be taking the news in stride so all's well that ends well, but now maybe the Monday morning QBs who still insist Buster Posey should've started 2010 in the Big Leagues will finally pipe down.
Probably not.
This article is
What is the duplicate article?
Why is this article offensive?
Where is this article plagiarized from?
Why is this article poorly edited?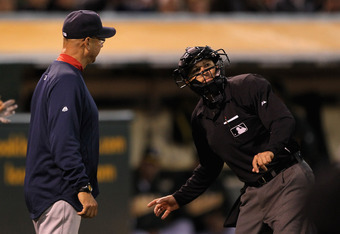 Is it possible the Boston Red Sox just aren't that good?
I'm still not ready to buy that unlikelihood, but the preseason favorites really looked bad on Tuesday night against the Oakland Athletics.
Granted, a lot of that had to do with the guy on the bump for Oakland, lefty Brett Anderson. The 23-year-old southpaw was filthy through eight innings, making several Red Sox look downright foolish as he limited the damage to four hits and a walk with no runs allowed. For good measure, he whiffed eight on 109 economical pitches.
Nevertheless, Boston's struggles in the batter's box were only part of the story.
The pitching and defense unraveled in a crucial bottom of the eighth while trying to keep the score 1-0 with the ever-flammable Brian Fuentes warming up in the Oakland 'pen. Dan Wheeler surrendered a leadoff double to Cilff Pennington (.205), Hideki Okajima/Jarrod Saltalamacchia conspired to allow a steal of third and a single/walk/double/single combo blew the game wide open.
Then Kevin Youkilis polished off the inning with a mental and physical lapse that ultimately didn't hurt, but still added to the gore. Voila, 1-0 became 5-0 and the top of the ninth was a formality.
Luckily for the Sawks, they have a quick turnaround—their next chance at a road win comes in about an hour. But if they do get it, the W will be their first away from Fenway in eight tries.
And that's at least a little troubling.
This article is
What is the duplicate article?
Why is this article offensive?
Where is this article plagiarized from?
Why is this article poorly edited?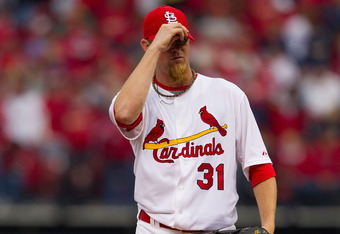 If you have the misfortune of owning St. Louis Cardinals "closer" Ryan Franklin on your fantasy team, you know his season has been a series of four-alarm fires to date.
Actually, four-alarm might be underselling the catastrophe.
Franklin's appeared in six games and has blown a save for each inning he's completed (4 BS in 4.2 IP). Everywhere you look, horror abounds, but it can be summed up using just his WHIP and ERA: 2.14 and 11.57, respectively.
I'd call him kerosene, but kerosene might justifiably take exception to being lumped in with such volatility.
Which brings me to San Diego Padres closer Heath Bell.
The free-agent-to-be is looking like his usual self—7 IP, 1.14 WHIP, 1.29 ERA and four saves without a blown opportunity. Only his strikeouts are missing, but who cares if he's recording outs?
The kicker, of course, is the fact that Bell's deal expires at the close of 2011 i.e. the Friars WILL be moving him before the trade deadline and the Cards tend to be buyers in that same period.
If that's not a perfect fit, I'm not sure one exists.
Granted, the STL has some in-house options to replace Franklin such as Mitchell Boggs, Jason Motte and rookie Eduardo Sanchez. But given manager Tony La Russa's hard lean toward veterans, don't be surprised if Heath Bell lands under the Gateway Arch sooner rather than later.
This article is
What is the duplicate article?
Why is this article offensive?
Where is this article plagiarized from?
Why is this article poorly edited?
Dallas Braden, he of perfect game fame, has been placed on the 15-day disabled list by the Oakland Athletics.
The 27-year-old southpaw first rose to national prominence when he politely told the New York Yankees' Alex Rodriguez to stay the &%$! off his pitching mound while he was working the bump. Several weeks later, he cemented himself in the national consciousness as well as MLB's history books by twirling the 19th perfecto in the game's history.
But things have been decidedly less rosy for Dallas since those heady 2010 days.
Braden battled the injury bug in both 2009 as well as '10, and now he's back at it with the familiar foe. He was lifted from his Saturday start after only 67 pitches and five innings, complaining of soreness in his left shoulder. That joint's already seen the attention of a surgeon so read what you want into the lefty's revelation that it's a discomfort he's never felt.
In an effort to ease the sting of Braden's loss, the Elephants sent minor-leaguer Danny Farquhar back to the Toronto Blue Jays for former first-round draft pick, David Purcey. Purcey is a fellow southpaw who saw a handful of starts for the Jays until being used exclusively out of the bullpen last season.
This article is
What is the duplicate article?
Why is this article offensive?
Where is this article plagiarized from?
Why is this article poorly edited?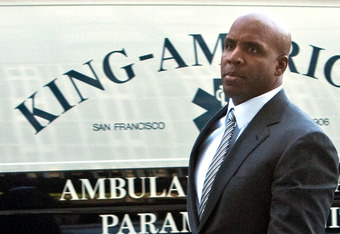 The federal court in San Francisco has released the names of the jurors who reached an impasse over the three main charges against Barry Bonds at the "culmination" of his perjury trial last week.
Why is this news?
I have no idea—seems like something you shouldn't advertise because what good can come of it?
I doubt very much anyone is gonna be looking up those names to deliver a congratulatory fruit basket.
Regardless of how ESPN tries to spin it, Major League Baseball's Home Run King made out like a bandit in the night when Judge Susan Illston declared a mistrial on the three three more serious counts of lying to the 2003 grand jury about knowingly using performance enhancing drugs. The prosecutorial mouthpieces can crow about the conviction for obstruction of justice as if it really is a victory, but there is a reason a reporter asked Barry Lamar if he'd be celebrating the night the verdict was announced.
When you skate on three of four charges and the only conviction rests on ground about as stable as the Marina landfill, we call that a successful day in court (especially when you're guilty as sin).
And that's bound to irritate some passionately misguided people.
But, hey, at least they know where to take their complaints now.
This article is
What is the duplicate article?
Why is this article offensive?
Where is this article plagiarized from?
Why is this article poorly edited?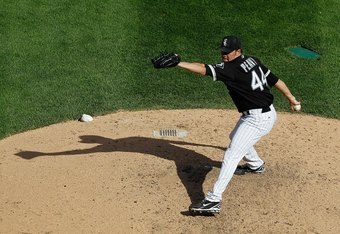 Jake Peavy suffered another setback in his bid to return from a detached latissimus dorsi muscle, which seems to be exactly as horrific as it sounds according to most reports.
Peavy, who also has dealt/is dealing with rotator cuff tendonitis on the comeback trail, left his Double-A Birmingham start after recording just two outs and heads back to the doctor's office for re-evaluation Tuesday. The right-hander hasn't pitched for the Pale Hose since last summer and it doesn't appear as if he'll be joining Ozzie Guillen's squad anytime soon.
And that's more grim news for a Chicago club that started hot, but has run aground recently.
The ChiSox rocketed out of Spring Training by winning seven of 11 games and were sitting pretty in the American League Central on April 12th. Since that day, the team has dropped five in a row and now finds itself looking up at everyone else in the division except the scuffling Minnesota Twins.
Worse, the pitching staff has coughed up 27 runs during the streak so it certainly could've used the potential boost provided by a former NL Cy Young Award winner like Peavy.
Alas, it looks like the White Sox will have to find that kick in the pants from somewhere else.
Or keep waiting...and losing.
This article is
What is the duplicate article?
Why is this article offensive?
Where is this article plagiarized from?
Why is this article poorly edited?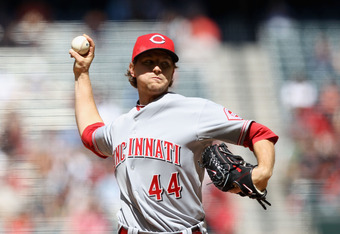 Cincinnati Reds' right-hander Mike Leake has been arrested for stealing about $60 worth of American Rag t-shirts from a Macy's department store. What's worse, initial details seem to indicate the act was intentional and premeditated as Leake was allegedly caught on security cameras removing security tags before leaving the store with the garments.
Quite a step backward for the kid who had the Major League Baseball world abuzz in 2010 for all the right reasons.
His story quickly became a familiar one—the relatively unheralded first-round draft pick who spent nary a second in the Minor Leagues yet still managed to break camp with the Big League club out of his first Spring Training. From there, the right-hander dropped even those jaws that remained resolutely clenched by posting a solid March/April (3.25 ERA/1.41 WHIP) and then a superlative May (1.88 ERA/1.15 WHIP) before the league caught up to him.
Back then, all the talk and ink was spent raving about the then-22-year-old's poise and maturity, his ability to handle the spotlight and thrive in it.
Suffice it to say, the talk surrounding Leake in the weeks to come will have a slightly less congratulatory tone.
Petty theft when you're making millions of dollars to play baseball tends to have that effect...
This article is
What is the duplicate article?
Why is this article offensive?
Where is this article plagiarized from?
Why is this article poorly edited?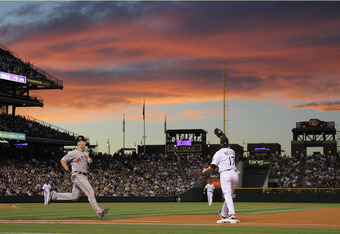 Colorado Rockie fans would prefer you don't look too closely at their pride and joy, just enjoy a phenomenal superstar doing his thing (Tulo) and wait for Carlos Gonzalez to join the party—yeah, the Rox are streaking in large part without CarGo.
Ugh.
Additionally, the Blake Street faithful will point to wobbly ace Ubaldo Jimenez, who has only taken the bump once thus far in 2011 and is scheduled to return on Tuesday.
Nevertheless, there are some inconvenient murmurings surrounding the early season toast of the Show.
For one thing, Colorado has racked up win after win against what could possibly be the dregs of the Senior Circuit. They took two of three off the Pittsburgh Pirates (7-8), two of three from the Chicago Cubs (7-8) and swept the hapless New York Mets (5-11) in a four-game set.
Additionally, those seven games against the Bucs and Mutts represent the entirety of the Rox' road schedule.
At home, they've split two games with the Arizona Diamondbacks (6-8) while sweeping a two-gamer from the Los Angels Dodgers (7-9) and taking the series against the Cubbies. So, yes, the schedule has been favorable.
Well, don't look now, but the defending World Champion San Francisco Giants are in town and will send the cream of their pitching crop to work in the three-game set. Tim Lincecum will toss the opener, Jonathan Sanchez gets Game 2 and Matt Cain will toe the slab in the finale.
The Gents aren't playing flawless baseball, but they represent a step up in competition as long as those three are firing bullets and a good litmus test for the first month. It's really early, but the Rockies certainly have a chance to send everyone a message.
This article is
What is the duplicate article?
Why is this article offensive?
Where is this article plagiarized from?
Why is this article poorly edited?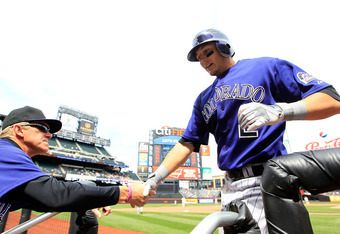 Anyone familiar with fantasy baseball or the NL West is no stranger to the scalding blur of lightning otherwise known as a Troy Tulowitzki hot streak.
The Rockies' all-world shortstop is known to put them together right as both the real and make-believe baseball seasons are winding down i.e. when the playoffs and championships hang in the balance. This year, however, Tulo's hit the afterburners early—in the first month of the season as a matter of fact.
To date, the 26-year-old has posted an absurd slash line of .364/.486/.836—that slugging percentage is NOT a typo—with seven bombs, 14 runs batted in and almost thrice as many walks as strikeouts. The dude is simply ripping the cover off the ball and doing it from the most valuable defensive position on the field not wearing a catcher's mitt.
True, Tulo isn't doing it quite single-handedly—Jonathan Herrera has sprint from the blocks with a .400 average, Seth Smith is sporting a robust .995 OPS and even the resident old-timer Todd Helton has managed to turn back Father Time for the moment (.342/.381/.447 in 38 AB).
Even so, the story is Troy Tulowitzki and the question is: how long will it last?
This article is
What is the duplicate article?
Why is this article offensive?
Where is this article plagiarized from?
Why is this article poorly edited?