Miami Heat: Why Failure Will Always Haunt LeBron James Throughout Playoffs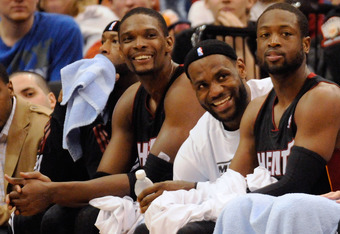 Miami Heat's Three All-Stars Will Be Feeling the Pressure
The Miami Heat will face the Philadelphia 76ers this weekend to open their postseason. To the Heat's three All-Stars, it's time to show the world what we've all been waiting for: The Big Three during the playoffs.
MUST READ B/R EXCLUSIVE: Dwight Howard Speaks About Kobe Bryant's Fine
After LeBron James' defection from Cleveland and his much ballyhooed offseason production called The Decision, James successfully managed to alienate a large group of basketball fans and casual observers. As a result, he's now everyone's favorite villain and has become one of the most polarizing athletes around.
This may not be what he wanted, but a good majority of people will be happy to see him fail.
Israel Guttierez of the Miami Herald writes:
Had LeBron James won a couple of titles in Cleveland, he would have likely attempted to maintain a dynasty there. Had Chris Bosh been more of a playoff regular, chances are he would have recruited stars to Toronto instead of being lured away. Had Dwyane Wade revisited the Finals even once since the departure of Shaquille O'Neal, it's doubtful he would have enlisted the help of two of the game's biggest names.
It was their failures as individuals that drew them to one another. In other words, they couldn't cut it on their own, as the leaders of their respective teams. Now they think they can win it all by playing together.
Sounds like a good plan, on paper.
But we've seen this team go through ups and downs this entire season. There were chemistry issues at the start, injury problems to deal with, a young coach overseeing the group and a desperate lack of depth.
The sad thing is, the biggest risk they are facing in this year's playoffs is failing together.
Can they will themselves to NBA glory?
Either they win it all and the critics shut up. Or, they fall short and they'll be the laughing stock of the entire league.
For Miami the pressure is on. For LeBron James the spotlight is on him.
And you know what happens to James when he needs to come up big in the clutch...
He chokes.
So sit back and enjoy the playoffs, this should be fun to watch.
Most recent updates:
This article is
What is the duplicate article?
Why is this article offensive?
Where is this article plagiarized from?
Why is this article poorly edited?