Kim Kardashian and NBA player Kris Humphries appear to be tying the knot.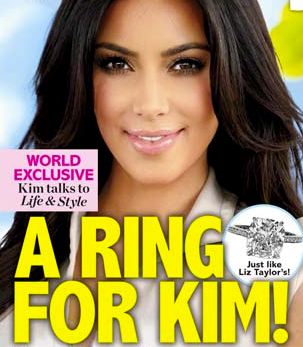 Photo Credit: Life & Style Magazine Cover
Life & Style Magazine reports:
Although they've been dating for only five months, Kim Kardashian andKris Humphries have quickly fallen head over heels in love! "Kris just gets me,"

In fact, the couple are already talking engagement rings, wedding plans -- and even what they'll name their children! "I want Lorraine to design me a big diamond ring," Kim gushed to friend Brittny Gastineau at the Beverly Hills Nail Design on April 10.

Kim tells Life & Style that she's fantasized about her wedding ever since she was a little girl. "I've envisioned the whole thing," Kim tells Life & Style. "I can't wait to get married. I've found my wedding dress -- I mean, I already know what my gown is going to look like. I've thought about it all for so long. What woman hasn't thought about her wedding since she was a little girl?" Kim plans to take a trip to Paris to shop for a Chanel couture wedding gown, the friend reveals to Life & Style. Her dream dress? "She wants a white strapless floor-length gown that's traditional but sexy and makes her feel like a princess," says the pal.

Kris and Kim -- who both come from families in which the kids' names all begin with the letter K -- have already discussed what they're going to name their children. "I think I'll name my kids with K's to keep the tradition going," Kim says. She even has a favorite name picked out for a baby boy, the friend reveals: Kristopher Jr., named after the man she plans to marry.
She's clearly dedicated to Kris. Hell, she watched the Nets play a pointless game and her man wasn't even on the court!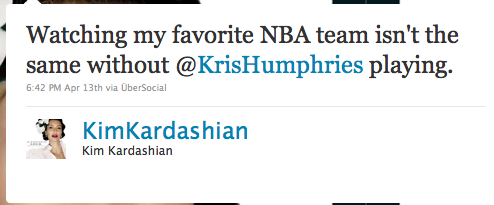 Kim has a history of hooking up with professional athletes. Some of her past relationships include NFL stars Reggie Bush and Miles Austin. Let's hope this one is for good!