NFL Rumors: Roddy White Thinks 49ers Are Wasting Their Time with Alex Smith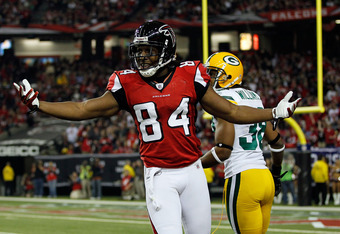 Roddy White Has No Patience for NFL Rumors Concerning Alex Smith
The NFL lockout means that the San Francisco 49ers aren't allowed to say anything publicly, but Matt Barrows of the Sacramento Bee (via Yahoo! Sports) reported a couple days ago that the team has a one-year offer on the table for free agent quarterback Alex Smith.
Despite the fact that new head coach Jim Harbaugh has spoken kindly of Smith since he was hired, this definitely came as something of a surprise given the nature of Smith's tenure with the team. Since being drafted No. 1 overall in 2005, Smith has thrown more interceptions (53) than he has touchdowns (51), and he couldn't even hold down the starting job for the entirety of the 2010 season.
Because of all this, the thinking is that the 49ers need to give up the ghost. Just ask Atlanta Falcons wide receiver Roddy White.
On Friday, White took to Twitter to voice his displeasure about the Smith situation:
Why is the 49ers wasting their time with alex smith they need to move on better yet try to get luck next year would be good for them
Shortly after he posted that tweet, White also pointed out that "2 coaches have been fired for tht mans performance."
No doubt there are plenty of people out there who think that White would be better off minding his own business, and that he should have better things to do with his time than bitch about other teams and players on Twitter.
MUST READ: A Detailed Look at the Top 100 NFL Draft Prospects
This is true. However, that doesn't mean that White is wrong. The 49ers are wasting their time with Smith, and there have been two coaches who have lived and died by him. And yes, the Niners would definitely be better off with Andrew Luck under center.
Unfortunately, it's not that simple. There are only so many quarterbacks out there, and bringing Smith back on a one-year deal is hardly the worst move the 49ers could make at this point. Moreover, there's a very good chance that the Niners are going to walk away from the NFL Draft with somebody like Andy Dalton or Christian Ponder in tow. Whoever the 49ers draft, the idea won't be to keep him around as career backup, but it won't be to install him as the starter right away either. The Niners are going to need an experienced quarterback to hold down the fort in 2011, and Smith fits the bill as well as anyone.
I'm going to assume that White is not an idiot. He probably knows all this. As for why he chose to bitch about it anyway, well, I guess he has to do something to entertain himself during this blasted lockout.
Most recent updates:
This article is
What is the duplicate article?
Why is this article offensive?
Where is this article plagiarized from?
Why is this article poorly edited?