2011 NBA Playoffs: Why Betting on New York Knicks Would Be Absolutely Foolish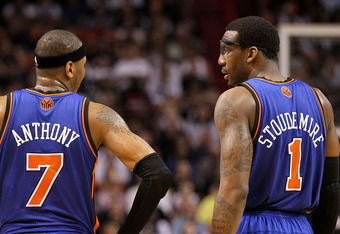 The 2011 NBA Playoffs begin tomorrow, and for some strange reason beyond to me, people seem to feel as if the New York Knicks have a shot against the Boston Celtics.
You have to love right before the NBA Playoffs start. Everyone makes their predictions, throws down their wagers and gets ready to watch their money disappear.
If you would like to be one of those foolish people, then by all means make sure to bet on the New York Knicks to upset the Boston Celtics in the first round of the Eastern Conference Playoffs.
Yes, the Knicks can score. Their offense can be nearly unstoppable at times. But their defense - or lack thereof - is atrocious. They can make any opponent resemble an offensive juggernaut, because they cannot stop anyone.
Amar'e Stoudemire was a great signing, and they were able to trade for Carmelo Anthony at the trade deadline. They still have not played too many games together, and they have not looked that great since the trade was made.
What about the Celtics?
Sure, they have struggled down the stretch, and trading away Kendrick Perkins was nothing short of moronic, regardless of whether or not they had any intention - or chance - of signing him to a long term contract. But this team makes a habit of playing poorly toward the end of the regular season, only to turn it on in the playoffs.
Why would this year be any different?
MUST READ: Playoff Odds For All 16 Teams
The Celtics have a solid defense, although it has dropped off without Tom Thibodeau on the bench. He brought his defensive knowledge to the Chicago Bulls, thus the reason they are the new No. 1 seed and favorites in the east.
Still, Boston has enough defensive prowess to slow down New York.
According to ESPN and David Thorpe and Anthony Macri of NBA Scouts Inc, the Knicks will need a lot of big plays in order to have a shot at knocking off the mighty Celtics.
"Generally speaking, the shots Boston manages to take are of better quality than those New York will attempt," writes Thorpe and Macri. "Sheer volume (both of attempts and of makes) will favor the Knicks. Like an NCAA Tournament team searching for an upset, the Knicks will probably need to connect on a high number of three point attempts to really have a shot at derailing the Celtics this postseason. They might be able to do so in one or two games, but four times will be much more difficult."
The Knicks will be able to bury a handful of shots from long range, and that may keep them in a couple of games. They may even win one or two. But there is no chance that the Knicks come out of this series on top.
The Jets may have eliminated the Patriots and the Yankees are off to a much better start than the Red Sox, but there is no way that the Knicks can continue the recent dominance of Boston professional sports teams by upsetting the Celtics.
Most recent updates:
This article is
What is the duplicate article?
Why is this article offensive?
Where is this article plagiarized from?
Why is this article poorly edited?