2011 NBA Playoffs: Are Atlanta Hawks the Seattle Seahawks of the NBA Playoffs?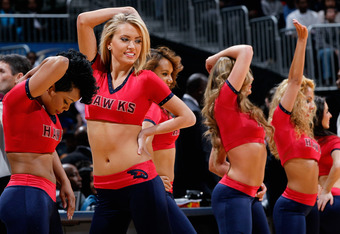 The 2011 NBA Playoffs begin tomorrow, and many people are discounting the Atlanta Hawks because of recent postseason struggles and a late collapse this season.
Last season, the Orlando Magic swept the Atlanta Hawks in the Eastern Conference semifinals. The games were not even really that competitive, and the Hawks were thoroughly embarrassed.
Atlanta has suffered the longest losing streak to end a regular season for a team entering the playoffs in quite a long time. They have looked awful down the stretch, and people wonder if there is any hope for a team who has shown very little in recent postseason performances.
In a way, the hawks are the NBA version of the NFL Seattle Seahawks.
Let me explain.
The Seahawks were given no chance in the NFL Playoffs against the New Orleans Saints. They were one of the largest underdogs in a first round playoff matchup of all time, and no one gave them any chance of winning.
MUST READ: Playoff Odds For All 16 Teams
But then the unlikely happened. The Seahawks got off to an early start and never looked back, defeating the defending Super Bowl champions in relatively easy fashion.
Can the same happen to the other Hawks of the NBA this postseason? After all, they did defeat the Magic in three out of four games in the regular season.
Zach Lowe of SI.com says that if it is going to ever happen for Atlanta, that it may be now or never.
"The most depressing playoff team in the league has a chance to reinvigorate itself with a strong showing against the Magic, the same club that humiliated Atlanta in a four-game sweep last season. Since then, the Hawks badly overpaid Joe Johnson; made a half-hearted commitment to a motion offense that fell flat; failed to develop Jeff Teague; saw rookie coach Larry Drew clash now and then with Josh Smith; lost several awful blowouts at home; and put up a negative overall scoring margin normally associated with a lottery team.

The Hawks are capped out through 2013 as things stand now, and they don't appear to be going anywhere with this group. Can they show us something now?"
I'm not sure how much the Hawks have, but Lowe brings up some valid points. judging by that, you would have to expect similar results in their first round series with Orlando again this postseason.
But I am not ready to concede victory to the Magic quite yet.
After all, this is the NBA. People make far too much of a big deal out of momentum, especially in professional basketball. After all, it is not as if the Los Angeles Lakers and Boston Celtics always carry momentum heading into the NBA Playoffs. Actually, it is generally the opposite.
According to ESPN, David Thorpe and Anthony Macri of NBA Scouts Inc. agree that momentum in the NBA Playoffs is overrated, and they see this series as being tightly contested.
"In the NBA Playoffs, however, how a team performs leading up to the postseason has no necessary correlation on how they will perform once there," Thorpe and Macri write. "In fact, the nature of a playoff series almost prevents a hot team from remaining hot. Keep in mind, a team with momentum has been playing a variety of opponents in an average of two games every 3.5 or so days. In the first round of the NBA Playoffs, however, a team plays a single opponent once every two to four days. This gives opponents more time to gameplan, change approaches, and prepare. It also makes victory in the postseason more about how one team matches up with the other rather than how well a team was performing coming into any given series.

In the case of the Orlando Magic and Atlanta Hawks, the implications for this reality are obvious. The Hawks barely limped into the postseason, playing under .500 basketball for a stretch coming in, and having lost six games in a row. While the Magic have not exactly been on a tear themselves, their recent results were significantly better than those in Atlanta. However, the way these two teams have matched up throughout the season would suggest an entirely different result. How these competing bits of conventional wisdom interact will yield the winner in this series, one that should be competitive and hotly contested."
I agree that this should be a much closer series than it was last year, but I still remain skeptical that Atlanta can come out on top.
Maybe they are not the Seattle Seahawks.
Most recent updates:
This article is
What is the duplicate article?
Why is this article offensive?
Where is this article plagiarized from?
Why is this article poorly edited?