2011 NBA Playoffs: Can Celtics and Lakers Turn It on for an NBA Finals Rematch?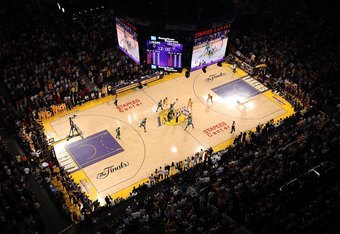 The 2011 NBA Playoffs are set, but can the struggling Boston Celtics and Los Angeles Lakers turn things around an meet in an NBA Finals rematch?
Everyone has heard the rumblings. I say rumblings, because they are not exactly whispers.
The Celtics and Lakers are too old, too beat up, too past their prime to make another run at an NBA Championship.
We have heard it all too often. Around this time of the year, for the past few years now, all of the critics and so-called experts count out the Celtics and Lakers for various reasons, and then they are forced to eat their words. I never discount the chances of either team, and this year is no different.
They have been they before, and they have gotten the job done. Will this year finally be the year where variable factors do indeed catch up with them in the postseason?
MUST READ: Playoff Odds For All 16 Teams
Sure, both teams are older. The Lakers are frustrated and hurt, and so are the Celtics. Kobe Bryant is shouting homophobic slurs at referees over fouls, Andrew Bynum is hurt once again, Phil Jackson doesn't even know what he is allowed and prohibited from talking about, and the Lakers are not winning.
The Celtics have fallen down hard since they foolishly traded away Kendrick Perkins, the defense is a far cry from what it has been in the past without the coaching of Tom Thibodeau, and the team is not winning.
Tell me again why I still think these two can meet in the 2011 NBA Finals?
Zach Lowe of SI.com is not so sure, as he points out some of their shortcomings entering the postseason.
"Switch-flipping is a dicey thing, historically, but the Lakers and Celtics have the pedigree that suggests they can do it," writes Lowe. "Boston finished last season 27-27 before shocking even their own fans by plowing through the East and coming within a few minutes of the franchise's 18th title. The Celtics went only 10-11 in their last 21 games this season, and though the decision to trade Kendrick Perkins to the Thunder is the easy target here, the real culprit is the team's offense, which finished just 19th in points per possessions.

Rajon Rondo is barely shooting 40 percent since the start of March, Glen Davis' jumper has deserted him and the Celtics generally looked helpless against elite Miami and Chicago defenses in games this month. This hasn't been a good offensive team in two years, but it will have to be better for Boston to seriously contend.

And the Lakers? They lost five of their last seven games and nearly blew their season finale — and the second seed — in Sacramento on Wednesday. But they stumbled late last season, too, and their 17-1 run after this season's All-Star break is a better indicator of how good this team can be — as long as Andrew Bynum's bone bruise isn't a lingering injury."
No one is saying it will be easy. The Oklahoma City Thunder are the trendy pick to represent the Western Conference, while the Chicago Bulls appear poised to return to glory in the Eastern Conference. But both the Celtics and Lakers are far from becoming irrelevant in their own conferences. They are still powerhouses who know what they need to do to win in the playoffs.
That is what makes them so scary, and gives them a great chance to once again meet in the NBA Finals.
Until someone demonstrates otherwise, how could you bet against the Celtics and Lakers playing for another NBA Championship?
Most recent updates:
This article is
What is the duplicate article?
Why is this article offensive?
Where is this article plagiarized from?
Why is this article poorly edited?