NBA Playoffs TV Schedule 2011: Where and When to Catch West First Round Series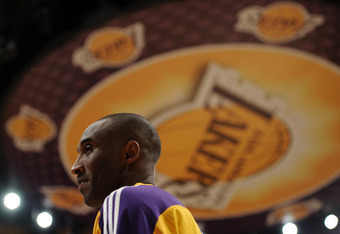 The NBA Playoffs TV schedule is all set for the first round of the postseason, so make sure to check out the following schedule of where and when to catch your favorite team (first four games schedule only, as games five, six and seven would be to be determined).
In the Western Conference, the San Antonio Spurs have once again clinched home court advantage as the top seed, but very people expect them to advance to the 2011 NBA Finals. Whether they can get there or not, they should have very little difficulty getting past the Memphis Grizzlies, unless Zach Randolph can completely take over.
No. 1 San Antonio Spurs vs. No. 8 Memphis Grizzlies
Game 1 Sun. 4/17 @ 1:00 PM - TNT
Game 2 Wed. 4/20 @ 8:30 PM - NBATV
Game 3 Sat. 4/23 @ 7:30 PM - ESPN
Game 4 Mon. 4/25 - TBA
The Los Angels Lakers may not be playing their best ball of the season, but we have seen this before. They take it slow in the regular season and then turn it on come postseason time. They will not have much of a problem getting past the New Orleans Hornets in the first round, especially without David West, but their play here could tell us a lot of what is to come as the playoffs progress.
No. 2 Los Angeles Lakers vs. No. 7 New Orleans Hornets
Game 1 Sun. 4/17 @ 3:30 PM - ABC
Game 2 Wed. 4/20 @ 10:30 PM - TNT
Game 3 Fri. 4/22 @ 9:30 PM - ESPN
Game 4 Sun. 4/24 @ 9:30 PM - TNT
MUST READ: Playoff Odds For All 16 Teams
The Dallas Mavericks had another great regular season, but everyone expects them to also repeat history in the playoffs and possibly suffer a first round upset at the hands of the Portland Trail Blazers. With the strong play of LaMarcus Aldridge and Wesley Matthews, Portland does in fact seem prime for an upset over Dirk Nowitzki and Dallas.
No. 3 Dallas Mavericks vs. No. 6 Portland Trail Blazers
Game 1 Sat. 4/16 @ 9:30 PM - ESPN
Game 2 Tue. 4/19 @ 9:30 PM - TNT
Game 3 Thu. 4/21 @ 10:30 PM - TNT
Game 4 Sat. 4/23 @ 5:00 PM - TNT
Many people are predicting that this could be the year of the Oklahoma City Thunder. Once they traded for Kendrick Perkins and added postseason experience and toughness, the Thunder became a contender. But it will be no easy task in the first round against the Denver Nuggets, who have played much better basketball since trading away Carmelo Anthony, as they are a more complete team now.
No. 4 Oklahoma City Thunder vs. No. 5 Denver Nuggets
Game 1 Sun. 4/17 @ 9:30 PM - TNT
Game 2 Wed. 4/20 @ 8:00 PM - TNT
Game 3 Sat. 4/23 @ 10:00 PM - ESPN
Game 4 Mon. 4/25 @ 10:30 PM - TNT
Most recent updates:
This article is
What is the duplicate article?
Why is this article offensive?
Where is this article plagiarized from?
Why is this article poorly edited?