NBA Playoff Schedule 2011: Are Miami Heat Good Enough to Beat Boston Celtics?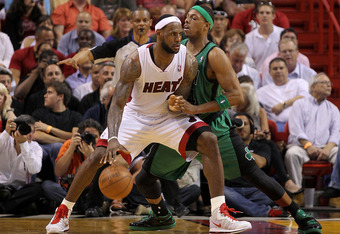 The NBA Playoffs schedule is out, and we could be looking at a very interesting second round matchup in the Eastern Conference between the Miami Heat and Boston Celtics.
It is the original "Big 3" against the new "Big 3." Which team has the edge?
We all know how the series started. Boston defeated Miami on opening night, and then took the next two meetings after that. But in the last game between these two, with the No. 2 seed much at stake, it was the Heat who toppled the mighty Celtics.
But does that mean that they can beat Boston in a seven game series in the second round?
Boston has more experience. They know how to win close games in the playoffs. They have won championships before, and they can turn it on in the postseason when everyone else leaves their chances for dead.
The Heat are still learning how to play together. Dwyane Wade and LeBron James are still figuring out how to get Chris Bosh involved while still getting their own shots. It is still a work in progress.
MUST READ: Playoff Odds For All 16 Teams
The Celtics know how to play together as a cohesive unit. Rajon Rondo is the catalyst who sparks Ray Allen, Paul Pierce and Kevin Garnett. They have a huge advantage at the point guard position, where Miami has no true floor general in the starting five.
I still feel as if the Kendrick Perkins trade will catch up with Boston and coming back to haunt them eventually. But that should not happen against the Heat. Zydrunas Ilgauskas and Jamaal Magloire are not exactly huge inside threats on either end of the floor. I'll take a relatively healthy Shaquille O'Neal and undersized Glen Davis over both of them.
If you want to go to the coaching matchup next, feel free. Doc Rivers has an NBA Championship and another appearance in the NBA Finals. Erik Spoelstra almost seemed destined not to make it through this season at so many different times.
Are you starting to see a pattern develop?
Boston has so many edges that this may not even be that close of a series. Sure, Miami has home court advantage, but you can barely call it a big one. This is the same team who had to put on the internet how to be a true fan and when to cheer for their team.
Seriously. You can't make this stuff up if you tried.
Both teams still have to take care of a little bit of business first. Miami has to beat the Philadelphia 76ers in the first round, which should be no problem, and Boston has to defeat the New York Knicks. While many people say that will be the best series in the first round, Boston will still come out on top in either five or six games.
So when Boston meets Miami in the second round, go ahead and remember what I have clearly illustrated.
The Celtics will once again cool off the Heat and advance to the Eastern Conference Finals, where they will meet the Chicago Bulls.
Most recent updates:
This article is
What is the duplicate article?
Why is this article offensive?
Where is this article plagiarized from?
Why is this article poorly edited?