NBA Playoff Bracket: Are the Boston Celtics Too Old and Injured to Win It All?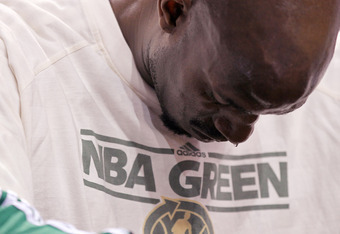 The 2011 NBA Playoff brackets have been set, and a classic rivalry looms for two storied franchises as the Boston Celtics will take on the New York Knicks.
The Celtics are too old. They have too many injury question marks. The team is wearing down. The players don't have the heart anymore.
Is any of this sounding familiar?
It should, because we hear it almost every year around this time. The Celtics know how to put things into cruise control and then turn it on once the postseason rolls around. The Los Angeles Lakers do the same thing, and people also get all over them as well.
It is called experience, people. They say that youth will be served, but experience has won out over the past three or four years.
Age will not affect the Celtics. Neither will a losing streak. What will catch up to Boston at some point will be their lack of size inside, especially as the playoffs progress.
I am not one to question Celtics general manager Danny Ainge, who after taking heat for many years while saying he had a plan, but this great squad together and basically began talk of "The Big 3" throughout the league.
But when he traded Kendrick Perkins to the Oklahoma City Thunder at the 2011 NBA Trade Deadline, I knew it would catch up to them at some point in the postseason. It may not be against the New York Knicks or Miami Heat. It may not even hurt them if they are able to meet the Chicago Bulls in the Eastern Conference Finals.
But if Boston is fortunate enough to advance to the 2011 NBA Finals, and especially if they run into a rematch with the Lakers, it will once again be lack of size and depth inside that dooms their hopes of winning an 18th NBA Championship.
MUST READ: Playoff Odds For All 16 Teams
But don't count out the Celtics quite yet. Rajon Rondo is still one of the most talented point guards in the playoffs. he is still surrounded by Ray Allen, Kevin Garnett and Paul Pierce. If they can get some bench minutes out of Jeff Green and if Shaquille O'Neal can give them anything, this is not a team who will go down quietly.
According to Greg Payne of ESPN, Pierce is ready for the first round series with the Knicks, and it could be the type of spark they need to make another run to the championship.
"It's going to be a very interesting series," said Pierce. "I know everybody's going to tune in to watch it. I know this is going to be as exciting as probably that series versus the Lakers last year, or even the series we had [two years ago] versus the Bulls. I think it's going to be very exciting for the fans to watch."
It could be an interesting series to start the first round. But it will end like most series in the Eastern Conference playoffs for the Celtics in recent years.
In victory.
Most recent updates:
This article is
What is the duplicate article?
Why is this article offensive?
Where is this article plagiarized from?
Why is this article poorly edited?