NHL Playoffs 2011: News, Game Analysis and Other NHL Postseason Buzz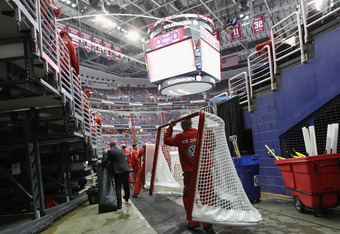 Bruce Bennett/Getty Images
The NHL and its fans are prepared for one of the most anticipated Stanley Cup Playoffs in league history.
With the 16 teams finally cemented in their seeds in both the Eastern and Western Conferences and the Conference Quarterfinal rounds underway, we at Bleacher Report are gearing up to bring you the best in NHL Playoff coverage.
From the opening round rivalries of the Habs-Bruins and Canucks-Blackhawks series to injury updates on Max Pacioretty and Sidney Crosby, all the goings on around the Stanley Cup Playoffs will be right here on Bleacher Report.
We'll also have a daily feature from our Correspondent Robert Ivaniszyn about the trials, tribulations, excitement, and sometimes humiliation that goes along with growing a playoff beard.
Look here for news and notes from games around the league as the playoffs progress along with a few fun pieces to keep your mood light if your team gets knocked out early or loses a close game in the closing minutes.
Well, today is Day One of the Playoff Beard. I still haven't decided if this project ends if the Blackhawks are eliminated or if I'll keep going with it until a new champion is crowned, regardless of who it is.
Not much showing today after I shaved yesterday afternoon before the first puck dropped but I can already feel the approaching itchiness coming.
Now I must confess up front, I do not have the most prolific of facial hair. In many ways, I feel like this project takes even more dedication on my part because of this fact. Instead of getting looks from people admiring my rugged look, people will look upon my scraggly hobo beard and wonder: "Why is he growing a beard?"
Nevertheless, this is the first year I will be unencumbered by job requirements for "grooming" to complete this project so I intend on growing whatever beard my face will allow at least through the Blackhawks' last game if not farther.
It will be an interesting ride so check back each day for updates on the weird looks and other anecdotes about the adventure of growing a playoff beard.
This article is
What is the duplicate article?
Why is this article offensive?
Where is this article plagiarized from?
Why is this article poorly edited?