MMA's Super Bowl: Who Would Win If UFC and Strikeforce Champions Fought Today?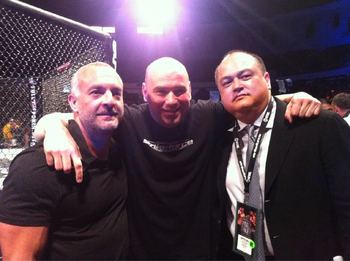 For a long time (okay, just a couple years but still) people wondered what would happen if the world champions from the two leading U.S. promotions—the Ultimate Fighting Championship, and Strikeforce—ever threw down.

These debates were a continuation, more or less, of the "UFC vs. Pride" debates that drove the MMA world for most of the last decade. Whenever there are two competing promotions each claiming to feature "the best in the world," some competition is to be expected.

This is MMA, after all. What is this sport about if not the continual asking, answering and asking again of the timeless question: "Who is better"?

Now that the UFC has purchased Strikeforce and the so-called "rivalry" is over, that means the debate over whose champions are superior is a moot point, right?

Wrong. In fact, it's just the opposite. Before, these champion vs. champion hypotheticals were just that—hypothetical. Now that both organizations are under the same ownership umbrella, there is a very good chance that we may actually see these fights—sooner rather then later.

Most folks think that the UFC, being the older and more established promotion would run roughshod over their Strikeforce competition. But it's not so simple. Especially now, Strikeforce can offer a slate of champions to give all the UFC champs a run for their money.

Who would win if the Strikeforce champions fought the UFC champions in a "Super Bowl" of MMA? Read on as I break down the matchups, the strengths and weaknesses of each fighter, and which champion (and brand) would have the best chance of coming out on top.

We'll go the Russian doll route with this one: start with the little guys and work our way out, or rather, up.


Lightweight: Gilbert Melendez (Strikeforce) vs. Frankie Edgar (UFC)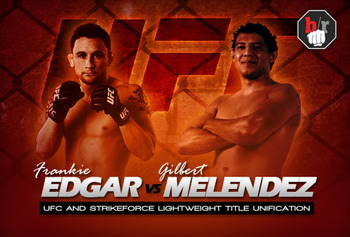 In my opinion, Gilbert Melendez is the most elite, proven fighter currently under contract to Strikeforce. He's their only fighter who breaks the top-five rankings of his weight class, and he's their only fighter who cracks the P4P top-10 list. He's also their greatest—possibly their only—home grown star. Nick Diaz and Dan Henderson made their names in the UFC. Alistair Overeem made his mark in K-1. 90 percent of the Strikeforce HW division is simply the Pride HW division imported to America, with the other 10 percent being Brett Rogers.

But Melendez became a name, a star and a champion all under the Strikeforce banner. He became a "name" there, became "elite" there, and became a champion there. He is the best fighter (that is, highest ranked) under contract to Strikeforce today and is in my opinion the face of the organization.

UFC champion Frankie Edgar is in a similar situation, with a big difference. He too is a "home grown" star, having won all his biggest fights and established his "name" in the UFC. The problem for Frankie is that while he is undoubtedly elite, exciting, and oh yeah—the No. 1 in the world in his weight class—no one seems to care.

In the post-BJ Penn era of the UFC's lightweight division, Edgar just hasn't managed to capture fans' imagination. Hopefully, his anticipated "3-match" with Grey Maynard in May will change all that.

So how do these two guys stack up?

Like all Frankie Edgar fights—hell, like all Gilbert Melendez fights as well—this one would be a barn burner. There's just no way short of someone slipping a sleeping pill into one of their water bottles that this fight isn't fireworks.

And besides, if Frankie can take a Grey Maynard uppercut to the squash he's going to laugh at something called "Ambien."

Their skill sets match up very closely. Both men bring polished, tactical striking games with emphasis on speed, movement, and angles. I'd have to give Melendez the power advantage, however.

In the grappling, it's an even closer match, both men being solid defensive and offensive wrestling skills. Both men being underrated, Gracie trained BJJ games and have proven themselves with the best. Both men bring endless gas tanks, an iron will and a fighter's mind capable of implementing a game plan and sticking to it.

This fight would be great, picking a winner nearly impossible. At this moment, I'm going to take the surprising (to some) route and pick Melendez over Edgar. I feel their wrestling would cancel each other out, leaving Gil the chance to rock Frankie standing and then, unlike Maynard, not blow his wad trying to put him away.

Winner: Gilbert Melendez


Welterweight: Nick Diaz (Strikeforce) vs. GSP (UFC)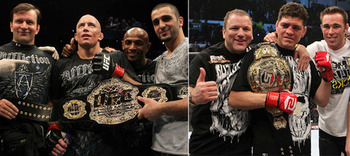 If you've been on Bleacher the last couple days you've probably read a lot of coverage regarding this fight. If you've been on the MMA blogosphere in general then you've been positively inundated.

The reason for that is that this fight is compelling. It's the ultimate battle of opposites. Polished, polite, by the book GSP vs. the brash, profane, off the cuff Diaz. The powerhouse wrestler vs. the ace BJJ player. The tactical, jab and dance specialist vs. the aggressive, high-volume steamroller.

Remember earlier when I said Gilbert Melendez was the face of Strikeforce? Well that was pure guff as it turns out. What was I thinking? Clearly, the face of Strikeforce is Nick freakin' Diaz.

Seriously, who else (save Gina Carano) can draw the eyeballs in Strikeforce anymore but the Stockton kid? Just look back at the history of the promotion, at its big fights and compelling feuds. Nick Diaz is all over the Strikeforce history books. Gilbert may be the home-grown star but Nick is the face of Strikeforce.

And what more could seriously be said about GSP? If you're one of the three people who follow MMA who aren't down with the riddum, it likely means you don't have a girlfriend. Find one and ask her what a "GSP" is.

Ok, good. Now, how would a fight between these two welterweights go?

This is a more intriguing matchup than most would have you believe. On the feet, GSP has been criticized for his "play it safe" style, using speed, range and a killer jab to control a fight. Matched against the high-volume offense of Nick Diaz, this might not be such an easy strategy.

I guarantee you, if he can eat a Paul Daley bomb, Diaz is gonna walk through at a St. Pierre jab, no matter how badly his orbital bone is shattered. Then he's gonna throw like the wind. It would be interesting to see the result.

On the ground is where Diaz runs into problems. He is a tight BJJ player, but his grappling is usually a fallback when his striking isn't working. Against someone who's looking to take him down and hold him, he's proven less effective. "Powerhouse wrestlers" may be Nick's kryptonite, as evidenced by losses to Sean Sherk and Diego Sanchez in the UFC.

That leaves me to think that even if GSP is being overcome in the striking, he'll simply shoot a double, plant Diaz on his backside, and grind out a decision.

Winner: GSP


Middleweight: "Jacare" Souza (Strikeforce) vs. Anderson Silva (UFC)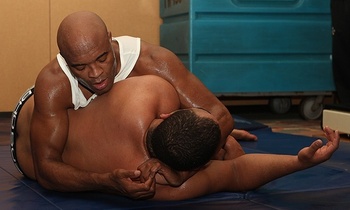 Of all the hypothetical super fights I'll discuss here, this one has the least chance of actually happening for a number of reasons.

First, Anderson Silva's dance card for 2011 is already pretty full. In August, "The Spider" is expected to defend his belt against Yushin Okami in Rio this August. After that, Silva has a possible rematch with Chael Sonnen, or potential super fights with Jon Jones or GSP to look forward to.

At that point, Silva would be well into his late 30s and likely thinking about retirement.

The second reason is that these guys are friends and training partners, and would probably not be too eager to fight.

And finally, there's the unfortunate truth that every time Anderson Silva steps into the ring with a world-class BJJ guy, the result has been a catastrophe of a fight.

This is a shame, since both these guys are such specialists at what they do.

For Silva, that specialty is separating human beings from consciousness. No one in the sport—bar none—can shut off the lights faster, easier and more creatively then Anderson Silva. Souza is also an artist, and his "art" is turning human beings into painful and/or unconscious pretzels.
Like I said above, however, this fight won't happen because we already know exactly how it's going to go. Bell rings, "Jacare" come forward looking for a take down, Silva dances away playing air guitar and imitating Royce Gracie while throwing the occasional jab. Bell rings. Wash, rinse, repeat.

The most we could hope for would be that Anderson decides to at least try to knock Souza out at some point, with some part of his body, like his collarbone or duodenum or something. But we all know it's not likely. Silva would take a lopsided decision's worth of dancing to the Michael Jackson soundtrack in his head—or to the sound of thunderous booing echoing throughout the arena.

Winner: Silva


Light Heavyweight: Dan Henderson (Strikeforce) vs. Jon Jones (UFC)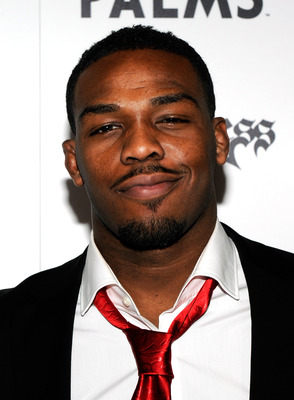 Ethan Miller/Getty Images
If any fight on this list would draw that most reprehensible of labels—"mismatch"—it's this one. Dan Henderson vs. Jon Jones!? Are you kidding me!? The guy who made "Shogun" look like a sparring dummy vs. the Strikeforce "champion" who is 2-1 in the organization, almost old enough to collect a pension and just recently lost to a blown up welterweight?

Yeah, that would be a fun fight—assuming you want Dan Henderson to be the first ever Strikeforce fighter to die in the Octagon.

That's what the critics would say, at any rate. Yet if any man exists with the tools to "Matt Serra" Jones, it's Dangerous Dan.

I mean that quite literally. Matt Serra wrote his name into history by keeping the fight standing up (mostly cause GSP didn't try all that hard to take him down), throwing a power right hand, and crossing his fingers. Dan Henderson has all the tools—in theory—to pull this off.

Yes, this would be an uphill battle. A really, really uphill battle. Like Mount Everest on stilts kind of uphill. Jones has taken down bigger men then Hendo, stronger men and better wrestlers like they were children.

But every fight starts on the feet, giving Dan the chance to land his signature bomb and shut Jon's lights off. It could happen.

But don't bet on it.

Winner: Jon Jones


Heavyweight: Alistair Overeem (Strikeforce) vs. Cain Velasquez (UFC)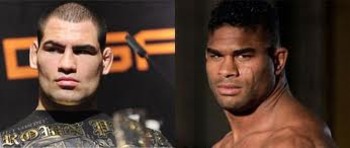 Last, but certainly not least, we have the clash of the heavyweights. And if the words "Overeem vs. Velasquez" didn't get your nipples even slightly hard, you need to turn your MMA fan card in right now.
This fight would be a "Clash of the Titans" in almost a literal sense. The unstoppable steamroller Cain (is calling his bandwagon the "Brown Ride" too risqué?) vs. Alistair Overeem, the chiseled Greek God of horse meat and small Japanese women. Even at a glace, this fight is intriguing. I think you could put these two on a poster facing off and not even include names, and people would care.

Both these guys are tied up for the next little while, so I don't expect a Cain-Overeem fight to happen until 2012. But once Alistair is done with the Strikeforce Heavyweight Grand Prix (assuming it isn't delayed until forever) and Cain is done with shoulder surgery and the winner of Brock Lesnar-Junior Dos Santos, there's no reason this fight can't happen.

So who takes it?

In terms of striking, you have to give the edge to "Ubereem." Don't get me wrong, Cain is a fine striker who's destroyed his share of brain cells, but Alistair is on another level. He's a K-1 World Champion kick boxer, a pillar of Holland's legendary Golden Glory gym, and oh yeah—a bad muthaf*cka. When he throws hard, he has fight-ending power in every strike he throws.

Cain, on the other hand, just recently shrugged off the mantle of "pillow-fisted" by destroying Lesnar and "Big Nog". There's no comparison in the stand up.

On the ground, it's the same situation but reversed: Overeem is an underrated grappler in his own right, but he'd be given all he could handle with Cain's Division 1 wrestling skill set. Cain has outworked, out-hustled, and straight out-grappled everyone he's ever fought. Try as he would, I don't see Overeem being able to solve that problem.

So Cain takes this, right?

Nope. See, I think Cain's recent KO victories have made him overly enamoured of his striking skills. I see him coming out and being willing to exchange with Overeem, which would be a mistake. The last time Cain fought a semi-competent striker, he was seeing stars against "Cup Check" Kongo. Overeem hits a lot harder then Kongo does.

Winner: Alistair Overeem
Keep Reading