2011 NBA Playoffs: LeBron James' New Shoes, Kobe Bryant's Last Stand and More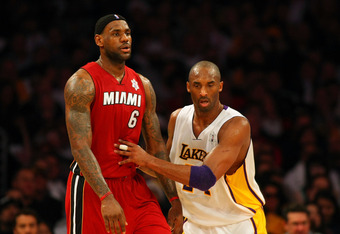 Victor Decolongon/Getty Images
The 2011 NBA Playoffs have finally arrived and we have a cast of superstars that will be on display for the next two months.
Everyone from LeBron James and Dwyane Wade to Kobe Bryant, Derrick Rose, Kevin Durant and Carmelo Anthony will be playing in the season that matters—the playoffs.
With this new season there will be new story lines, answers to old questions and at the end of it all we will have the 2011 NBA Champion.
The Lakers will be looking to complete a three-peat, the Heat will be looking to silence their critics with the biggest "I told you so" party South Beach has ever seen, and the old guard of the Boston Celtics and the San Antonio Spurs will be trying to add to their banner collections—I love the playoffs!
Keep it locked here for updates on everything NBA playoff related.
And here we go...
2011 NBA Playoffs: Should Dwight Howard Have Won Defensive POY?
Simply put, no.
I know Dwight Howard had a record year in double doubles and a career high in steals. Yes he is a major factor for the Magic's defense on a nightly basis. Dwight Howard is a great defensive player—I admit that.
However, let's look at some of the players who Howard has to cover in his conference: Spencer Hawes (76ers), Ronnie Turiaf (Knicks), Kwame Brown (Bobcats), Jason Collins (Hawks), Ryan Hollins (Cavs), Roy Hibbert (Pacers), Jermaine O'Neal (Celtics) and Brook Lopez (Nets).
Those are eight centers that Howard would have zero problem shutting down and none of which are the first option on their respective team. This makes Dwight's life on the defensive end a lot easier.
The lack of great big men in the NBA lends itself to an athletic big man dominating.
With the great influx of talented wings and point guards into the league, being able to shut down a perimeter player requires much more skill and athleticism. You have to play angles, fight through screens and are always moving, much more difficult then staying by the basket trying to block shots and rebound.
Some players I feel should have been considered for Defensive POY are Shane Battier, Ron Artest, Dwyane Wade, Chris Paul and Russell Westbrook.
I think that the most skilled defensive player should win the award, not the player that is in the most advantageous stat collecting position.
This article is
What is the duplicate article?
Why is this article offensive?
Where is this article plagiarized from?
Why is this article poorly edited?
2011 NBA Playoffs: Lakers and New Orleans Hornets Crazy Halftime Finish (Video)
The Hornets have a one game lead over the second seeded Los Angeles Lakers in the opening round of the 2011 NBA Playoffs.
If that isn't crazy enough for you, above is the clip to the Lakers and Hornets crazy first half finish.
Needing a bucket before the end of the half Kobe Bryant drove baseline and pulled up for one of his signature fall away jumpers. He hit it, but he also hit his head on the knee of a fan sitting in the front row when he came down and slid out of bounds.
Kobe stayed down on the sideline while the Hornets raced the other way on a 5 on 4 fast break. That lead to Chris Paul hitting a wide open three pointer with only seconds remaining in the half.
Then it got crazier when Ron Artest got the inbound pass from under the Lakers hoop and proceeded to drain a line drive three pointer from beyond half court with a defender in his face—and that was just the end of the first half.
This entire sequence happened in less than a minute. Don't believe me? Check out the video.
This article is
What is the duplicate article?
Why is this article offensive?
Where is this article plagiarized from?
Why is this article poorly edited?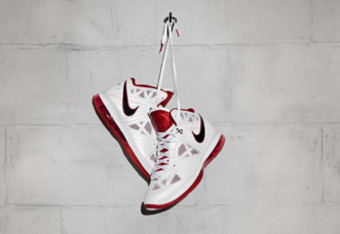 2011 NBA Playoffs: LeBron James New Playoff Shoes
LeBron James has a lot riding on these 2011 NBA Playoffs. It's championship or bust for the the superstar trio in South Beach.
However, it seems LeBron and Nike may have found the answer with LBJ's new kicks, the Nike LeBron James 8 PS.
LeBron's new playoff caliber kicks have been getting rave reviews, especially for the new light weight design and materials.
According to Dimemag.com's Sean Sweeny,
LeBron James' newest sneaker is, the Nike LeBron 8 PS – built exclusively for the grind of the NBA Playoffs. Releasing nationally this Saturday, this is the final version in a series of three Nike LeBron 8 footwear styles and the first signature shoe to tap Hyperfuse.
These kicks seem to have a lot going for them. Personally I have not been a huge fan of LeBron's shoes to date. LBJ's first shoes with Nike, The Air Zoom Generations Lebron, were my favorite of the LeBron James line. Since then I feel like Kobe has dominated as far as having the best shoes on the market (he also happens to have picked up two rings in that span).
So the question is; can they help the king finally win a crown?
Who knows?
But at least LeBron will be in style for the playoffs—something Craig Sager certainly won't be able to say.
This article is
What is the duplicate article?
Why is this article offensive?
Where is this article plagiarized from?
Why is this article poorly edited?