NBA Playoffs 2011: Predicting the East's First-Round Matchups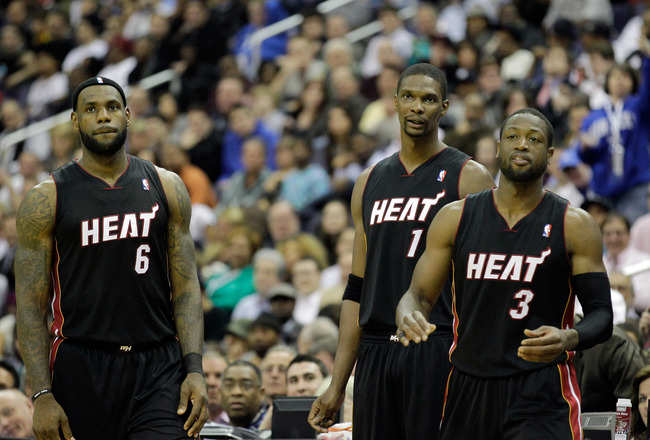 Obligatory Miami Heat photo.
Rob Carr/Getty Images
The NBA's Eastern conference has been resurgent in 2011. After years in the shadows of the much deeper West, there are no fewer than five teams in the East who could contend for a conference title, if not an NBA championship.
With this shift in conference power, it is no surprise that many of the league's most intriguing storylines can be found in the East. Suddenly, the West is the old guard, fading with every passing week. While the East houses the young up-and-comers, the new powers of the NBA who seek to prove that they belong amongst the game's best.
Will Lebron James, Dwayne Wade and the Heat be able to live up to their sky-high expectations? Or will they flame out to the delight of fans across the nation?
Will Derrick Rose and the Bulls be able to continue the incendiary pace they set during the regular season?
Can the Celtics, having gone all in on 2011 with the trade of Kendrick Perkins, be able to summon one more run at immortality?
Can the Knicks, one of the NBA's most intriguing rosters, come together quickly enough to live up to their potential and prove that they belong amongst the game's elite?
No. 1 Chicago Bulls vs. No. 8 Indiana Pacers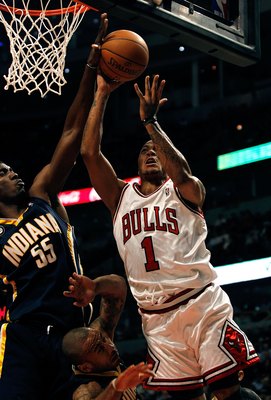 Derrick Rose: Man-beast
Jonathan Daniel/Getty Images
This season has been Derrick Rose's coming out party, and there is little the Pacers can do to slow him down.
Rose has undoubtedly been the NBA's MVP this season, elevating his game to new heights and leading his Bulls past the juggernauts of the East, the Celtics and Heat, for the conference's No. 1 seed.
Not only do the Bulls have this series' best player, they also possess a vastly more talented and playoff-tested roster. They will be able to match the size of Roy Hibbert and Tyler Hansbrough with the equal size and considerably greater talents of Carlos Boozer and Joakim Noah.
The Bulls starters are better, their bench is better, and they have one of the league's five best players leading them. By all accounts they are the prohibitive favorite, and with good reason.
No one is expecting the Pacers to upset the Bulls, but if they are going to win even a single game, they will need everything Danny Granger is capable of giving them. And the Bulls won't make it easy for him. Luol Deng is by no means a shutdown defender, but is long and athletic enough to give Granger fits, especially with Boozer and Noah behind him defending the paint. Chicago also has a defensive specialist, Ronnie Brewer, to throw at Indiana's best player in crunch time.
Simply put, the Pacers just don't have enough talent to compete with Chicago. As scrappy and surprisingly decent as the Pacers have been this season, their feel-good story ends here, unceremoniously.
Prediction: Chicago in four
No. 2 Miami Heat vs. No. 7 Philadelphia 76ers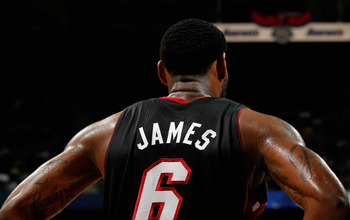 Most of America wishes Lebron wasn't the best player in the NBA. But he is.
Kevin C. Cox/Getty Images
Beginning on Saturday, April 16 at roughly 3:30 EST, most of America will be rooting for the 76ers. Not coincidentally, at about 6:30 EST that same day, most of America will be disappointed.
The 76ers are an intriguing team, to be sure. They rely heavily on guard play, usually a good thing for viewers, and are led by one of the NBA's most intriguing all-around talents, Andre Iguodala. But intriguing though he may be, Iguodala is no Dwayne Wade or Lebron James.
This is a series between two teams with no depth, who are led by their wing players. And while I do not think that there is any way Philadelphia can realistically win this series, I fully expect them to give the Heat a run for their money, and compete in a way that may surprise some people.
The Heat are a team that have shown themselves all season to be prone to mental and emotional lapses. They have the weight of the basketball world on their shoulders, and at times have clearly buckled underneath it. Although on paper their roster would suggest otherwise, the 2011 Heat were far from dominant.
The 76ers can compete in this series because they actually match up fairly well with Miami. The Heat's primary strength is their athleticism, their ability to run teams off the court. Fortunately for Philadelphia, their roster is stacked with athletic guards like Iguodala, Jrue Holliday and Evan Turner, all of whom possess the right size and skill set to at least compete athletically with the Heat.
Based on the 76ers athleticism, and the fact that the Heat have shown themselves to be an inconsistent, surprisingly beatable team, I expect Philadelphia to steal a couple of games from Miami. But not the series.
It is also worth noting that, as a unit, the Heat are completely untested in the playoffs. Their roster is thin, and the weight carried by their stars will only grow heavier in the postseason. This will truly be the factor that decides the Heat's success in 2011.
Prediction: Heat in 6
No. 3 Orlando Magic vs. No. 6 Atlanta Hawks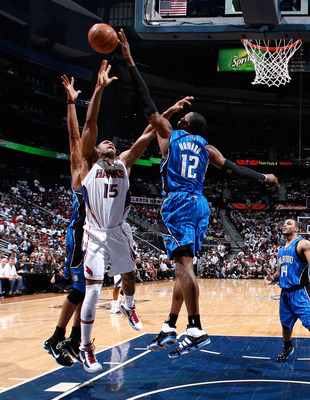 Get ready for a lot of this, Atlanta fans
Kevin C. Cox/Getty Images
Every year, the Hawks do their best to mess up my playoff predictions.
Every year I bet against them, and every year they scare me. I always expect that the slower pace of postseason play will negatively affect them. I assume that a team built almost entirely on athletic wing players will succumb to the elevated defenses and talented teams they will face in the playoffs.
But for some reason they always stick around, giving quality teams a run for their money, surprising me just enough before being shown the door.
This season is no different. I look at these two rosters, and would be hard-pressed to find a worse matchup for the Hawks. Al Horford is a good player and all, but Dwight Howard is the best there is at the center position. At a time of year when quality post play is at a premium, the Magic have one of the league's best post players.
The Magic are also constructed for postseason success. In the playoff, the inside-out combination of Dwight Howard and long-range sharpshooters like Hedo Turkoglu and Jason Richardson can be deadly. In this series in particular, Orlando has found an opponent whom Jameer Nelson can legitimately dominate – no offense to Kirk Hinrich.
It may be foolish of me to think that Orlando will roll through this series, especially after years of anecdotal evidence that would suggest that the Hawks will be surprisingly good in the playoffs, but I have to go with my gut on this one.
And my gut is predicting a blow out. I won't be surprised if the Hawks manage to take a game in Atlanta, but I don't expect the other four contests to be particularly close.
This is a great matchup for Orlando and their recently revamped roster, and is a test that could help determine the team's fate for years to come. If they struggle in this series it is certainly an ominous sign for a team that must compete for a title if they want to retain Dwight Howard in 2012, his free agent year.
Prediction: Magic in 5
No. 4 Boston Celtics vs. No. 5 New York Knicks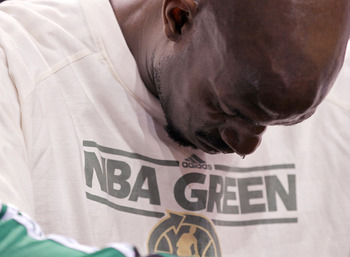 Intensity! It's faaantastic!
Mike Ehrmann/Getty Images
It's gonna be a bloodbath, ladies and gentlemen.
This series epitomizes the East's battles between the old guard and the up-and-comers. The Celtics, who have been among the NBA's best for years, are the proven power. The resurgent Knicks are the new generation, looking to prove that they belong in Boston's class.
In the 2011 NBA Playoffs, Knicks vs. Celtics is perhaps the most intriguing first round matchup in either conference. For much of the year, the Celtics were the favorites to win it all. They looked aggressive, defensively oriented, and dominant.
And then they traded Kendrick Perkins. They haven't been the same team since.
For the Celtics, this series is about proving that they are still the same team that ran roughshod over the NBA for much of the regular season. They will be expected to dominate the new-look Knicks, who have not yet had a chance to fully gel as a group, and develop an identity over several seasons the way that Boston has.
However I predict that this series will be extremely close. Not only have the Celtics struggled without Perkins, but the Knicks are hungry. They are out to prove that they are a force that cannot be ignored in the East, contenders for years to come.
Facing the old guard Celtics is the perfect way for the Knicks to begin proving they belong immediately.
In Carmelo Anthony, the Knicks have one of the NBA's best crunch-time scorers. He has ice in his veins, and can create quality shots for himself at any time, against any defender. In Amar'e Stoudemire, they have a hungry big man who is eager to prove that he can help carry one of the basketball's signature franchises.
This series will be as intense as they come. It is a battle between two teams looking to prove that they are among the league's best. In the playoffs, this means hard fouls, added intensity, and bitter competition.
It's going to be awesome.
Ultimately though, the edge has to go to the Celtics. They are deeper, are more of a cohesive unit, and have been tested in the fires of playoffs and championships before.
Result: Celtics in 7
Keep Reading