Sacramento Kings Moving: Anaheim, Joe & Gavin Maloof and All the Latest Updates
Devastated Kings fans soak in their team for potentially one final time.
Jed Jacobsohn/Getty Images
With one Kobe Bryant flick of the wrist, the Sacramento Kings were played out of California's capital in very fitting fashion.
Bryant hit a game-tying three-pointer in the waning moments of the fourth quarter of Wednesday night's game (an eventual 116-108 overtime victory) to demoralize and all but end the Kings' stay in Sacramento.
As Sacramento Bee writer Jason Jones noted in Thursday morning's edition, "Kobe Bryant was here for perhaps the most gut-wrenching moment in the history of the Sacramento Kings."
As of Thursday, that may no longer be the Los Angeles Lakers' epic Game 7 overtime victory in then-Arco Arena of the 2002 Western Conference Finals that still has Sacramento natives kicking tires. After a wild, emotional likely sendoff for the Sacramento Kings on Wednesday, all eyes now turn to New York, where the Kings owners are meeting with the NBA's Board of Directors.
The Maloof brothers will make a presentation at 9:45 a.m. EST in New York, weighing the pros and cons of staying in Sacramento or bolting for Southern California to become the region's third NBA team.
George Maloof told the Bee on Thursday morning, "We're making a presentation today about what's good and bad about Sacramento and Anaheim. If the owners are comfortable with it, we'll take the next step. We'll put in an application on Monday if things are right."
Stay tuned for all the latest developments.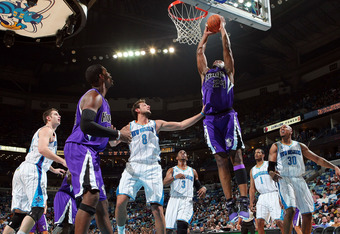 Albeit with conflicting reports, the Sacramento Kings appear to be staying in California's capital—for now, at least.
On Friday afternoon, the Los Angeles Times reported that league officials confirmed that the Kings will play out at least one season in Sacramento. Whether or not the team will stay in Sacramento beyond next season will largely depend on whether or not Mayor Kevin Johnson and the city fulfill what they have pledged to do to make sure the city can sustain the team and get a new arena built.
However, Stern confirmed the NBA's continuing interest in Sacramento's offer.

"Mayor Johnson made certain representations about community support that he had secured," Stern said.

"The committee thought it would be prudent to send an NBA task force out to Sacramento to verify those commitments.

"And that is now what's being done."
However, shortly after the Times' story broke, Sam Amick of Sports Illustrated didn't outright deny the report, but was skeptical in a series of tweets. Amick is formerly a Kings beat writer for the Sacramento Bee.
After speaking to several highly-involved sources, I would say that it's still looking very good for Sacto but no decision yet.

Maloofs are still considering Anaheim, according to sources. NBA's further investigation into mayor Kevin Johnson's claims next week.

It's telling, however, that there is no current plan to analyze Anaheim situation further on part of the NBA.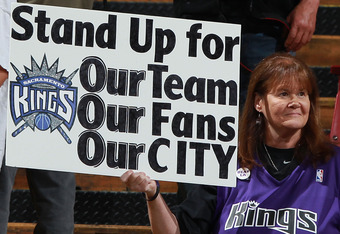 According to a report posted on the Sacramento Bee's website, Sacramento Mayor Kevin Johnson and state Senate President Darrell Steinberg felt as though their meeting with the NBA Relocation Committee on Thursday in Sacramento went as well as it could have.
The two are now even more optimistic that they will able to keep the Kings in Sacramento.
NBA representatives Clay Bennett and Harvey Benjamin declined to to comment to the Bee, but Johnson and Steinberg thought the meetings went favorably.
Johnson said he presented Bennett and Benjamin with a list of corporate sponsorships totaling $9.2 million, making good on his promise in New York last week that he and others here were drumming up the kind of money the NBA needs to see to keep the team in town. Johnson has yet to make that list public.

"I think the NBA is convinced they can check that off the list," Johnson said at noon after a meeting at the U.S. Bank tower on Capitol Mall.
The recent developments or, at least, Johnson and Steinberg's optimism, make it seem as though the NBA is willing to listen to Sacramento and haven't already started setting up shop in Anaheim.
If nothing else, it's lit a fire under the you-know-whats of Kings fans.
"Here We Build," one of the most vocal leaders of the movement to keep the Kings in Sacramento, has urged the entire city to wear purple during the NBA's visit to show the NBA how much the city wants to keep the team. They are posting user-submitted photos all day of fans donning purple, see them here.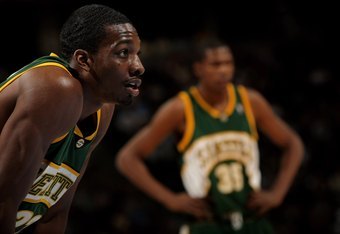 Although Ron Burkle's pitch to buy the Sacramento Kings along with Sacramento Mayor Kevin Johnson's tireless rally to keep the team in Northern California has given Kings fans renewed hope, one, giant spectre continues to plague the entire process: Clay Bennett.
Bennett is heading the NBA's relocation committee that is hearing the pleas from various movers and shakers from Sacramento to Anaheim.
Jilted Seattle Supersonics fans in Seattle had to be spitting up their coffee when news broke that Bennett would be leading the relocation committee. It was Bennett, of course, who bought the storied but troubled Sonics franchise, told Seattle he'd keep the team there, then uprooted it to Oklahoma City a year later.
He's about as welcome in Seattle as Thierry Henry is in Ireland or Aaron Boone is in Boston. In other words, he's not welcome there. He's already shown he cares little about salvaging a team in a fiercely loyal city—much like Sacramento. Naturally, his inclusion drew the ridicule and ire of Seattle residents who are still recovering from the Sonics' departure.
Danny O'Neil of the Seattle Times writes (along with publishing some comical tweets from fans):
And you could use any number of words to describe the last man to relocate an NBA franchise now overseeing the very same process that could occur in Sacramento. It is galling if you're a Kings fan, problematic if you're an NBA fan and it's laughably predictable for Sonics fans. After all, gallows humor is about all we're left with when it comes to the NBA.
Bleacher Report's own Phil Caldwell writes:
You remember our flat-topped pal down in Oklahoma, right? While declaring his love and devotion to keep his newly purchased franchise in Seattle, where it had been for four decades surrounded by crazed Sonic fans selling out Key Arena when they actually had an owner trying to win, he was shooting off emails to his buddies back home declaring exactly the opposite of what he was saying publicly in Washington State.

Apparently David Stern, the recipient of several of these Oakie fib-missives himself, was so impressed that he deemed this as qualification for a position where other cities are to trust the head of the NBA relocation committee.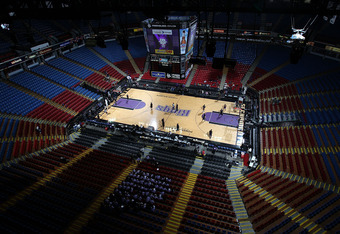 Sacramento's last-ditch bid to keep its only major sports franchise, the Sacramento Kings, will be visited by an NBA committee that is assessing both Sacramento's rally to keep the team and Anaheim's proposal welcome the team.
Joe and Gavin Maloof, along with other family members who own the Kings, originally had until today to file for relocation but NBA commissioner David Stern granted the Maloofs an extension until May 2 to file for relocation.
According to a report posted on KCRA Channel 3's website, Steve Hammond of the Sacramento Convention Center and Sacramento Visitor's Bureau, has helped raise $7 million from investors and new season ticket holders and is confident that he and Kevin Johnson's task force will reach $10 million by the end of the week.
The Sacramento Chamber of Commerce released the following on Monday concerning the city's recent efforts to keep the team locally:
"The Sacramento Metro Chamber is currently working with the Mayor's office in the ongoing effort to demonstrate that Sacramento has been and will continue to be a viable NBA market for the Sacramento Kings. The Metro Chamber's work includes identifying existing business support, new business support and potential support for the team. The critical component of those three is identifying—immediately—new corporate suite holders and sponsors that bring new revenue to the table."
David Stern addressed the media on Friday morning morning concerning Kings ownership's bid to uproot the team from Sacramento to Anaheim, Ron Burkle's bid to purchase the team and the Maloofs' May 2 extension to file for relocation.
Stern didn't exactly give a ringing endorsement to Burkle or much solace to Kings fans still clinging to the thought of the team staying in Sacramento. But it's a start.
The following is a series of tweets from reporters following and attending Stern's presser in New York:
From ex-Sacramento Bee columnist Mark Kreidler:
Stern thinks NBA can support 3 teams in LA market. But you knew that already, or else the Anaheim thing would've died long ago.

For those asking ... Clay Bennett, head of the NBA relocation committee, is the guy who moved the Sonics from Seattle to OKC.
From Chris Mannix of Sports Illustrated:
And Stern punts on whether he likes the idea of a third team in Southern California.

Stern: The issue in Sacramento is whether there is the will or the ability to build a new arena for an NBA team.
From Adrian Wojnarowski of Yahoo!:
Don't underestimate the power of Lakers owner Jerry Buss with Stern and ownership peers. Buss will do anything to keep Kings out of SoCal.
From Tony Bizjak of the Sacramento Bee:
Commish Stern says the Burkle ownership proposal is "not a high priority on our agenda" in considering Kings relocation to Anaheim
Certainly the Maloofs can't be pleased with the recent developments—otherwise they wouldn't have filed for an extension to file, which seemed all-but certain they'd do so on Monday.
At least for Kings fans, most of whom assumed that the team was absolutely bolting for Anaheim (hand raised), can cling to at least an unlikely possibility that Sacramento's only major franchise will stay in town.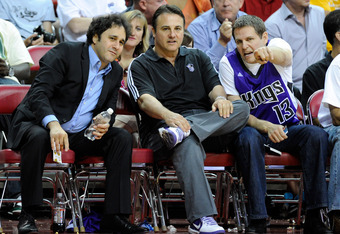 Ken Berg of CBS is reporting that the Maloofs have requested to have their deadline to file for relocation with the NBA via his Twitter account.
NBA Commissioner David Stern granted them a May 2 deadline to file. Their previous deadline was Monday.
Berg also reported that the owners have yet to have an informal poll on how they will vote on the Maloofs' bid.
Executive committee did not take a straw poll on whether Maloofs have votes to move to Anaheim. Owners want time to digest Burkle proposal.
Longtime former Sacramento Bee columnist Mark Kreidler tweeted that the Maloofs are clearly flustered by Ron Burke's overture to buy the team and has muddled up their relocation bid.
CBS 13's Steve Large: Maloofs clearly frustrated by Ron Burkle's emergence. One of them said Burkle can "go back where he came from."

I have little doubt that Maloofs are scrambling. Very surprising developments. Even if extension is granted, I think it'll be brief

No question in my mind that Ron Burkle's addition to the mix is a lit fuse tossed into the NBA boardroom. Very interesting development.
According to a report in Friday morning's Sacramento Bee, the Sacramento Kings ownership group has already rebuffed Pittsburgh Penguins co-owner Ron Burkle and Sacramento lobbyist's bid to purchase the team from the Maloofs and keep the team in Sacramento.
The family has vowed to hold onto the Kings and insisted Thursday that the team isn't for sale – to Burkle or anyone else.

"It does not matter – they are not going to sell the team," said Kings spokesman Troy Hanson when asked about the Burkle plan.
This should come as little surprise to Kings fans—the Maloofs have said all along since the story first broke that they were trying to take the team to Anaheim that they had no interest in selling the team.
That said, according to the same Bee report, Burkle (whose net worth is roughly $3.2 billion) would still be interested in purchasing a different team and moving it to California's capital. The New Orleans Hornets is the name surfacing the most since the team is currently owned by the NBA.
Stay tuned.
News broke this afternoon that a surprise man, Ron Burkle, is interested in purchasing the Sacramento Kings and keeping the struggling franchise in Sacramento.
This is good news for Sacramento fans. But the question Kings fans immediately began to ask is, who exactly is this Ron (Ronald) Burkle guy?
First and foremost, the billionaire is a co-owner of the NHL's Pittsburgh Penguins. The Pomona native apparently dropped out of college and founded Yucaipa Companies, a private equity company in Los Angeles. He's now a member on the board of KB Home, Yahoo! and Occidental Petroleum Corporation, according to his Wikipedia page.
A quick Google search will let you know that he is also the target of the Gawker network and, apparently, quite the party boy.
The first two Gawker result headlines read: "Book: Ron Burkle Hired Hookers, Paid Paris Hilton for Girl-on-Girl Action" and "Ron Burkle, Billionaire Creep, Owes Bill Clinton Money."
In spite of some of the scathing headlines, he's also been awarded the Los Angeles County Federation Man of the Year and the AFL-CIO Murray Green Meany Kirkland Community Service Award.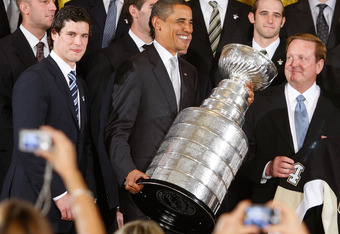 Ever since Sacramento Mayor Kevin Johnson Tweeted that billionaire Ron Burkle has expressed interest in purchasing the Sacramento Kings and keeping them in Sacramento, speculation has run amok that they may indeed stay in California's capital. Burkle is a co-owner of the Pittsburgh Penguins.
The Maloofs have said that they have no desire to sell, but former Sacramento Bee Kings beat writer Sam Amick—who has been scooping every new detail in the move from the start—offered one nugget on Twitter that will only fuel Sacramento fans' newfound optimism:
Yes, Maloofs don't want to sell, but here's the thing. The NBA wants to find a home for the biggest of billionaires. Rising tide effect.
Suddenly Sacramento fans went from defeated to rallying around the new tidbit that emerged from today's meetings in New York. Longtime Bee metro and sports columnist Marcos Breton made the first Burkle play-on analogy to Kings fans:
#Burkle your safety belts, Sacramento....Ok, that was terrible. #HereWeStay #HereWeBuild #HereWeBurkle
Tony Bizjak, who covered today's meeting on the Bee's behalf, reported via Twitter:
@KJ_MayorJohnson says his group gave NBA owners "something to think about" today. "We're showing we're playing to win."
And:
@KJ_MayorJohnson says Sac corporations committed $7 million in annual sponsorships to keep Kings. NBA owners took notice of that, he said
Follow Bizjak's running blog at sacbee.com here for even more updates.
In an unexpected turn of events, billionaire Ron Burkle appears interested in buying the Sacramento Kings and keeping them in Sacramento. Shortly after the relocation meetings were wrapping up in New York today, Sacramento Mayor Kevin Johnson Tweeted:
"New news Today is that billionaire Ron Burkle is very interested in buying the kings and keeping them in sac #kings"
Sam Amick, a former beat writer who covered the Kings for The Sacramento Bee followed by tweeting:
"He dropped Burkle's name, and source says Stern went quiet. "You've got Burkle?"
This came shortly after Johnson optimistically Tweeted about his presentation to the NBA.
"Just finished. Felt very good about our presentation! #kings"
For what it's worth, Joe and Gavin Maloof have been adamant that they have no desire to sell the team.
According to The Sacramento Bee's Tony Bizjac, George Maloof said that they made steps, but didn't appear 100 percent sure on filing for relocation on Monday—the deadline to file.
Bizjac's Tweet:
George Maloof just came out: made progress he said. More meetings planned tomorrow. Sounds like he's not ready yet to file for relocation
Another telling story from Bizjac's running blog and Twitter stream live from New York shows five Kings fans who staked out the meetings to show their support. His Tweet:
There's a cluster of 5 young Kings fans waiting outside hotel to tell Maloofs "don't go." Some have been here for couple hours now.
More to come as more details emerge.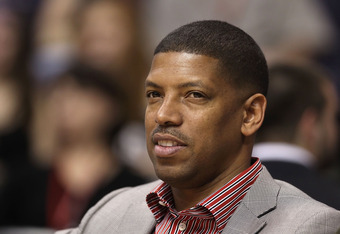 Former Sacramento prep phenom turned Phoenix Sun turned Sacramento Mayor Kevin Johnson is fighting against most odds to keep the team that his constituents love in California's capital.
Johnson is scheduled to speak on Sacramento's behalf at 3 p.m. (EST) in New York. Johnson has supported the "Here we Stay" and "Here we Build" movements in Sacramento that are aimed to keep the Kings in town.
Johnson told the Sacramento Bee's Tony Bizjak:
"If the Maloofs are willing to do it, we'd love to have them here. If not we'd like to let NBA owners know we are committed to being an NBA city. I think we have a compelling case to present today."
He also told the Bee before Wednesday's season finale, "I just don't believe it's the last game here, that's the bottom line."
Anaheim Mayor Tom Tait and Honda Center area manager Henry Samueli are scheduled to present Anaheim's case.
The Bee also reported that Lakers owner Jerry Buss is among the owners lobbying to keep the Kings in Northern California.
Obviously, Sacramento has been hit hard by the impending and likely departure of the NBA team that has called Sacramento home since 1985 when the team landed from Kansas City.
But it wasn't just the fans who were emotional on Wednesday night as Sacramento watched potentially the final game in Power Balance Pavilion (Sorry, it'll always be Arco to Sacramento). Longtime television play-by-play men Jerry Reynolds and Grant Napear were visibly shaken after the game's conclusion as they reflected on the Kings' time in Sacramento.
Reynolds, the onetime Sacramento head coach, and Napear, a transplant from New York, never claimed to be partial—I mean, how many TV guys are?—and were hit hard by the Kings' looming departure.
Reynolds and Napear are the classic hometown play-by-play guys. They're not considered the best in the biz' nationally by any stretch of the imagination, but they had all of the quirky, oft-corny sayings you'd expect from the quintessential homer announcers. And (most) Kings fans love them for it.
Napear's trademark "If you don't like that, you don't like NBA basketball!" is a common catchphrase among Kings fans or in pickup games in the Sacramento area.
Reynolds—also the Kings director of personnel—made phrases like "Bibbilicious" (an ode to Mike Bibby) and "He-do, he do, Turkoglu" famous.

Sacramento Kings: Like this team?