Steroids in Baseball: Did They Actually Save the Sport in the 1990s?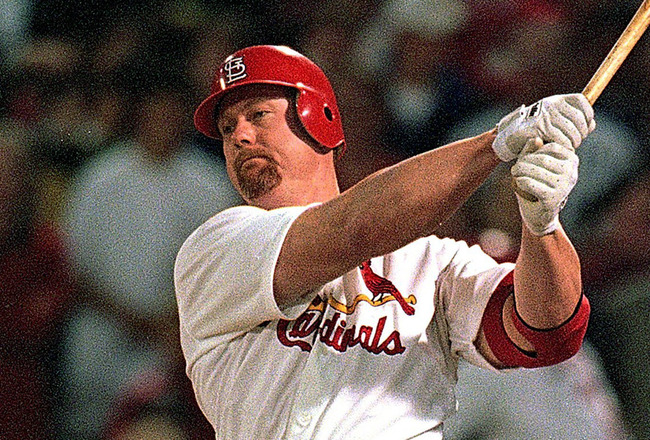 Jonathan Daniel/Getty Images
A sport bruised by work stoppages. Millionaires fighting with billionaires. Fans showed their displeasure the best way they knew how. They stopped going to games.
Things picked back up in the late 1990s, with more fans piling into more parks than ever before.
There was some thought that fans came back because of the sudden surge of offense via the most exciting thing in the game, the home run.
Things really picked up in 1998 when Mark McGwire, Sammy Sosa, Ken Griffey Jr. and Greg Vaughn all finished with 50 or more home runs, with McGwire and Sosa both eclipsing the record set by Roger Maris in 1961. Nine other players slugged over 40 homers.
A whole bunch of failed drug tests, grand jury indictments and 13 years later left people connecting the dots between that power surge and the use of performance enhancing drugs. Most notable of course being steroids.
So while saying home runs saved baseball was cliche at the time, there is now a thought that the very thing so many of us are upset about is what saved baseball.
I'm not so sure about that.
In the early 1980s, baseball had two short work stoppages. Eight days in 1980 and two days in 1985. Sandwiched between those was a 50-day dispute in 1981. Still, attendance stayed north of 20,000 per game league-wide, eventually rising to over 25,000 for the National League and nearly 30,000 for the American League.
Just as things were starting to get better, they got uglier.
The 32-day lockout in 1990 was nothing compared to the 232-day strike launched by the players in 1994 that wiped out the World Series for the first time.
After attendance averages had reached as high as nearly 37,000 for the senior circuit in 1993, the fans seemingly had enough.
Then came the aforementioned power surge and fans flowed back through the turnstiles as if they had turned the other cheek or decided to give their national pastime another chance.
Attendance rocketed into the 32,000 range for the AL and north of 38,000 for the NL where McGwire and Sosa were putting on the fireworks show.
With reasonable regression expected after the home run record chases, attendance league wide dropped to an average of around 30,000 per game in 2000. Throughout the next decade, we'd see a spike as high as 32,694 in 2007 with the low being around 28,000 during a small hiccup in 2002.
The league isn't seeing the attendance it did in the late '90s, but it's not seeing the lows of the '70s, '80s and early '90s either.
With relative labor peace in baseball compared to the nasty fight with the NFL, and the one expected with the NBA, things have been smooth.
A sport once marred by strikes, lockouts, bickering and fighting has seen nothing but immense growth over the past 16 years thanks to revenue sharing, media and merchandising booms and more.
Did steroids save baseball?
I don't think so.
Baseball, in all its beauty and glory, saved baseball. Just by showing up.
Alex Carson is a Mariners and MLB writer and blogger. Follow him on Twitter: @AlexCarson
This article is
What is the duplicate article?
Why is this article offensive?
Where is this article plagiarized from?
Why is this article poorly edited?

Seattle Mariners: Like this team?