25 Women We Want Back in Sports
They say you don't know what you have until it's gone, which is true, unless you happen to have a large, unsightly pimple on your face.
In which case, you are probably painfully aware of what you have.
But in the traditional sense of the idiom, it is never too late to look back and appreciate what you've had. And nobody can fault you for wanting a good thing to come back.
Thus, we present to you 25 Women We Want Back in Sports. From gorgeous athletes who have retired, to sexy WAGs no longer hanging around, there are plenty of women we would love to see reappear in the world of sports.
Let the reminiscing begin!
Photo courtesy of Maxim
Begin Slideshow

»
Cope is a retired swimmer who took home a silver medal in the 4x100-meter medley relay in the 2004 Summer Olympics.
We can't cope without you, Haley.
How about another dip for old time's sake?
Photo courtesy of FHM
Ezra Shaw/Getty Images

I don't know what it is like to be a wildly-successful, soon-to-be billionaire golfer who has women fall down at his feet, so I should probably hesitate to judge the man on his actions.
That being said, Tiger's indiscretions cost us years of seeing the beautiful Nordegren on the course cheering for her man.
And that was just selfish, Tiger.
Apparently, one of Wilson's finishing moves during her stint in WWE was the Nose Job.
I can't believe she would rip off one of Michael Jackson's famous moves like that.

Tatiana Grigorieva is a retired Australian pole vaulter.
You may not have heard of her, and thus you may not have even known you were missing her.
But trust me, you were.
If the NFL is going to shove a slew of primetime games with "America's Team" down our throats, the least they could is find a way to get Jessica Simpson back on camera during the game.
And by the way, it is time to retire the "America's Team" nickname. They've won one playoff game in the past 14 seasons, and were beset by multiple fiascoes as the host of this year's Super Bowl.
Then again, if Donald Trump is somehow elected president, they really will represent "America's Team," won't they?
The Brazilian Mancino is not only a former volleyball player, but further evidence supporting the argument that the women of Brazil are the most beautiful in the world.
Friesinger, a former speed skater, was known in Germany as "Super Sexy Anni."
I would score the nickname as follows:
Creativity: 5
Accuracy: 10
Photo courtesy of Maxim
Varekova is an ex-WAG, as she was married to NHL player Petr Nedved.
She also appeared in the Sports Illustrated Swimsuit Edition a staggering eight times from 1999-2007.
That is "Super WAG" status right there.
WTA-player Dementieva retired in October of 2010. She was the the ninth-ranked player in the world at the time.
Elena, it's not too late to attempt the comeback.
I believe.
Technically speaking, Alyssa Milano is still present in the sports world as a well-known baseball enthusiast.
But she is not currently a WAG, which was enough for me to include the gorgeous Milano on this list.
You don't mind, do you?
And now I attempt to recreate the conversation between Alina Kabaeva—a retired rhythmic gymnast from Russia—and the photographer of this picture.
Photographer: Alright, a few more shots, then let's call it a day. By the way, do you remember where we parked the car? I'm all turned around right now...
Kabaeva: Yeah, it's right over there.
Photographer: Holy crap, keep pointing like that! Jeez, I'm glad I asked.
Simply put, Jennie Finch is one of the truly iconic beauties from the world of sports.
I think I speak for men everywhere when I say, "I miss you, Jennie."
Here, the retired rhythmic gymnast from Spain illustrates why it isn't that impressive when you rub your belly and tap your head at the same time.
WAG: The wife or girlfriend of an athlete, as ex-WAG Cheryl Cole was once when she was married to English soccer player Ashley Cole.
Wag the dog: To divert attention away from something of significance and relocate the focus toward something of less significance. For example, the more I write per slide, the more I attempt to wag the dog.
Wag the tongue: What you are doing right now.
Russia's Navka is a retired ice dancer who won a gold medal in the 2006 Turin Games.
I'll make a deal with you, Tatiana—if you make a comeback, I'll actually watch ice dancing.
Deal?
Victoria Vanucci's tennis career was shortened due to injury, so she took up modeling.
And now, the five most likely things to occur after athletes retire:
5. NFL quarterbacks become studio analysts or color commentators.
4. Legendary NBA players become mediocre general managers.
3. Female tennis players become smoking-hot models.
2. Highly-acclaimed baseball players become steroid-tainted anti-heroes.
1. Boxers become guys that stutter a lot and constantly forget where they left the keys.
Let's play one of my favorite games, "Which fact are you more interested in?"
Fact No. 1: Harkleroad is a former WTA player who was ranked as high as 39 in 2003.
Fact No. 2: In 2008, she became the first professional tennis player to pose nude for Playboy, making the cover.
If you answered No. 1, good for you.
If you answered No. 2, thanks for being honest.
Bianca Cruz will never be as iconic as Jennie Finch, simply because she wasn't nearly the player Finch was.
But Cruz is drop-dead gorgeous, so we would like to see her attempt a comeback.
Photo courtesy of Maxim
MMA knockout Waterson hasn't fought in quite some time, having given birth to daughter Araya in March.
But please don't stay away for too long, Michelle—MMA fans everywhere miss you.
You know, Eva, I think you would really like Philadelphia and our up-and-coming basketball team, the Sixers.
So forget about Tony, fly out to Philly, buy yourself a Sixers jersey, grab the two of us some courtside seats and enjoy the company of this witty and handsome writer.
I really need to stop daydreaming while I write...
Domingues is a former soccer player from—you guessed it—Brazil.
I'm moving.
Photo courtesy of Photobucket
Anna Semenovich is the hottest ice dancer of all-time.
The end.
Here, former WWE wrestler Maria Kanellis imagines what it must be like to kiss me.
What can I say?
I just have that effect on the ladies.
Fun Wikipedia Fact: During her time on Dancing with the Stars, judge Bruno Tonioli nicknamed her "The Weapon of Mass Seduction" because of her hot dancing skills and long legs.
If she is a "Weapon of Mass Seduction," just call me a UN Inspector.
The above sentence was both the first and last time "UN Inspector" will ever appear in a sexual innuendo.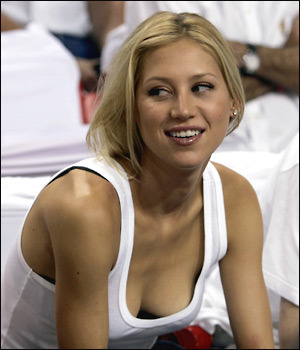 In my opinion, Anna K. will always be the ultimate sex symbol in sports. She may not have been a great player, but few have ever looked better doing it.
Be sure to hit me up on Twitter (@TRappaRT) along with the entire B/R Swagger Team (@BR_Swagger)