Arizona Wildcats: 2011 Game-By-Game Preview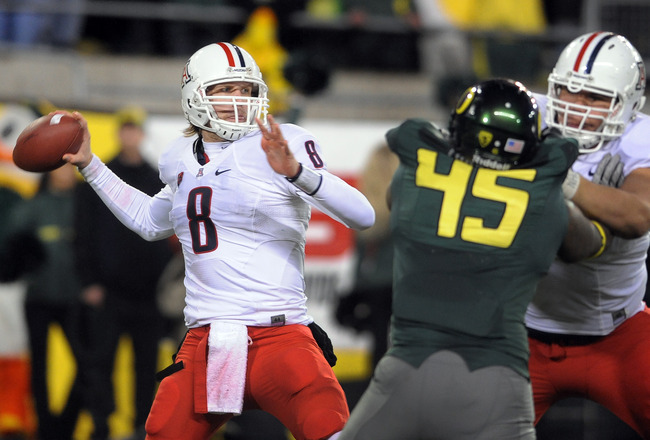 Steve Dykes/Getty Images
Losing five straight games to end a season isn't the way you draw it up in preseason. After an average year, and an average recruiting class, no one really knows what to expect from the 2011 Arizona Wildcats.
U of A lost all five starting offensive lineman from last year, and they also lost three NFL-caliber defensive ends. Nick Foles and Juron Criner are poised to have a big year.
Here is a game by game breakdown of the 2011 season.
Week 1: Northern Arizona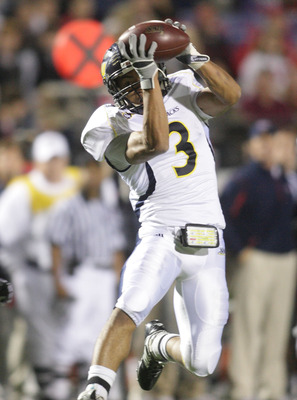 Northern Arizona plays at either Arizona or ASU every year. They may be a D-II school, but you can't sleep on the Lumberjacks simply because it is the first game of the year.
Arizona needs to establish the run game here to build confidence going into the game vs Oklahoma State. If this game is close, don't expect anything better the next game in Stillwater.
Prediction: 34-10 Arizona
Week 2: At Oklahoma State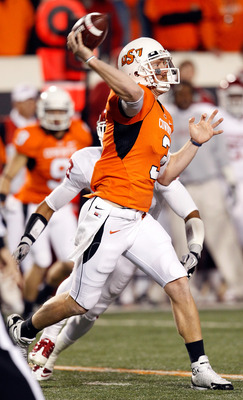 Tom Pennington/Getty Images
This is a rematch of last season's Alamo Bowl, won by OSU, 36-10. Superstar WR Justin Blackmon and QB Brandon Weeden both return, leading a high-powered attack that tormented Big 12 defenses last season.
The key to this game isn't Arizona's defense, because you aren't going to stop OSU's offense. They need to take advantage of OSU's defense and keep the ball away from Weeden and Blackmon.
Prediction: 48-31 Oklahoma State
Week 3: Stanford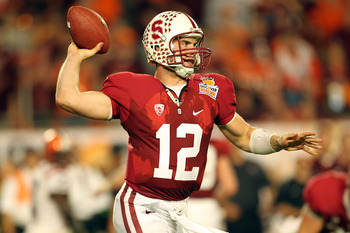 Mike Ehrmann/Getty Images
Jim Harbaugh left the Cardinals for the 49ers at the NFL level. But anytime you have Andrew Luck at QB, you're not in too bad of shape. Each year, Arizona tends to upset a highly ranked team at home—Iowa last year, USC in 2009, etc. The trend could continue this year with a couple of ranked teams playing at Arizona Stadium.
I think home-field advantage will be huge in this game. The 'Zona Zoo will be out in full force, making it difficult for Stanford on offense. If Arizona can get off to a fast start, I can easily see them taking this one.
Prediction: 34-31 Arizona
Week 4: Oregon
Jonathan Ferrey/Getty Images
The game against Oregon always seems to be a high-scoring, back and forth game that ends in heartbreak for one of these teams. However, this year I feel that Oregon will be too much for Arizona to handle.
Arizona has struggled against Oregon's dynamic offense in recent years, surrendering 40-plus points in three straight games. Arizona might be able to keep it close, but I don't expect them to hold a lead in the fourth quarter.
Prediction: 41-27 Oregon
Week 5: At USC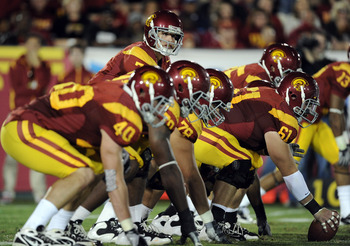 Harry How/Getty Images
Last time, the U of A journeyed to the Coliseum, they came away with a 21-17 victory that propelled them into second place in the Pac-10 and a birth in the Holiday Bowl. USC has grown since that game, and Matt Barkley has grown into one of the better QBs in the country.
In 2010, USC's run game was too much for the U of A to handle, and they took the game 24-21. I wouldn't be surprised to see the same kind of game in 2011. Let Barkley give it to their backs and then burn the U of A with play-action.
Prediction: 28-21 USC
Week 6: At Oregon State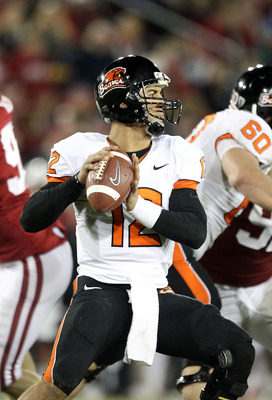 Ezra Shaw/Getty Images
The U of A had climbed all the way to ninth in some polls last year when Mike Riley and Oregon State came to town. Ryan Katz ended up having the best game of his young career, and the Beavers won 29-27. I don't expect either team to be ranked when they play in early October.
Losing Jacquizz Rodgers is huge for Oregon State, but they still have his brother, WR James Rodgers. With the departure of Jacquizz, James may be more involved in the running game with fly sweeps OSU likes to run. If Katz can have another big game, OSU has a chance, but I think the U of A's offense will be too much.
Prediction: 34-28 Arizona
Week 8: UCLA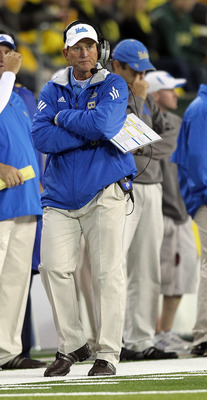 Jonathan Ferrey/Getty Images
Coming off a bye, Arizona will be refreshed to play the weaker half of their schedule. This game will be on ESPN on Thursday, so I expect the Zona Zoo to come out in full force to cheer on the Cats. UCLA is one of those teams that could surprise and upset the U of A.
Backup QB Matt Scott beat the Bruins last year on the road, so it would make sense that Nick Foles can do it at home. But you can't just look at that and predict an easy win. UCLA could be a dangerous team in the Pac-12 south. You can't overlook anyone in the Pac-12 this season—certainly not UCLA.
Prediction: 23-10 Arizona
Week 9: At Washington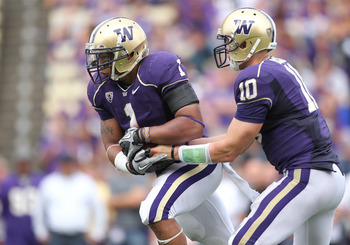 Otto Greule Jr/Getty Images
Husky Stadium has been proven to be one of the loudest venues in the country. Playing there is always a challenge, no matter how good of a team you have. The Huskies will be trying to fill the hole Jake Locker left at QB, and if they can, they could be another team to watch out for in the Pac-12.
Matt Scott and Arizona's offense lit up Washington for 44 points and 400-plus total yards last season. Washington lost their best defensive player in Mason Foster, so we can expect a high-scoring affair, depending on Washington's QB situation.
Prediction: 28-24 Arizona
Week 10: Utah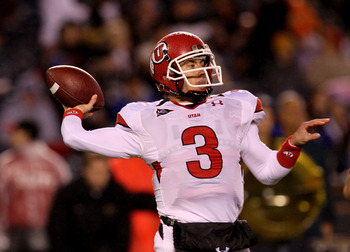 ryan katz
Stephen Dunn/Getty Images
Utah is the wildcard in the Pac-12 this season. Last year, they climbed to as high as No. 5 in the BCS poll, but tailed off at the end of the season. It will be interesting to see how they play against much better teams week-in and week-out.
If Utah can get some early conference wins, I feel like they will be confident knowing they can play in a major conference. I think this game has the potential to be a classic in the 2011 season, with two very evenly matched teams.
Prediction: 31-28 Arizona/OT
Week 11: At Colorado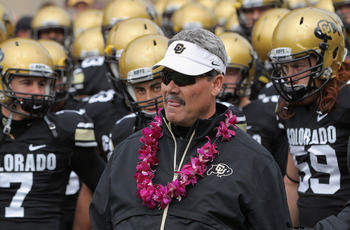 Doug Pensinger/Getty Images
Colorado will be eager to show Pac-12 teams that they are on the rise in the college football world. However, I feel that they are the front runners to finish last in the south division along with UCLA.
Playing in Colorado could be a challenge for teams used to playing at or near sea level. But if Arizona just plays their game and limits their turnovers, they should walk away with a much-needed win.
Prediction: 35-17 Arizona
Week 12: At Arizona State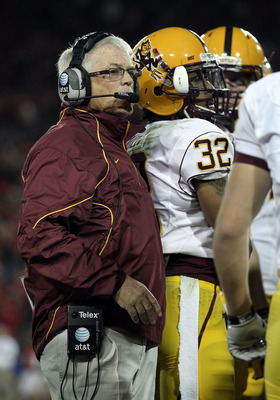 Christian Petersen/Getty Images
Fresh in Arizona's mind is the two blocked extra points that ended up costing them the game vs. ASU late last season. Anything can happen in rivalry games, and I expect that this Duel in the Desert will have an implication on who wins the Pac-12 South Division.
With ASU playing at home, their crowd will be rowdy for the rivalry game, and throw on top of that a chance to go to the Pac-12 championship game. If the U of A can get out to an early lead and quiet the crowd, then the game is theirs to lose.
Prediction: 37-34 ASU/OT
Week 13: Louisiana-Lafayette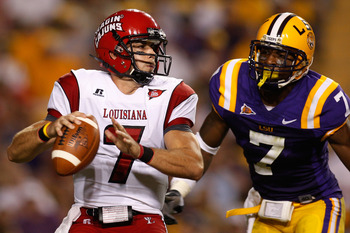 Chris Graythen/Getty Images
The U of A breaks their tradition of playing three non-conference games this season, playing Louisiana-Lafayette in their final game of the season. This game is essentially to help pad their record to go to a better bowl. It could also be the game before the Pac-12 Championship game.
As long as Arizona comes to play and they don't turn the ball over much, they should have no problem finishing off Louisiana-Lafayette.
Prediction: 45-10 Arizona
Bowl Game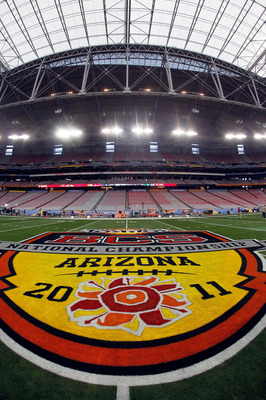 Jonathan Ferrey/Getty Images
With a final record of 8-4, Arizona might be able to get into the Alamo Bowl, but will probably end up in either the Holiday Bowl or the Sun Bowl. Arizona has had a couple rough outings in their recent bowl games, so they should be eager to get back on the bowl-winning ship.
Keep Reading