Barry Bonds: Will His Trial Help or Hurt His Hall of Fame Candidacy?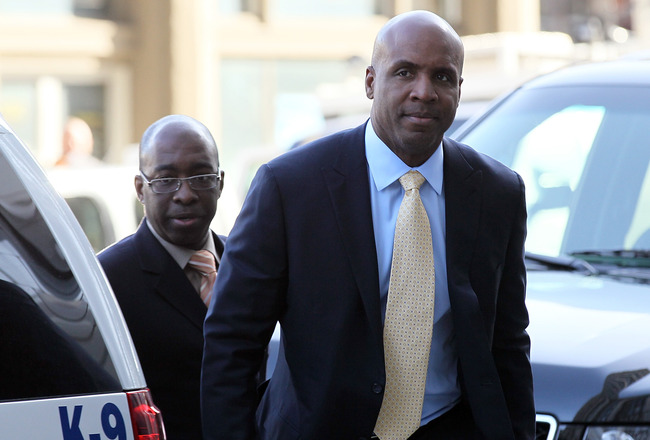 Justin Sullivan/Getty Images
There may not be a more polarizing athlete in America's history than Barry Bonds.
The longtime left fielder for the Pittsburgh Pirates and San Francisco Giants was one of the Sporting News' Top 100 players of the 20th century, coming in at No. 34.
By that time he had accomplished more than the vast majority of players already in the Hall of Fame. He was the definition of consistency with an invaluable blend of power and speed that hasn't been seen much since the game's existence.
At the turn of the century, though, something seemed to change in Bonds. The muscles seemed to grow at a scary rate, the homers seemed to come at a greater rate as his speed dropped and, of course, his hat size continued to head north.
Bonds ended his career with a major league record 762 home runs and 2,558 walks. He had a career average of .298 to go along with 514 stolen bases. He also has the second-most career wins above replacement (WAR) at 169.7.
This only trails Babe Ruth's 177.7.
Seems like a lock for the Hall of Fame, right?
The cloud of steroids have been over Barry Bonds' head for many years now, as it has many others during what has now been dubbed the "Steroid Era," in which we saw extremely increased power numbers and players getting better the older they got.
Bonds was one of these players.
Bonds was found guilty Wednesday on a single charge of obstruction of justice. The worst part for Bonds is that he still has three counts of perjury that the jury failed to reach a verdict on.
Three counts are attempting to prove that Bonds lied to a grand jury about using steroids, taking an injection from anyone besides his personal physician and that he used human growth hormones.
The trial has taken a bad turn for Bonds, who has a reputation that has continued to spiral downwards over the last few years.
Can it be resurrected? Let's take a look at some factors.
2011 Baseball Hall of Fame Balloting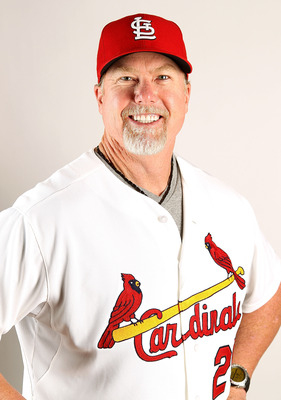 Mike Ehrmann/Getty Images
There were several players on the ballot that came from the "Steroid Era." This will give us a glimpse as to what the voters are already thinking about that particular stretch of baseball.
We'll be looking at guys who were more in the "power hitter" category of the time.
Jeff Bagwell: 41.7 percent of the vote
Larry Walker: 20.3 percent
Mark McGwire: 19.8 percent
Fred McGriff: 17.9 percent
Rafael Palmeiro: 11 percent
We all know the stories regarding McGwire and Palmeiro. What is startling to me is how few votes that Bagwell and Walker got, especially Bagwell, who I saw as a first-ballot guy. That's another article all in itself, though.
What's clear from this is that even if you haven't been grouped with having ever use steroids (Bagwell, Walker and McGriff), if you were a power hitter during the era, then you will be looked at a little more closely.
So if we are seeing such strong nonsupport for these players, what is the likelihood it will improve for Bonds?
The Current Perception on Bonds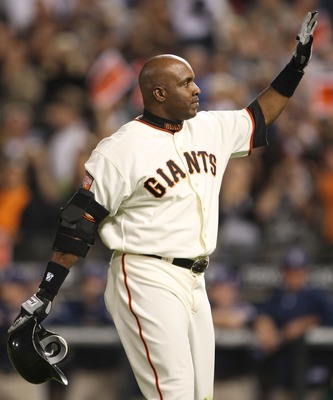 Jed Jacobsohn/Getty Images
The general consensus among baseball analysts and fans is that Bonds' chances of making the Hall of Fame at this point are null.
The Baseball Writers have have made a point that anyone associated with steroids in any form have no chance at getting in, even someone who was as good as Bonds before the steroids.
Manny Ramirez recently retired, and ESPN analyst Buster Olney said that he had no chance at making it to the Hall of Fame. While Ramirez has failed drug tests several times in the past few years and Bonds never has, it is a glimpse of what most feel about Bonds.
Can perceptions change? Of course they can. This just seems unlikely.
How the Rest of the Trial Could Affect Him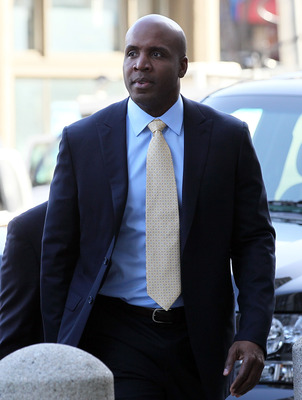 Justin Sullivan/Getty Images
As crazy as it may sound, if Bonds is found guilty of one of the counts of perjury, then his already slim chances of making the Hall will basically evaporate.
Even if he is found not guilty of the charges, it will be a tough hill to climb. McGwire has seen his percentages drop during eligibility and Bonds would have to hope that he gets a generous first ballot number and that it would slowly rise for him to get in at this point.
Palmeiro and McGwire, as we stand now, have virtually no shot at making the Hall, and while neither was the player that Bonds was, they are still some of the very best players to play in the last 25 years.
Conclusion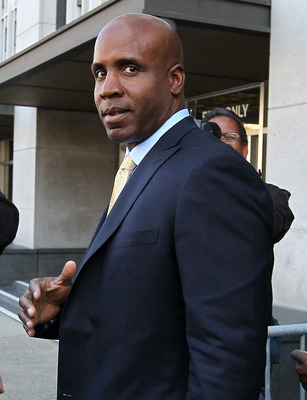 Justin Sullivan/Getty Images
I'm expecting virtually every comment to be that Bonds won't get into the Hall of Fame, and I can't say that I disagree with that.
In fact, I agree.
The LEAST of his worries at this point should be whether or not he makes the Hall of Fame. He needs to be more worried about the possible jail time he could be looking at.
While most expect that Bonds won't serve any time off of this charge of obstruction of justice, what if he were to be found guilty of perjury once? Twice? Three times?
At this point, we will have to wait and see what becomes from the rest of this trial. While the odds are way up against Bonds at this point and the trial has hurt his chances thus far, you never know in the world we live in today.
Bonds is without question one of the best players in our lifetime, but he decided (allegedly) to make the mistake of taking steroids and thus had everything he has ever worked for taken away from him.
Keep Reading