2011 NBA Playoffs: One More Day of Waiting for Western Conference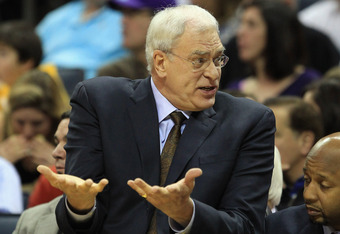 Streeter Lecka/Getty Images
At long last, the NBA's regular season is winding down and by the end of tonight's action Western Conference basketball fans will finally know who is playing where and against whom.
What do we know so far?
Well the Spurs locked in the No. 1 seed and the fifth and sixth spots won't change with Denver and Portland in those positions, respectively.
After that, it gets messy for all involved, including the aforementioned locked teams wondering who it is they'll be facing in Round One of this year's postseason.
But that leaves the defending champion Lakers playing for the 2/3 spots, while the Thunder have a possibility of being the third or fourth seed, New Orleans and Memphis are both looking at a seven or an eight, while the Mavericks, well could be anyone of three different spots.
This means that although all eight playoff teams are set, but not one of them happens to know who they'll be playing.
Thankfully, this will all come to and end tonight.
They may not have a standout superstar or household name, but this year's Denver Nuggets have mystery on their side as the 2011 NBA Playoffs get ready to begin.
And the Nuggets are hoping that the unknown identity of a Denver team in transition will work in their favor.
Not even the Nuggets know what they have yet, aside from having something potentially special.
How do you defend a team that you don't know what they have?
Recently, in a 134-111 Denver victory over Golden State in the Pepsi Center, Warriors guard Stephen Curry said he, for one, is starting to figure out what the Nuggets are putting on the court, but that doesn't make it any easier.
"They're one of the top talented teams in the league from top to bottom," Curry told the San Jose Mercury News after Monday's lopsided victory gave Denver its fourth-straight 50-win season. "It's tough to prepare for them because everybody can go off on any night. Tonight, all of them were kind of equal."
Curry's statement came after witnessing nine Nuggets break the double-digit scoring mark.
So who do you guard?
Responding to a Mercury News question about a Denver team that is seemingly devoid of a superstar, Golden State coach Keith Smart, when asked who was the team's best player responded with "The Denver Nuggets."
This kind of output, however, is becoming commonplace for the new-look Nuggets, which is nearly opposite of what was supposed to happen when Denver shipped stars Carmelo Anthony and Chauncey Billups to the New York Knicks on Feb. 22.
But the playoff's fifth-seeded Nuggets are an incredible 18-6 since sending the all-stars East in exchange for Raymond Felton, Wilson Chandler, Danilo Gallinari and Tomofy Mozgov. Oh yeah, and they got some draft picks.
And it might be the timing of it that has worked to Denver's advantage as they continue to win with a deep squad that is seemingly built of two starting lineups that are interchangeable.
Denver will hope to use coach George Karl's brilliant coaching and mish-mashing of lineups to make some noise in an NBA Playoff field where they were at one point seen as irrelevant.
This article is
What is the duplicate article?
Why is this article offensive?
Where is this article plagiarized from?
Why is this article poorly edited?
Perhaps more important than how will the new-look Nuggets perform in their first playoff game that doesn't feature former star Carmelo Anthony in a Nuggets uniform in 14 years, is determining who coach George Karl's squad will be playing in this year's first round.
And as the regular season comes to an end tonight, the fifth-seeded Nuggets are unsure of who their opponent will be, aside from the guarantee of facing either Dallas or Oklahoma City.
And the scenario is fairly simple. If the Thunder win and the Mavericks lose tonight, then Denver will play Dallas in the first round. If Dallas beats New Orleans at home tonight, then Round One will be Nuggets vs. Thunder.
The opponent-to-be-determined scenario is not as much a concern for the Nuggets as the opposition's attempt to game plan a team that itself doesn't quite know what they are should be of great concern for either the Mavericks or the Thunder.
As far as who the Nuggets would rather play?
Well, only some speculation, but they seem to matchup with Dallas a little better if for no other reason than their 3-1 record this year, as opposed to a 2-3 record against the Thunder.
The waiting game begins tonight with all three teams tipping off at 8pm Eastern.
This article is
What is the duplicate article?
Why is this article offensive?
Where is this article plagiarized from?
Why is this article poorly edited?

Denver Nuggets: Like this team?