Minnesota Vikings: Can the 2011 NFL Draft Answer 5 Burning Questions?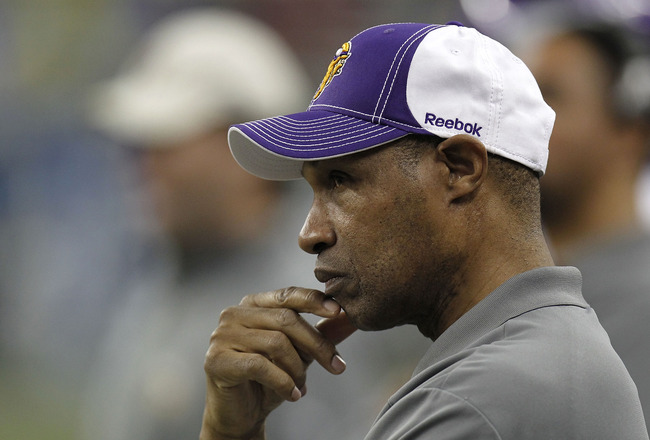 Gregory Shamus/Getty Images
The Minnesota Vikings are heading in to this year's draft with an entire game plan already put together; ready to unleash on the league.
Well that certainly is nice, but what about solving for "X"?
The Vikings have more problems than a one armed monkey trying to swing to safety, and the organization—not to mention their legion of fans—are hoping that some of those problems are solved in the 2011 NFL Draft.
Let's take a look at what the Vikings are facing and how the draft may be able to help.
Will Bill Musgrave's TE Happy Offense Be a Blessing or an Undoing?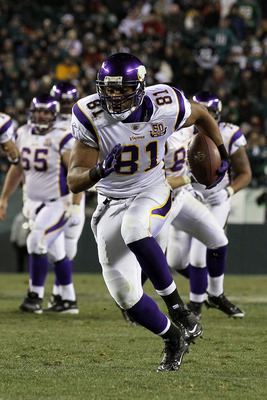 Jim McIsaac/Getty Images
The idea is, with Bill Musgrave now in Minnesota, that the Vikings are going more tight end friendly in the passing game.
In theory it's a wonderful idea that would help the Vikings counter the lack of experience at quarterback, but in reality it would be their undoing by mid-season.
As it currently stands, the Vikings only have one true pass-catching tight end in Visanthe Shiancoe, and as well as saw last year, without Brett Favre the tight end position becomes nearly forgotten.
In 2009, Shiancoe caught 56 balls for 566 yards and a whopping 11 TDs. but in 2010, he caught 47 balls for 530 yards with only two 2 scores.
Why?
Well for one, Brett Favre was non-effective in 2010. His attempts were way down (358 compared to 531 in 2009) and that affected his overall yardage, and touchdowns thrown.
But this year there is no Favre, and the whispers are the Vikings are likely to focus much more on the ground game considering their shaky QB situation.
The new focus on tight end will bode well for Joe Webb—should he really wind up running the offense. But it will be the frequency of the set that decides the outcome.
Run it too much, defenders will stay closer to the line of scrimmage in an effort to defend against the short pass game. With that many players up front and within 10 yards of the line, it will also be very difficult to run the ball regardless of who is running it.
But if the Vikings can score themselves a vertical tight end in the NFL draft who can immediately have an impact and stretch the defense, they could find themselves in a better situation than perhaps even they thought would be.
Prognosis: The draft should be able to help greatly with this dilemma.
Will Sidney Rice Hammer Workout a New Deal? How Does This Affect Percy Harvin?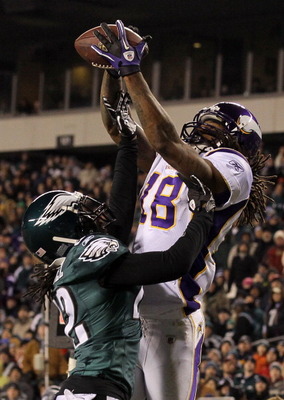 Jim McIsaac/Getty Images
This is one of the biggest questions that needs an answer now, but probably won't receive one until later this year.
So how in the world could the draft possibly help this issue?
There are several situations that could affect whether or not Rice stays or goes, but out of all of them, the quarterback situation has got to be the biggest factor.
The swirling whispers above have been silently throwing out the St. Louis Rams as a possible suitor for Rice's services, and to be honest, a move like that would make sense for Rice.
But if the Vikings were to land a quarterback who has the experience to run the offense (a speculation we'll get to in a minute) there is perhaps some greater incentive to stay.
Rice's presence would also have a significant effect on fellow teammate Percy Harvin.
The Vikings want to feature Harvin more which is what they did towards the end on the 2010 season. But without another viable receiving threat on the opposite side of the field, Harvin could have a lot of trouble establishing himself, since most teams will inevitably pay more defensive attention to him.
Obviously, without Rice in Minny, Harvin suffers greatly.
The Vikings can go two ways here: Settle on a quality quarterback for the future and find a solid wide receiver prospect—Austin Pettis anyone—which will be the one two punch that offers plenty of incentive for Rice to stay for the long-term.
Prognosis: Obviously Rice could just turn around and say he wants out period, but depending on who the Vikings land, the draft has a good chance of helping the situation…but not solving it.
Will Bernard Berrian Return or Try to Find a Better Deal?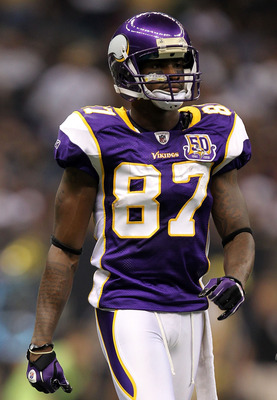 Ronald Martinez/Getty Images
The short answer, is who freaking cares!
In the grand scheme of things, and to be perfectly honest, Berrian simply packed things in shortly after signing his bloated six-year, $43.4 million contract.
His numbers significantly declined each of the three years he's been in Minnesota, and it appeared he had no ambition to even go the extra mile in 2010.
The news wires also agree that Berrian's time is done in Minnesota:
The fact is, Berrian is not the downfield threat the Vikings thought he was going to be, and needs to be released in an effort to pave the road for a younger talent that can be developed.
Look for the Vikings to possibly target a wide receiver in the fifth round or so, and look for Berrian to play elsewhere in 2011-12.
Prognosis: Yes, the draft will inevitably the draft will do something for this situation.
Can The Vikings afford To Pay Peterson? Will They Offer New Deal?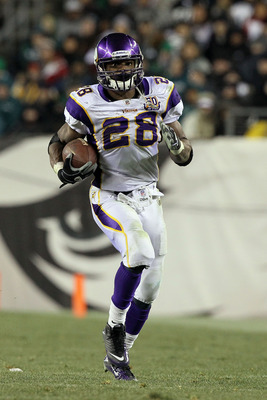 Jim McIsaac/Getty Images
According to head coach Leslie Frazier: hopefully.
"You'd like to get him under contract, and I'm sure and I know we're going to make every effort to get that done," Frazier said. "He is in every sense of the word a franchise back and, in my mind, the best back in the National Football League today. So, we want him to retire a Minnesota Viking and our organization wants that to happen and we're going to put our best foot forward when the time comes."– Star-Tribune.
According to running back Adrian Peterson: whatever.
"I'm watching the way different organizations act and watching the way my organization acts," Peterson said. "I'm not worried about a contract. I've played hard and I think I've done pretty good. I thought maybe -- after a few years of doing good -- there'd be deal by now. But whatever. That's OK. I'm not desperately concerned about a contract." – Star Tribune (same article)
Adrian Peterson didn't do himself any favors with his recent slavery comment, and it does appear he is a bit perturbed over not getting a deal yet, but the biggest concern is the money.
Peterson is owed $10.7 million this year and the Vikings will likely try and get that figure reduced if a new salary cap returns to the NFL.
Whether or not Peterson plays ball with them is a whole different story, and my guess is no.
Adrian Peterson remains, however, one of the elite backs in the league as coach stated, so the likely hood of the two teams finding a happy medium is pretty high…so don't worry.
Prognosis: The draft has very little impact or influence on this situation.
Do the Vikings Target a QB in the First Round or Second? What About a Veteran?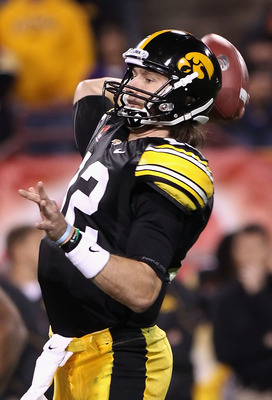 Christian Petersen/Getty Images
And now we get to the meat of the subject matter: The quarterback situation.
The Top 30 at Winter Park has concluded and the Vikings sound confident they know exactly where they are going to go in the draft, and who they are going to target.
The two hottest positions are quarterback and defensive end.
Vikings vice president of player personnel said: "Knowing where we're going to be at, there will be probably five positions that I know we'll look at our 12th pick and then we'll sort that out," he said. "Like I said, there are a lot of other needs to fill at that 12th position if it's not a quarterback. I can tell you this: We're going to take the best player available when it comes to our pick. That I know." – Star Tribune
Out of that comment, one could easily assume the Vikings are going to target a quarterback with their first pick, and many feel that the Vikings really like Washington's Jake Locker.
But in a recent news report found on CBSSports.com, Panthers owner Jerry Richardson is to completely sold on Auburn's Cam Newton which could change how the Vikings do things if, perhaps, Newton was available.
I don't see them going after the shotgun oriented Blaine Gabbert, and I don't see Jake Locker even being available by the Vikings 12th pick.
What I do see is this: Andy Dalton possibly in the second, or Ricky Stanzi in the fourth.
But the NFL draft aside, the Vikings could still land themselves a quality veteran once everything smooths over with.
There was a little rumor floating around that the Vikings were highly interested in ex-Titans' quarterback Vince Young, but it appears that teams just aren't simply sold on the fact that he can handle a starting role according to the National Football Post.
There is, however, a new rumor floating around that Donovan McNabb could become a Viking, and one reporter believes it just makes the most sense:
"I think the team that makes the most sense for Donovan McNabb is Minnesota. The compensation that makes the most sense is a conditional fourth-round pick in 2012 that could rise to a three if McNabb starts 12 games this year. Or something like that. The Redskins can get partial payment (very partial) back for the move Mike Shanahan wishes he never made. The Vikings can sleep better at night knowing they don't have to rely on Joe Webb with a suspect offensive line and a veteran defense as they try to make one last playoff run with this core. McNabb can be happy knowing he has one more chance to take a contender deep into the playoffs. But if this happens, he'd better take full advantage of it, because it might be his last shot with a contender." Peter King SI.com
I think the answer here is that, no, the Vikings will not draft a quarterback in the first two rounds. They will likely target other specific needed areas in the early goings, trade for a veteran like McNabb, and target Stanzi in the fourth.
Prognosis: The draft will solve the young arm issue, but not the veteran presence the Vikings need.
Keep Reading

Minnesota Vikings: Like this team?