MLB Free Agents & Trade Rumors 2011: Albert Pujols, Prince Fielder and the Rest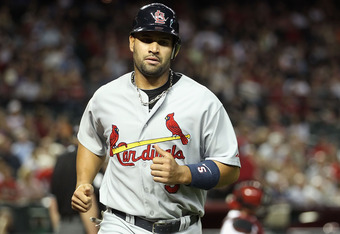 Christian Petersen/Getty Images
We're just two weeks into the 2011 Major League Baseball season, but it's never too early to look ahead to the offseason (especially for us Red Sox fans out there).
The potential 2011-12 free agent class is absolutely loaded with talent—it's akin to the 2011 NBA free agent class with LeBron James, Chris Bosh and the rest—and there will be plenty of story lines worth following as the season goes on.
How will the St. Louis Cardinals' inability to sign superstar first baseman Albert Pujols to an extension this past offseason affect his play in 2011?
Could the Milwaukee Brewers deal big bopper Prince Fielder if they're out of the playoff hunt by July?
Will the Boston Red Sox be able to hang onto slugger Adrian Gonzalez beyond 2011 after making a huge deal for him this winter?
If the Red Sox' struggles continue, could they swap closer Jonathan Papelbon for some young talent, hand over the reins to Daniel Bard or Bobby Jenks and build for the future?
No one knows just yet. But that's the beauty of this space. We'll keep an eye on all of the free-agent goings on and gauge the likelihood of anything exciting happening. So stick with us and let your opinion be heard.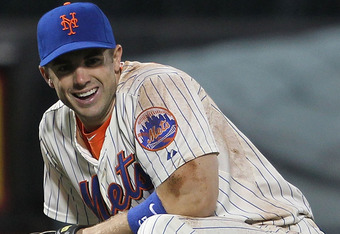 As if the Mets' early-season struggles weren't depressing enough, could the face of their franchise be on the trade market?
All-Star third baseman David Wright, 28, could be used as trade bait should the Mets be well out of the race come summer, says Adam Rubin of ESPNNewYork.com.
Per MLBTradeRumors.com:
The Mets, who may be in full-on rebuild mode as soon as midseason, could opt to trade Wright because he is signed to team-favorable terms through 2013 and would therefore yield a better haul in a trade than Jose Reyes, Carlos Beltran or Francisco Rodriguez.
Wright, a five-time All-Star and two-time Gold Glove winner, has been with the Mets since 2004, playing over 1,000 games and hitting .304 with 172 homers and 675 RBIs over about six and a half seasons.
But so far this season, he's hitting just .247 with three dingers and 11 ribbies through 19 games. The Mets were just 6-13 entering Friday night's game against the Diamondbacks.
It seems unlikely that a player of Wright's stature would be dealt, but Rubin writes that the Mets should consider it given the fact that Wright will likely leave once his contract is up after the 2013 season.
"I understand I don't control [the possibility of getting traded]," Wright told Rubin. "I can go out there and try to play well. I can do whatever I can. But at the end of the day, I'm not the one making the decisions where I play."
This article is
What is the duplicate article?
Why is this article offensive?
Where is this article plagiarized from?
Why is this article poorly edited?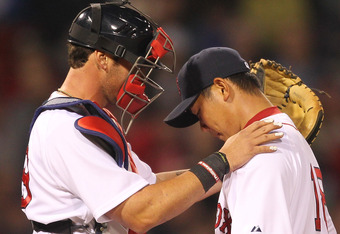 To say that the Red Sox season has been disappointing so far would be an epic understatement. From Carl Crawford's .143 average to Clay Buchholz, John Lackey and Daisuke Matsuzaka's collective record of 3-6 and ERA of 6.98, it's clear that the Red Sox are underperforming.
But one of the quietest failures so far has been behind the plate, where presumed starter Jarrod Saltalamacchia is hitting .194 with 13 strikeouts in 36 at-bats. Veteran backup Jason Varitek is struggling even more seriously, hitting a meager .043 with just a single hit in 23 at-bats.
Opposing teams are swiping bases nearly at will, as the Sox have only thrown out eight of 28 base-stealers (28.6 percent).
Writes Alex Speier of WEEI.com:
Perhaps in part because their focus has been redirected to shutting down the running game, Sox pitchers have struggled with Saltalamacchia behind the plate. The team has a 7.14 ERA when he is the catcher. The Sox are 2-9 in games he's started.
Ouchie.
So what other options might the Red Sox brass be considering?
Well, an internal promotion from Triple-A (Luis Exposito and Mike McKenry) or Double-A (Ryan Lavarnway and Tim Federowicz) seems most likely at this point.
But Speier also mentions the semi-retired, 36-year-old Bengie Molina as a potential signing.
Might the veteran signal-caller—who hit .249 between the Giants and Rangers in 2010—be interested in joining the Red Sox? If a club like the Sox does come calling, he could offer a steady, veteran bat and a solid and positive clubhouse presence.
If the struggles continue in Beantown, don't be surprised if Theo Epstein and company make a move like this before long.
This article is
What is the duplicate article?
Why is this article offensive?
Where is this article plagiarized from?
Why is this article poorly edited?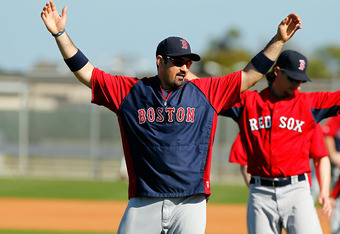 It was announced Friday morning that Red Sox first baseman Adrian Gonzalez has signed his long-rumored monster extension to stay in Boston. Sean McAdam of CSNNE.com reported that the deal is for seven years and $154 million, and it will keep the 28-year-old slugger in Boston through the 2018 season.
Opinions will vary on whether the deal is worth it for the club, which also inked free agent Carl Crawford to a $142 million deal in the offseason. But to secure the services of the three-time All-Star and two-time Gold Glover for the foreseeable future—even at an average of $22 million a year—seems like a no-brainer.
One question came to mind, though. How will A-Gon's contract affect the negotiations between the Cardinals and their free-agent-to-be slugger Albert Pujols?
Pujols is 31, a bit older, but he's also a more established superstar that Gonzalez, sporting nine All-Star nods and three MVP awards.
But is he worth $30 million a season?
Jeff Gordon of STLToday.com doubts it, as he describes in an incisive round-table discussion of precisely this topic:
The total value [of Gonzalez's contract] is a long way from $300 million, so [Cardinals chairman and CEO] Bill DeWitt has to like that. The deal reaffirms that cornerstone sluggers should command $22 million to $25 million per year. But it doesn't address the core issues in future Pujols-Cardinals negotiations: Albert's unique marketing value to the Cards as the New Musial (the big plus for his camp) and Albert's advanced age in the latter stages of any new deal (the big negative for his camp). Those factors will make striking a new deal here very challenging.
This article is
What is the duplicate article?
Why is this article offensive?
Where is this article plagiarized from?
Why is this article poorly edited?