Fantasy Football: Will RB Chris Johnson Be Back on Top in 2011?
March 15, 2017
2010 Review
(brought to you by PYROMANIAC.COM)
For the better part of eight months, the fantasy world lumbered in anxious anticipation to see what sort of encore Tennessee Titans RB Chris Johnson would provide after his astounding 2,000-yard, 16-TD sophomore season.  Could the fastest running back since Bo Jackson actually repeat those mind-boggling 2009 numbers? Or, would he fall in line with the past and suffer the same fate as the five previous 2,000-yard rushers before him? 
After a 142-yard, two-TD Week 1 performance, the outside chance of a repeat certainly looked in place.  After three games, Johnson had already racked up four TDs and was on pace for a 1,616-yard season, but fantasy owners began to sense that something was just a little bit off.  Halfway through the season, averaging a shred fewer than 100 yards and a touchdown per game, it was obvious CJ2K would be putting up top-of-the-line fantasy stats yet again.  However, just as noticeable were the numerous issues plaguing the rest of the Titans squad, eventually keeping their star running back from fulfilling fantasy owners' dreams.
Did the 358 carries and 408 total touches the previous year take their toll on the young, diminutive RB?
Absolutely.  His 4.05 YPC over the first half of the season and 4.3 YPC overall (down from 5.6 in 2009) can attest to that.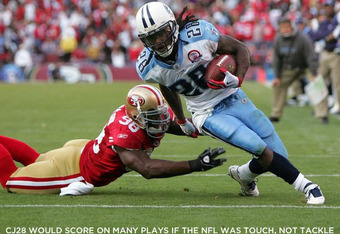 But wear and tear clearly isn't the only reason behind Chris Johnson's decline.  Potentially the most glaring issue was the Titans' inability to gel along the offensive line after letting go of perennial All-Pro center Kevin Mawae. The holes that CJ28 had exploded through were simply nowhere to be found in 2010.
Though the lack of cohesiveness among the blockers in front of him undoubtedly played a large part in Johnson's slide, there was even more of an explanation to be had—namely the Titans lack of talent around him. 
Throughout the season, defenses routinely brought safeties in to guard against the run with either Kerry Collins or Vince Young running the show, with the loss of up-and-coming stud WR Kenny Britt for a handful of games doing nothing to dissuade heavy defensive pressure either. When you add all of these debilities together, it becomes clear that Johnson had no chance of a repeat performance, though he did give it all he had.
With the offensive line having time to gel, a full season out of Britt and a possible upgrade at the quarterback position, don't be surprised to see CJ2K improve on his 2010 numbers and raise his number five ranking among fantasy running backs this upcoming season.
Not that his 2010 statistics were bad, as most RBs in the league would kill for a 1,364-yard, 12-TD season to be considered a "down year".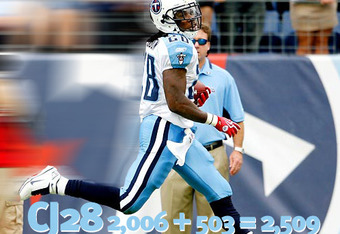 2011 Pros & Cons
(+) Motivation—CJ28 still hasn't gotten that big payday he's been looking for
(+) A "down-year" for Chris Johnson (1,609 total yards and 12 total TDs) is a "career-year" for most—imagine what his numbers will be if he turns it around
(+) His speed (4.24 in the 40-yard dash) as a running back is unprecedented
(+) CJ2K is still able to take it to the house any time he touches the ball
(+) With Matt Hasselbeck at QB, the Titans will be secure, but won't be a passing team and should be fully committed to the run again in 2011
(+) Neither unproven backup Javon Ringer nor rookie Jamie Harper is a real threat to steal either carries and/or red-zone action from Johnson
(+) The rise of Kenny Britt and certain emergence of Jared Cook finally gives the Titans other options to take the sole pressure off of Johnson
(+) The Titans have one of the easiest schedules against the run this season

(+) Johnson already has 10 touchdowns of 50-plus yards in his career, by far the most in the NFL over the last three seasons
(–) He'll never have another season like his 2,000-yard 2009 campaign, so don't expect it—the ceiling has already been peaked
(–) As predicted, Johnson experienced a drop in every single offensive category from 2009 to 2010
For the rest of Chris Johnson's Player Profile, CLICK HERE
Follow Pyro® on Twitter: https://twitter.com/pyroman1ac