Philadelphia Eagles: Seven Ways to Make the Best of a Shortened Offseason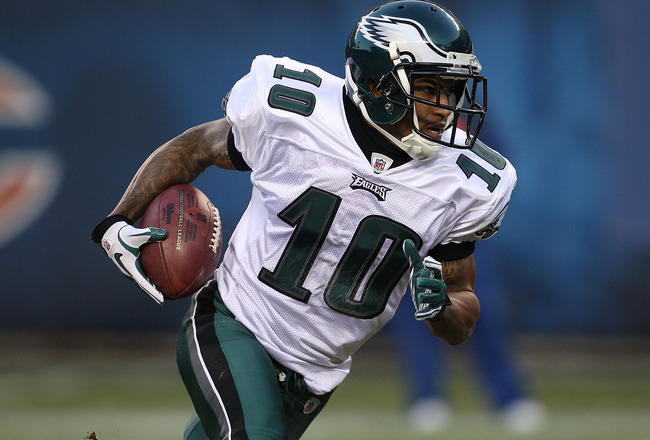 Jonathan Daniel/Getty Images
The usual drama in the NFL offseason usually comes before the draft. Teams want to trade hot players for good draft picks. That's just the way it is. One needs to look no further back than last year to remember the trade of a certain Eagles quarterback about three weeks before the draft. Well, this year, barring the miraculous, the 2011 NFL draft will have no effect on player movement this offseason. While it is an unusual situation, it is the same for all thirty-two teams, so the Eagles, like everyone else, will have to roll with the punches.
This article will take the notion that the draft will take place as planned, and the NFL and the NFLPA will come to an agreement soon after, maybe by June. Personally I believe this is the way it will happen, give or take a couple weeks either way.
So sit back and enjoy the ride. It should be fun.
Go After Gabe Carimi in the First Round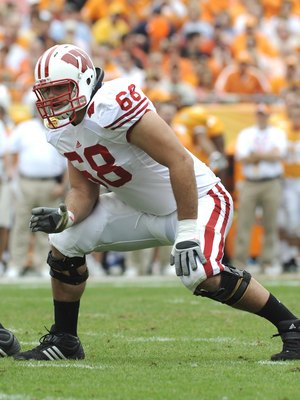 Al Messerschmidt/Getty Images
Let's put it bluntly: The Eagles offensive line has been a disgrace over the past two seasons.
The line as a unit allowed 38 sacks in 2009 and an eye-popping 49 in 2010. Granted, an offense that is based on a 60-40 pass-to-run ratio will allow more sacks based on the law of averages, but the offensive line woes for the Eagles go beyond the numbers. Opposing pass rushes have been turning 3rd downs into 4th downs for too long, and I will go on record saying that the line directly cost us the Oakland game in 2009 and the Minnesota game in 2010. If we won those games, we'd have earned first-round byes in both seasons, and who knows what else.
I think this kid could be the next Jon Runyan. He has the size and seems to have the leadership abilities. It is my opinion that if they start with him and work their way up, they can get back to the solid offensive line of the last decade. Winston Justice and Max-Jean Gilles are just not pieces to build around, and the sooner this organization realizes that, the better.
Stay Away from Any and All Quarterbacks in the Draft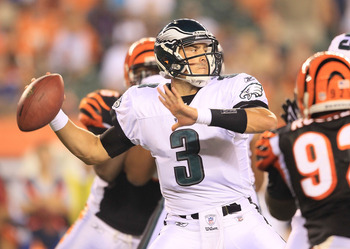 Andy Lyons/Getty Images
I heard a couple people speculate about the Eagles choosing Pat Devlin in the third or fourth round this year. To me, this would make no sense.
It is all but a foregone conclusion that Kevin Kolb will not be an Eagle in 2011. Going with this probability, that would mean the Eagles depth chart for the QB position would go Mike Vick, Mike Kafka, Pat Devlin. To put this in simpler terms, it would mean two quarterbacks who have never taken a snap in the NFL would be backing up arguably the most injury-prone signal caller in the league. The Eagles must resist the temptation of picking any quarterback in the 2011 draft. If you do this, you not only waste a valuable pick, but also throw your team to the wind when the inevitable Mike Vick injury hits the fan.
Sign DeSean Jackson...or Trade Him.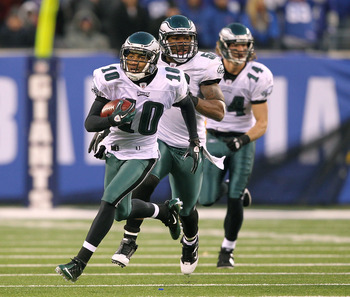 Al Bello/Getty Images
DeSean Jackson is one of the fastest players in football.
He seems to get along great with Andy Reid.
He is arguably the most explosive player in the NFL.
So why does this organization treat him as if he were expendable? I don't know the answer to that. Here is what I do know: Jeremy Maclin, the Eagles #2 receiver, earns $3.1 million a year. Jason Avant, the team's #3 receiver, earns $3.6 million a year. Their #1 receiver, the ubiquitous D-Jack, is scheduled to earn $565,000 in 2011.
I don't know why it is arranged this way. I don't know how the organization views Jackson. Maybe his durability is a question mark, since he has yet to play a 16-game season. Perhaps they are concerned that he hasn't yet caught ten touchdowns in a season yet, which is considered an elite stat for a wideout today. Maybe they just don't like his flamboyant on-field celebrations. Al Michaels certainly doesn't.
I'm not coming down on either side of the issue. If the Eagles like DeSean Jackson, they should sign him to a nice deal comparable to his buddies. If they don't, they should trade him. But don't let him go into opening day as a lame duck, because that would just add another distraction to an organization that has no shortage of them.
Decide What to Do About Jason Avant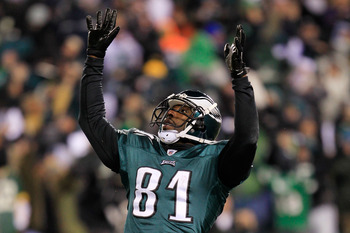 Chris Trotman/Getty Images
I am a really, really big fan of Jason Avant. I don't have the depth charts of all 32 NFL teams at my fingertips but I would go out on a limb and say he's very possibly the best slot man in the NFL today. He is just a flat-out solid player. He has a career average of 12.2 yards per catch and almost never drops a pass (Yes, I know about the dropped pass in the end zone against the Giants...get over it). He is also a pretty brave player and I have seen him make some tough catches. The only thing that keeps Jason Avant from being a household name is his lack of use. For his career, he averages 2.2 receptions per game. That averages out to be about 35 catches per season.
Why is he so underused? Well, because the Eagles just happen to have DeSean Jackson and Jeremy Maclin in the same uniforms.
A buddy of mine always says that Avant could be a #2 on any of the other 31 teams in this league. If the Eagles wind up trading DeSean Jackson before he goes into his contract year (which is unlikely), then Jason should get a well-deserved promotion into the flanker spot. If the Eagles decide to keep Jackson and keep that one-two punch of #10 and #18 at wideout, then they should trade Avant to a team that could use a good wideout to play alongside their big guy. The Houston Texans make sense here. Putting Avant in the #2 hole could take some pressure off Andre Johnson, and that can only help Matt Schaub and the rest of the team.
Avant is too talented to waste in the slot position. Riley Cooper showed flashes that he was ready in 2010, and I think he could make a smooth transition into Avant's 35-catch-a-season role.
Trade Kevin Kolb for What You Can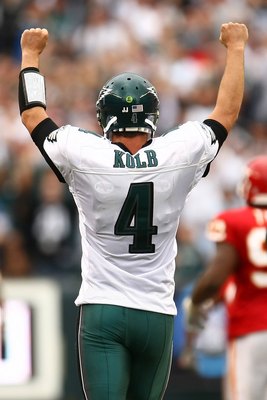 Chris McGrath/Getty Images
I think the reason for trying to trade Kevin Kolb is pretty simple.
He is just not that good, and it seems like every other organization in the NFL doesn't realize that.
Remember, this article takes the notion that the league won't open up until after the draft, so we won't really get the farm for Kolb in this situation. Having said this, it seems like we will be able to get some conditional draft picks for the career I'm-a-backup-now-but-I-will-start-at-some-point wishful thinker. We have to. Because we simply cannot risk this guy taking a snap for the Eagles ever again. Let's take a look at his history in the NFL:
He was drafted in 2007 as Donovan McNabb's presumptive successor. He saw very limited action in his rookie season, and every snap he took resulted in a sack.
His first snaps of meaningful football were taken on that infamous day in 2008 when his mentor was put in timeout. I can describe that experience in detail for you, but you'll have to take my word for it that it was pathetic.
His first opportunity to start came in 2009 when Donovan cracked his ribs and was sidelined for two games. His first start came against the eventual champion Saints, in which he had a good first half but became an INT machine in the second half. His second start came against the Kansas City Chiefs, against whom he threw two touchdowns, no interceptions, and over 300 yards. I could have racked up 250 on that defense.
The rest is history. #5 was traded, Kolb was the man all summer, he "got hurt" in Week 1, Vick comes in and has an MVP-caliber year, yada yada yada. His whole story produced a 60.8 completion percentage, 2,082 passing yards, 11 touchdowns, 14 interceptions, and a 73.2 rating.
Having said all that, he is the hottest commodity in the NFL rumor mill. I won't say anything if you don't.
Sign a Wily Veteran Quarterback That Is Capable of Carrying a Team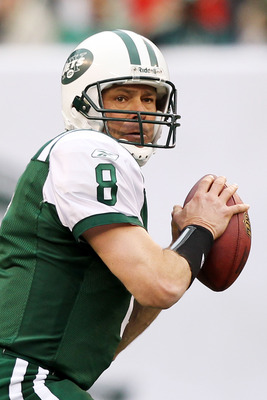 Al Bello/Getty Images
I truly think this is the smartest option for the #2 spot at quarterback this season. The Eagles may want to think about drafting their next franchise quarterback around 2013, but right now this makes perfect sense.
Michael Vick will get hurt during the 2011 season.
It is a fact of his career. It is stating the obvious to say that his style of play puts him at risk, and that is the sacrifice you make when you have the most athletic quarterback in the game. How much time he will miss is what you have to worry about. After he became the starter in 2010, he missed three games due to injury (maybe four, we'll never know what his status was for the meaningless finale), but we might not get off this easy in 2011. If Vick suffers a six-, eight-, or even ten-week injury, we need to have a polished QB behind him who may be past his prime but has won games in the past. Jeff Garcia was brilliant in this role in 2006, and I have no doubt that there are other ones out there. Charlie Batch, Marc Bulger, Byron Leftwich, and Mark Brunell come to mind. Brunell would be especially smart since he is another southpaw, which allows the offensive line to stick with the same patterns they use for Vick.
Another name that comes to mind is Donova...ahh, never mind.
Sign Nnamdi Asomugha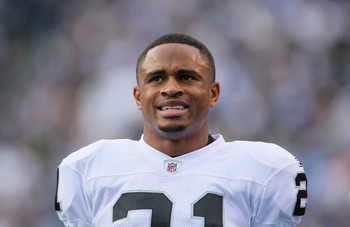 Jeff Gross/Getty Images
This would be thing I would like to see happen most in this slideshow. It is also the most farfetched.
To put a talent like Nnamdi on the other corner would truly change this team. In addition to giving Juan Castillo a new toy in his first defensive job, I think it would make this defense much more feared as a unit. The Eagles' red zone defense in 2010 was easier to get past than Wendell Willkie in a presidential election, and every team in the NFC knew this by the second half of the season. Nnamdi could make the transformation. He could be the difference between a Super Bowl run and a team that walks away from the playoffs with their tails between their butts.
Unfortunately, I don't see it happening.
Keep Reading

Philadelphia Eagles: Like this team?