Josh Hamilton, Bobby Valentine and Baseball News from All Over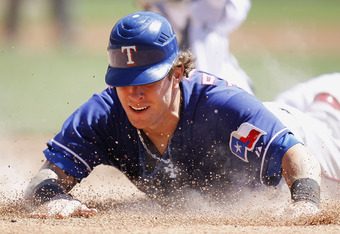 Gregory Shamus/Getty Images
Reigning American League MVP Josh Hamilton broke his arm sliding into home on an odd play Tuesday, and that incident, as well as Hamilton himself calling the play "stupid," has sparked a lot of discussion about the wisdom of sliding head first.
Hamilton will miss about eight weeks with the injury, a major blow for the defending AL champion Texas Rangers, who have gotten out of the blocks quickly, winning nine of their first 11, including a loss in Tuesday's game.
Also off to a hot start: the Baltimore Orioles, who won their first four and six of their first seven before losing two in a row to the Rangers over the weekend and getting rained out in New York Tuesday.
The Orioles were 32-73 when Buck Showalter took over as manager last August, and they've gone 40-26 since. That's a 301-point improvement in winning percentage, if you're keeping score.
The New York Post's Joel Sherman suggests that Showalter's success means it's time for some team to give Bobby Valentine another chance to manage.
That would be true if Bobby Valentine were Buck Showalter. But since Bobby Valentine is Bobby Valentine, does it make sense?
We'll wrestle with that and a few other baseball questions. Stay tuned.
Elsa/Getty Images
Buck Showalter's success doesn't mean Bobby Valentine would be a good managerial hire.
Joel Sherman of the New York Post writes that Buck Showalter's success as the manager of the Baltimore Orioles means that some team should hire Showalter's former ESPN colleague Bobby Valentine.
Showalter and Valentine are both smart baseball men who don't suffer fools and therefore don't always get along so well with front offices, Sherman writes.
There probably are not 30 people who possess the leadership skills, strategic chops, gravitas, communication talents and work ethic to truly manage in the majors. The Orioles finally hired someone who does, and Baltimore arrived at the Stadium yesterday, for a series opener that was rained out, with the AL's best record (40-26) since Showalter's takeover. That performance should inspire an enlightened front office to overcome concerns and hire Valentine, because he should be one of the 30.
That would make a lot of sense if Bobby Valentine were Buck Showalter. But Bobby Valentine is Bobby Valentine.
You know how smart and insightful Valentine is if you've listened to him on ESPN. He's been terrific in his new role as part of the three-man "Sunday Night Baseball" booth with Dan Schulman and another former player with good insights, Orel Hershiser.
But how good a manager is he?
As Sherman points out, Showalter did "a lot of the heavy lifting for Joe Torre and Bob Brenly" as manager of the New York Yankees from 1992 to '95 and the Arizona Diamondbacks from 1998 to 2000. Both teams won the World Series the year after Showalter was fired, with Torre and Brenly getting to lift the trophy.
He also won 100 games and the National League West in 1999 with the D-Backs, and his Yankees had a six and a half-game lead in the American League West at the strike in 1994.
Valentine is in the Gene Mauch club, managing for a long time with a great reputation and no first-place finishes. In six full seasons, his Texas Rangers teams never won 90 games, never finished closer to first place than five games and only once finished as high as second.
He did better in his five full seasons at the helm of the New York Mets, managing a 97-win and a 94-win team, the latter of which went to the World Series. The Mets never won their division under Valentine.
He won a Pacific League pennant and the Japan Series title in 2005 with the Chiba Lotte Marines.
Is Valentine a good choice to manage again in the big leagues? I don't know. But Showalter's success -- in 66 games, so far -- doesn't say anything about Valentine.
Showalter's known for being a great organizational manager. He makes the trains run on time, gets everyone on the same page. His strengths are the same as the strengths of a good middle manager in any industry.
Valentine is more of a game tactician, not known for running a smooth operation. He had his best success in Japan, where the baseball culture is totally different. Really the only thing he has in common with Showalter is that they were both out of managing work for a long time and working for ESPN.
To his credit, Valentine wouldn't bite on Sherman's theory: "I don't think [Showalter's success] has anything to do with anything," Sherman quotes him as saying. "But who knows?"
This article is
What is the duplicate article?
Why is this article offensive?
Where is this article plagiarized from?
Why is this article poorly edited?
Gregory Shamus/Getty Images
Josh Hamilton's injury from sliding head-first has sparked a debate.
ESPN baseball writer Buster Olney wrestled with the question of headfirst sliding in his column today in the wake of Josh Hamilton breaking his arm sliding into home yesterday in Detroit.
Olney writes that he doesn't understand players who insist on sliding headfirst, because in most cases, the risk-reward equation doesn't favor it.
Most outfielders learn to avoid head-on pursuit of the fences on deep flies and foul balls, taking a big-picture view that it's better to stay healthy over the long-term than dive into an immovable object while trying to register one out. Adrian Gonzalez, a spectacular first baseman, has stopped diving headlong for ground balls to his right after injuring his shoulder last year (he had shoulder surgery last fall) because his managers—Bud Black in San Diego and now Terry Francona in Boston—would prefer that he stay in the lineup. Pitching coaches and managers strongly discourage pitchers from reaching with a bare hand for a line drive, because while it might help a pitcher get one out, in one inning, the risk for a busted finger is enormous.

But for some reason, baserunners who grow up diving into bases for hits or runs struggle to change this habit, and time after time after time, the result is injury—and Josh Hamilton is only the latest example, breaking his arm on a headlong dive into home plate. Last night, a lot of folks on Twitter sent along many other recent examples of players who have gotten hurt while going into a base headfirst, from Rafael Furcal to Chase Utley to Derek Jeter.
The debate reminds me of something Bill Walton has said about legendary UCLA coach John Wooden. Walton has said Wooden taught his players never to dive after loose balls. The risk of injury over one possession is too great, Wooden would say. Just go play defense.
That seems like good advice. There are exceptions to every rule, and if a head-first slide will increase your chances of scoring a crucial run in a must-win game, you might as well go for it. Hard to argue that was the case in the first inning of a game in April, even though a win in April counts as much as one in September. The leverage is much lower in April games.
Hamilton seemed to blame third-base coach Dave Anderson at first for sending him, calling it "a stupid play," though the Associated Press reported that today he said he didn't blame Anderson.
It looked like a good play to me. Sure, you don't want to put your star at unnecessary risk, but home plate was uncovered. Tigers catcher Victor Martinez had to sprint to the plate, take a throw from third baseman Brandon Inge and apply the tag on the sliding Hamilton.
If it's going to take a great play to get the runner, the runner should go. The Tigers made a great play and Hamilton was out. His injury is a separate question. Maybe he should have slid feet first. Then again, players get hurt that way too.
Olney's Twitter feed has turned into a debate about sliding head first. One person pointed out that Little League has banned the practice, and others have provided pictures of Willie Mays and Joe DiMaggio going into home, challenging a catcher in full gear, head first.
This article is
What is the duplicate article?
Why is this article offensive?
Where is this article plagiarized from?
Why is this article poorly edited?

Baltimore Orioles: Like this team?