San Francisco Giants: Ranking the Top 10 Offensive Seasons in Franchise History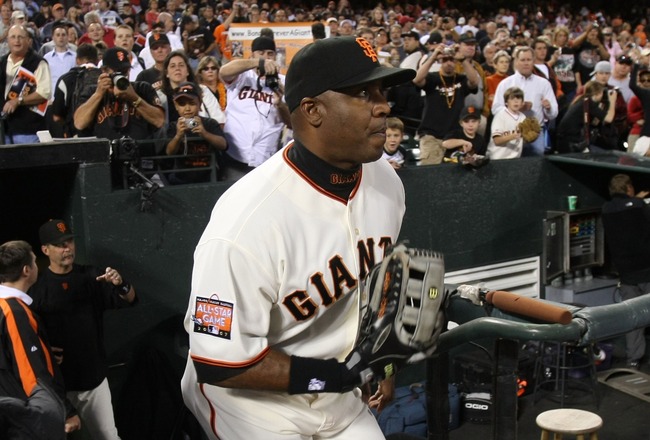 Jed Jacobsohn/Getty Images
We're only two weeks into the 2011 MLB season, and the San Francisco Giants have yet to get their offense rolling as usual.
Remember the days when a home run or two would be nothing, and could come by any player at any time? Barry Bonds was square in the middle of the run production during countless seasons, and gave fans a lot to cheer about during his career in San Francisco.
Fans shouldn't be too worried yet about the current Giants, but just in case tensions might be starting to rise, let's take a look back at some of the best offensive years of the franchise.
No. 10. 2010: World Series Champions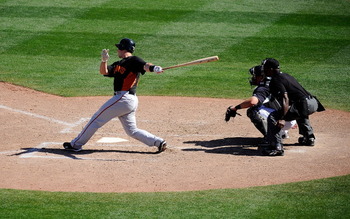 Kevork Djansezian/Getty Images
We only have to look back one year to find a very successful offensive season in San Francisco.
The Giants, of course, took home the 2010 World Series with a victory over the Texas Rangers.
I won't be so naive to think that the Giants won the World Series because of their tremendous offense, because their pitching staff was the real reason behind the success.
Still, Buster Posey and Aubrey Huff specifically had great years, and I just couldn't leave the championship season off the list.
No. 9. 1987: Humm Baby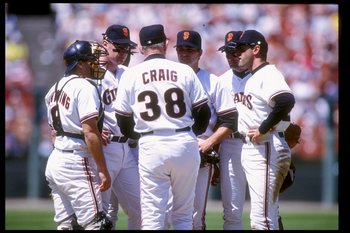 Otto Greule Jr/Getty Images
The Giants won the West division title in 1987 behind the "Humm Baby" motto of manager Roger Craig.
They failed to advance past the NLCS that year, losing to the St. Louis Cardinals in seven games. San Francisco won 90 games during the regular season and had powerful hitters such as Kevin Mitchell, Will Clark and Jeffery Leonard.
The big three combined for 76 home runs and 224 RBI that season and were pretty offensively dominant all year.
No. 8. 2000: AT&T Era Begins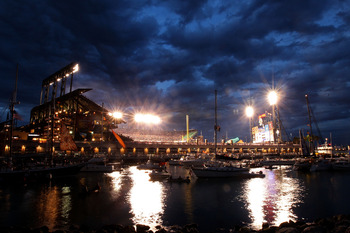 Christian Petersen/Getty Images
Beautiful McCovey Cove was born in 2000, when the Giants moved from Candlestick Park to AT&T Park.
Another National League West title was taken by San Francisco, led by Barry Bonds and MVP Jeff Kent. Kent hit 33 homers that year, and drove in a whopping 125 RBI.
Bonds made frequent visits to McCovey Cove, hitting 49 homers and 106 RBI. The Giants only made it to the division series that year, but it was a sign of great things to come in future years.
No. 7. 1997: Matt Williams Era Ends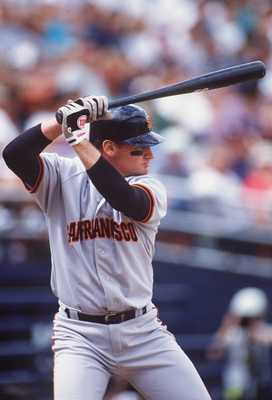 Stephen Dunn/Getty Images
Matt Williams was traded to Cleveland in 1997 for four players, notably Jeff Kent and Jose Vizcaino.
Jeff Kent, Barry Bonds and newly-acquired J.T. Snow were all dominant that year, combining for over 300 RBI.
Once again, the Giants were able to secure the National League West title, but were bounced in the first round of the playoffs by the Florida Marlins.
No. 6. 1993: Dusty Baker Era Begins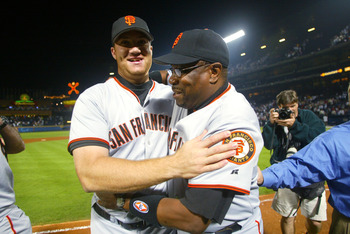 Jamie Squire/Getty Images
In his first season with the Giants, Dusty Baker kept his team in contention for the National League West title until game 162, but lost 12-1 to the Los Angeles Dodgers on the final day of the regular season. The Giants finished 103-59 and missed the playoffs.
Barry Bonds had a terrific season, hitting 46 home runs and 123 RBI on his way to the third MVP award of his career. Matt Williams also played a huge role, hitting 38 homers and driving in 110 RBI.
Will Clark finished his career in San Francisco on a good note and was a third strong contributor to the 103-win season.
No. 5. 1962: First World Series Appearance in San Francisco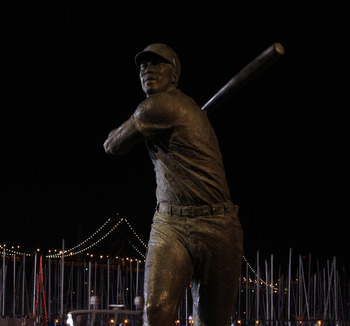 Christian Petersen/Getty Images
I can't quite say I remember the 1962 World Series fondly, but I have heard some great stories.
The Giants made it to their first World Series since the move from Brooklyn, but lost to the New York Yankees in seven close games.
San Fransisco was led by future Hall of Famers Willie Mays and Willie McCovey and the star Alou brothers, Felipe and Matty.
No. 4. 1989: The Earthquake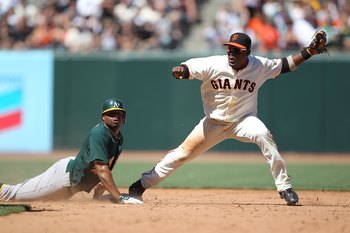 Jed Jacobsohn/Getty Images
The rivalry between the Giants and Oakland Athletics was heated up to a new level in 1989, when both teams made it to the World Series, which was later dubbed the "Bay Bridge Series."
Another reason this particular World Series will be remembered forever is because the famous Loma Prieta earthquake shook the city during Game 3 and caused a 10-day delay.
Will Clark and Kevin Mitchell were especially good during this year, and Mitchell went on to win the NL MVP.
No. 3. 2003: Felipe Alou Era Begins
Doug Pensinger/Getty Images
For the ninth time in MLB history, a team led the division for every single day during the regular season.
The Giants were able to pull off this feat in manager Felipe Alou's first season, recording 100 victories along the way.
Barry Bonds had another MVP year, hitting 45 homers and 91 RBI. Rich Aurilia, Benito Santiago and Edgardo Alfonzo were among other notable Giants who put up impressive offensive stats.
No. 2. 2002: World Series Defeat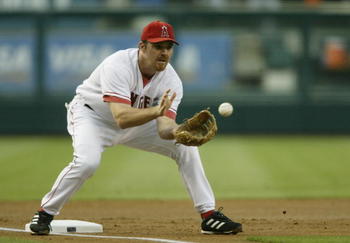 Doug Benc/Getty Images
While Scott Spiezio wasn't named World Series MVP in 2002, he was the catalyst for the Angels' Game 6 rally that turned a 5-0 seventh-inning deficit into a 6-5 win. His three-run homer off Felix Rodriguez to close the gap to 5-3 helped the Angels win Game 6 before winning the World Series the next night.
The Giants' disappointing World Series defeat was lined with gold, because tons of players had solid offensive years.
Barry Bonds followed his normal routine, winning another NL MVP with 46 home runs and 110 RBI. Jeff Kent was hot on Bonds' heels though, hitting 37 home runs and driving in 108 RBI.
That World Series is remembered in part for the mass amount of players on both teams who have now been accused with steroid use, most notably Santiago, Glaus and Bonds.
No. 1. 2001: Bonds Gets Single-Season HR Record
Justin Sullivan/Getty Images
How can this not be the best offensive season?
Barry Bonds set the single-season home run record with 73, passing Mark McGwire on his way. This was by far my favorite non-World Series season, because the Giants were an offensive force every day of the year.
Rich Aurilia had an awesome year as well, hitting 37 homers and 97 RBI.
Oh, what I would give for another season like this one. That was a great flashback from the past, and now it's time to focus again on our current stars. Let's take take care of this series against LA!
Keep Reading

San Francisco Giants: Like this team?