2011 NBA Mock Draft: Will Harrison Barnes Stay or Go?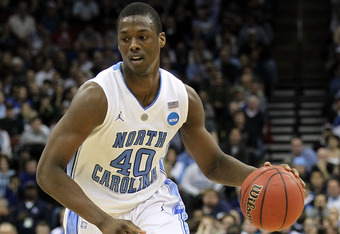 Nick Laham/Getty Images
The 2011 NBA draft is looking weaker by the minute, and may take another hit should Harrison Barnes return to the University of North Carolina for his sophomore season.
With Ohio State University's Jared Sullinger, Baylor's Perry Jones, University of Texas star Jordan Hamilton and UNC's John Henson and Tyler Zeller already announcing intentions to return to school, an already lackluster draft class could turn ugly without Barnes.
The heralded recruit had an up-and-down freshman season, but really turned it on late in the year to help lead the Tar Heels to an NCAA tournament Elite Eight appearance.
According to Brett Friedlinder of the Starnewsonline.com's ACC Insider,
If—or should that be when—he makes it official, you can go ahead and pencil UNC in as one of the top two teams in the country (along with Kentucky) for 2011-12.

The possibility of going to a Final Four and winning a national championship is a carrot that should not be overlooked in Barnes' decision process. It was specifically mentioned by his teammates John Henson and Tyler Zeller last week when they decided to delay the pro careers for another year.
That said, here is what the NBA draft currently resembles should Barnes declare to leave school early.
2011 NBA Mock Draft: Sacramento Kings Select
5) Sacramento Kings: Jan Vesely
Vesely has separated from a talented European draft group to the top of the class. His fluid shooting and all-around skills have drawn comparisons to a mix between Mike Dunleavy and Andrei Kirilinko.
According to Stevan Petrovic of NBADraft.net,
Possesses a terrific combination of size and length for the SF position ... Offensively, he improved his low post game and is looking to post up more this year; he can post up smaller defenders and uses his height advantage to score over defenders; has a height/length advantage on almost every player in Europe ... Jan has good motor and excellent ability to run the floor (most of his points are off of dunks, put-backs and points in transition) ... Good hands around the basket ... Facing up to the basket, he is able to get to the rim quickly due to his quickness and good first step.
2011 NBA Mock Draft: Toronto Raptors Select
4) Toronto Raptors: Kyrie Irving
The Raptors will be ecstatic if Irving lasts until the fourth pick in the draft, but stranger things could happen. Irving's speed, penetrating and scoring abilities will help this team from day one. He could bring out the best in both Andrea Bargnani and DeMar Derozan, forming a young core of talent to build around.
Irving will also bring defensive intensity, and leadership abilities, as he took control of a veteran-laden Duke team early in the 2010-11 college basketball season.
2011 NBA Mock Draft: Washington Wizards Select

3) Washington Wizards: Enes Kanter
This NBA Draft is lacking in big men who can rebound and score inside. Really, every player has some sort of red flag attached, including a player who nobody has seen compete against D-1 talent.
Kanter has game on the low block, which can't be said about many players in this draft. With JaVale McGee blocking shots, and Kanter collecting rebounds, John Wall may finally have something to be excited about in Washington.
2011 NBA Mock Draft: Minnesota Timberwolves Select
2) Minnesota Timberwolves: Harrison Barnes
With Kevin Love manning the post and no dominant center available, Barnes may be just what it takes to lure Spanish sensation Ricky Rubio to finally come play in the United States. With Barnes, the Timberwolves gain an athletic slasher with an NBA body, who will also develop as a quality shooter in the years to come.
There is a reason he was the top-rated recruit in America one year ago, and his upside is unlimited.
2011 NBA Mock Draft: Cleveland Cavaliers Select
1) Cleveland Cavaliers: Derrick Williams
After losing LeBron James, the Cavaliers need a guy who can put some fans in the stands. Anybody who watched the first half of Arizona's upset of Duke in the Sweet 16 knows Williams is somebody who can get the "oohs," and "aahs" back into Cleveland.