2011 Stanley Cup Playoffs: No Sid, No Chance? Not So Fast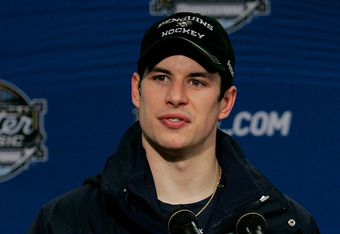 Justin K. Aller/Getty Images
When Dan Bylsma handed over his lineup card Sunday afternoon in Atlanta, there was one glaring number that was missing from his handiwork.
No, not No. 87 or even No. 71—the number was 350.
That nice round number is the number of man-games that have been missed by the Penguins since opening night and the absence of Jordan Staal.
Since then, just about every contributor—big and small—for the Penguins has found himself out of the lineup and in the trainer's room. Only Max Talbot and Kris Letang have escaped the season unharmed.
The long second half of the season without arguably two of the best players in the game did not force Blysma to retreat into a trap and hope for the best. The Penguins have continued to fore check and play their high-tempo game with amazing results.
Not exactly no Sid, no problem, but those 106 points don't lie—this team can still play.
Credit Marc-Andre Fleury, who started the season 1-6 and needed a long standing ovation from a home crowd that just wanted their goalie back to turn the season around.
Fleury has gone from a benched starter to a legitimate Hart Trophy candidate.
The Pens' offense has been firing on six and seven cylinders since Crosby's departure, but made enough out of two and three goal nights to hang onto home ice advantage in the first round.
Yes, the power play is powerless and the addition of Alex Kovalev and James Neel have done nothing to solve that nagging problem.
Sidney Crosby could solve that problem in a second. Even Sidney Crosby at 50 percent would do the trick.
But is it worth it?
On the surface, that's a stupid question at this time of year. Legends grow from men who skate through broken bones and worse to hoist the Stanley Cup.
But this isn't just another broken bone and this certainly isn't just another player.
Take a look at the brand new Consol Energy Center sitting on 5th Avenue. Were it not for the presence of Crosby, there would still be a parcel of broken down buildings sitting on this corner and and we'd be talking about the Kansas City Penguins in the first round of the playoffs.
When we last saw Crosby skating off the ice wincing and shaking his head back on January 4, little did we know that we had seen the last of him in the regular season. If you had known that at that moment, would you have thought it possible that this team would even make the playoffs?
Didn't think so.
But with bailing wire and AHL call-ups, the Pens have found a way to tighten the defense just enough to improve the penalty kill and grab a goal here and there from contributors in the "other" column to get here.
Now to the point at hand—did they do enough?
Chances are the Pens can find a way through the Tampa Bay Lightning in the first round. Tampa's goaltending is an evolving nightmare only outdone by one other team in the conference.
Can the Lightning find enough saves to balance the scoring of St. Louis, Stamkos and Vinny? It's the playoffs and outside of last year's bizarre finals, you don't often take the Cup with 6-5 wins every night.
But past that could this team make a deep run? Ask the hockey gods who dole out the bounces at this time of year—get just enough of them and maybe you hit pay dirt.
Many have bet against this depleted lineup in the last four months and most all have lost.
Place your bets.
This article is
What is the duplicate article?
Why is this article offensive?
Where is this article plagiarized from?
Why is this article poorly edited?

Pittsburgh Penguins: Like this team?