2011 NBA Western Conference Playoffs: Denver Nuggets' Potential Matchups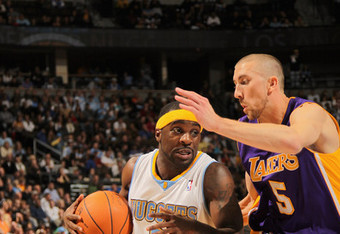 It seems crazy to think that just over a week ago, the Los Angeles Lakers were within 1 1/2 games of the San Antonio Spurs to take over the No. 1 seed in the Western Conference. Fast Forward to April 12, and the defending champions are just 1/2 game ahead of the fourth-seeded Oklahoma City Thunder.
With three teams (Lakers, Thunder, and Mavericks) vying for the second through fourth seeds out west, all that the fifth-seeded Denver Nuggets can do is sit back and find out who their opponent will be. But which potential opponent would give the Nuggets the most trouble?
Oklahoma City Thunder
George Karl has publicly remarked that he would rather have his team face the Mavericks in the first round than the Thunder, but that was before the Lakers began their free fall. That said, the Thunder would be a very difficult match-up for the new-look Nuggets. The two teams have played twice in the past week, and Oklahoma City took both games.
Despite holding Kevin Durant to below 50 percent in both games, the NBA scoring leader combined for a total of 60 points in the two contests. Defensive issues aside, the Nuggets also struggled to score in these two games, which is notable for how fluid the offense has been since trading Carmelo Anthony.
In the two recent games against the Thunder, Denver managed just 94 and 89 points respectively. Clearly, the addition of Kendrick Perkins has provided enormous defensive support down low for Oklahoma City. Not only did Perkins rebound effectively in both games, but his intensity was obvious, as both he and Nene were assessed double technicals in each game.
The Thunder's paint on defense, with Perkins, Nazr Mohammed, Serge Ibaka and Nick Collison is simply too much for the Nuggets to handle. Since trading Jeff Green, the Thunder's defense has improved significantly, and teams have been settling more for perimeter jumpers. For a team with no true go-to scorer such as the Nuggets, this is very troubling.
Thunder point guard Russell Westbrook also presents unique problems for the Nuggets' defense. Fortunately for Denver, if they did draw Oklahoma City in round one, they would get back Arron Afflalo and Chris "Birdman" Andersen, two defensive specialists who sat out both games against the Thunder due to injury.
While these two players would no doubt make a difference on both sides of the ball, the Thunder would likely still take this series in six games.
Los Angeles Lakers
In their most recent game against the Lakers, the Nuggets shot just 57 percent from the foul line, but still managed a five point win at the Staples Center. Great defense and timely buckets carried Denver in this one, but don't expect a similar result if the two meet in the first round.
The Lakers are simply too big, and even if they drop all the way to fourth in the Western Conference, they remain the favorites to reach the NBA Finals. With Pau Gasol, Andrew Bynum and Lamar Odom patrolling the paint, the Nuggets would have a very tough time getting easy points.
The Nuggets saw this firsthand in the 2009 playoffs, when they lost in six games to these Lakers, and that L.A. team didn't have a healthy Andrew Bynum.
Denver might be able to hang around for a little while, as Afflalo and Wilson Chandler have shown they can play great defense on Kobe Bryant. But seven games of Gasol, Bynum Odom, and Kobe would simply be too much for this inexperienced team.
L.A. would take this one in six.
This would be by far the best match-up for the Nuggets. Denver recently won by eight in Dallas without the services of Afflalo and Andersen. While they will be back for the postseason, Mavericks' forward Caron Butler will still likely be out due to injury. With his absence, the Mavs only have really one true scorer: Dirk Nowitzki.
Although Dirk might be the toughest player to guard in the NBA, he can't do it alone. His supporting cast of Jason Kidd, Jason Terry, Brendan Haywood and Shawn Marion is too old to run seven games with the young Nuggets, especially the quick point guards Ty Lawson and Raymond Felton. Throw in J.R. Smith shooting lights out for a couple games, and Denver could dispose of the Mavs pretty early.
While Roddy Beaubois and J.J. Barea have been very impressive this year, Denver simply has too many weapons. On any given night, the Nuggets could have eight or more players in double figures, including newly acquired forward Danilo Gallinari, who has shown his ability to drive to the hoop and shoot from beyond the arc.
Kenyon Martin and Nene would neutralize the Dallas big men, and Denver's guards are too quick and numerous for the Mavs to handle. If we turned back the clock five years, Dallas takes this one easily.
But with so many aging veterans nearing retirement, the clock might have run out on the Mavericks. Denver takes down Dallas in 5.
This article is
What is the duplicate article?
Why is this article offensive?
Where is this article plagiarized from?
Why is this article poorly edited?

Denver Nuggets: Like this team?