UEFA Champions League: Shakhtar Donetsk vs. Barcelona Live Blog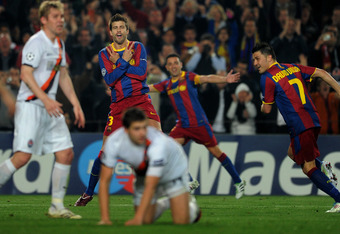 Jasper Juinen/Getty Images
Here we go again, the return leg of the Shakhtar Donetsk vs. FC Barcelona tie. After being on the wrong side of a 5-1 thrashing, the Ukrainian side will most likely want to make amends with their fans.
Although the final result of the previous game suggests a fairly one-sided affair, it was anything but. Shakhtar Donetsk was guilty of wasting a whole lot of chances against the Catalans, and chances come at a premium especially against FC Barcelona.
Overturning a four-goal deficit is not impossible, stranger things have happened, but highly unlikely. But in 90-plus minutes of football anything can happen. The Ukrainians have yet to lose in Donbass Arena but it is Shakhtar that has to chase the game, not the Blaugrana. During Pep Guardiola's reign, FC Barcelona has never lost by more than a two-goal margin, let alone four.
After ending his (mini)drought of five scoreless games, Lionel Messi is back to his scoring ways. In last Saturday's La Liga encounter against UD Almeria, La Pulga managed to score a brace and equal his and the original Ronaldo's record of 47 goals in one season just in time for the upcoming Clasico. With at least nine more games to go, it is almost certain that Lionel Messi will set a new benchmark. At 23 years of age – a frightening prospect.
Meanwhile, Shakhtar Donetsk is almost depleted of its regular defense. Among the casualties, club captain Darijo Srna. One can only guess how Mircea Lucescu will set up his team to accomplish the impossible mission. Who knows, perhaps he has Ethan Hunt's (from the Mission: Impossible franchise) number on speed dial.
Join me for the live coverage of the Shakhtar Donetsk vs. FC Barcelona game.
Check out Barca Blaugranes and follow me on twitter.
End of game.
Never has the sound of a whistle been so appealing.
Winner: FC Barcelona
Loser: Shakhtar Donetsk and everyone who watched that game. I will never get these 2 hours back! At least I can look forward to the Clasicos!
Note: Not Barca but Champions League related
Can someone tell me why exactly did Fernando Torres ditch Liverpool for Chelsea? If you ask me, Liverpool got the better end of the deal. If the Reds can add 3 or 4 quality players I can see them challenging for major honors next season.
Update!
Manchester United 2 - 1 Chelsea FC
So long Chelsea!
75' Substitution
FC Barcelona:
Jeffren > David Villa
This substitution is clearly beyond me. If anyone should've seen this game out, it's David Villa. Not because he was outstanding, he wasn't, but because he hasn't scored in weeks! His current form is quite simply below average. Nevertheless, Jeffren get his chance to shine.
Shakhtar Donetsk:
Fernandinho > Hübschmann
71' Not even 2 minutes on the pitch and he has already received a booking for a clumsy tackle. Enjoy the game time with FC Barcelona you are currently receiving Milito because this is most likely your last season in Catalunya.
70' Substitution
Gabriel Milito > Gerard Pique
66' Substitution
FC Barcelona:
Pedro Rodriguez > Xavi Hernandez
It's obvious that Pep Guardiola has already the all-important Clasico clash with Real Madrid on his mind. But I'm curious to find out how Ibrahim Afellay will perform in a central midfield role.
Shakhtar Donetsk:
Luiz Adriano > Marcelo Moreno
57' For once Lionel Messi's decision making was poor, he should've lifted his head and pass the ball to David Villa instead he chose to pass to Ibrahim Afellay. But to be fair, the young Dutchman did everything right except for score the goal.
Start of the second half.
I'll make a bold prediction, Shakhtar are out of the competition.
Wait!
So assuming that Real Madrid will not lose by more than a single goal the semi-final ties would be:
Manchester United vs. Schalke 04 and FC Barcelona vs. Real Madrid
Sorry Schalke fans, the semis is where Die Königsblauen will exit the competition. Sir Alex Ferguson is not as naive as Leonardo and Wayne Rooney seems to have rediscovered his form.
Although the Blaugrana have looked anything but convincing in recent weeks I can't see Real Madrid accumulating a large enough margin to defeat the Blaugrana. Over two legs FC Barcelona will almost certainly score a couple of goals. Not to mention, Pepe and Sergio Ramos get frustrated quite easily AND more importantly FC Barcelona can possibly count on the services of Carles Puyol again.
My Champions League final prediciton:
The replay of the 2009 Champions League final, FC Barcelona vs. Machester United
The end of the first half, time to get some more snacks and a recap.
Shakhtar Donetsk 0 - 1 FC Barcelona
42' goal by Lionel Messi who takes his season tally to 48. Barring an injury or the failure to win a single trophy with FC Barcelona, little Lionel is the shoe-in favorite for a third consecutive Ballon d'Or.
The Ukraine side need a) a miracle or b) Pep Guardiola to channel his inner Leonardo and set his team up for slaughter
In related news, Manchester United are leading 1-0 in their match against Chelsea FC, thanks to a Javier Hernandez strike. It appears as if I'm 3 of 4 for my predictions.
Here's a quote slamming my forecast:
"A frightened Barca fan ousting Chelsea in the quarters so that his club is spared the horror they endured at the hands of Chelsea last time."
Not frightened, just realistic. Fernando Torres looks nothing like the fearsome striker from 2 years ago, Didier Drogba is nearing the end of his career and Frank Lampard is on the wrong side of 30. Chelsea need a major overhaul in all areas.
42' Gooooooooooooooooooooooooooooooool Messi! I always liked the partnership of Dani Alves & Lionel Messi.
Lionel Messi is now the sole record-holder of goals scored in a single season for FC Barcelona. Finally FC Barcelona can relief (original) Ronaldo of this honor.
30' Lionel Messi attempted a cheeky lob on the Shakhtar goalkeeper, unfortunately for La Pulga, Andriy Pyatov (literally) stood tall. But it would've been one heck of a goal.
hmm, I'm starting to wonder if there's something more interesting on TV. So far the game is anything but exciting. Perhaps a re-run of Two and a half Man?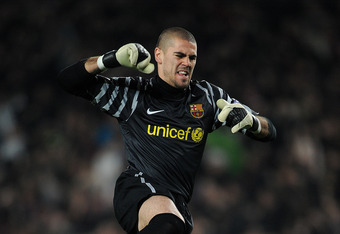 8' Incredible safe by Victor Valdez, and they say he is not a world-class keeper.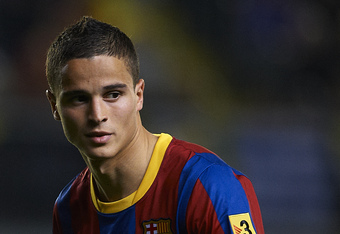 Ibrahim Afellay in the starting XI, I must be dreaming.
This article is
What is the duplicate article?
Why is this article offensive?
Where is this article plagiarized from?
Why is this article poorly edited?

FC Barcelona: Like this team?