Detroit Lions
2011 NFL Fantasy Forecast: Calvin Johnson Finally Reaches the Fantasy Summit
April 13, 2011
2010 Review
(brought to you by PYROMANIAC.COM)
For all the chemistry Calvin Johnson and QB Matthew Stafford displayed during Stafford's 2009 rookie season, it was an easy call to say that Megatron would return to his normal level of dominance in 2010…and dominate he did. That said, were his year-end numbers hugely remarkable in any way?  No, they weren't, but sometimes statistics don't tell the whole story.
As has seemingly become the norm, unfortunate injuries and events would permeate the Detroit Lions team and ultimately keep Johnson from reaching the fantasy heights expected of him.  The ill-fated sequence would start in the very first week when an obvious touchdown catch (made by Megatron) against the Chicago Bears was called back due to a new NFL rule that states that a receiver must not only catch the ball, but "complete the catch" by holding onto the ball throughout the act of falling to the ground. 
The entire sporting world unequivocally knew in their hearts that a TD catch was indeed made, but as luck would have it, the play ended up turning both the Lions and Calvin into guinea pigs for the NFL rulebook to poke and prod.
But like I said, this was only the beginning…
For the second year in a row, Detroit's promising young quarterback, Matthew Stafford, had his year cut short due to injury. This time, however, he was taken out in the first game of the season and would wind up seeing the field just two more times during the course of the year. 
It's no coincidence that Megatron would have his best fantasy game of 2010 during one of those two weeks, as the rapport between the two was on par with the best in the league. Otherwise, Calvin would have to deal with a combination of Shaun Hill and Drew Stanton for the remaining thirteen games, with neither of the two having close to the caliber of arm that Stafford had.
The hits didn't stop there, though, as the Lions dynamic rookie running back, Jahvid Best, would succumb to his own injury as well.  Best was drafted with the thought that he would be able to take some of the defensive pressure off of Calvin, so when his injury left him generally ineffective,
Calvin was again forced to deal with constant double and triple-teams from opposing defenses. Adding insult to injury, the WR the Lions signed in the off-season (Nate Burleson) with the hopes that he would keep safeties from cheating towards Johnson turned out to be a dud.
Considering the circumstances, you'd have to be extremely pleased with the fantasy season Calvin Johnson turned in. 77 catches (tied for 13th in the league), 1,120 yards (ninth), 12 TDs (T-second) and 187.2 fantasy points (sixth) ain't too shabby, so if Stafford and Best both come back strong and a No. 2 wide receiver rises to the challenge, watch for Megatron to have the finest fantasy season of his career come 2011.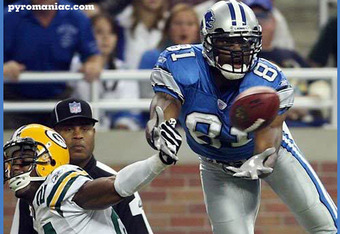 2011 Pros & Cons
(+) Calvin has elite size for a WR (6'5", 236 pounds) along with top-five hands in the game
(+) With the arrival of Jahvid Best, Detroit now has two nightmarish players opposing defenses have to plan for
(+) Johnson averages close to 10 targets/game and is a prototypical red-zone receiver
(+) Not only does Matthew Stafford love him, but they looked to be getting into a real groove together right before Stafford went down for the year… again
(+) Tight End Brandon Pettigrew came into his own last season and is on his way to becoming a bona-fide stud.  If he does, this will definitely take some pressure off of Calvin
(+) With a much improved defense, the Lions should have a ton more offensive opportunities in 2011
(–) Megatron has a poor supporting cast at WR; Nate Burleson is barely better than Bryant Johnson as a WR2
(–) He plays in one of the more hard-nosed defensive divisions in the league, yet still has some of his best games against them
(–) Injuries: Calvin seems to get dinged up in one way or another every single year
(–) His quarterback (Stafford) can't seem to stay on the field
For the rest of Calvin Johnson's Player Profile, CLICK HERE
Follow Pyro® on Twitter: https://twitter.com/pyroman1ac
Like the new article format? Send us feedback!