Jenn Sterger, Santonio Holmes, Terry Bradshaw and Tuesday's Top NFL News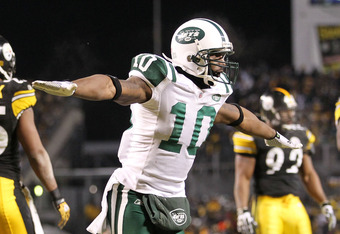 Ronald Martinez/Getty Images
The Jenn Sterger video resume tour has begun on ABC. Like many Americans, she needs a job. Unlike many Americans, she is using Brett Favre's penis as a springboard to new career opportunities.
Cry foul if you want, but Sterger is using the obscene photo scandal as a way of trying to get another job in television. This is neither good or bad, it is what it is and I do not care. If she gets work, good for her. If not, I have my own problems.
Santonio Holmes and Terry Bradshaw both find themselves in the news as the Jets reportedly show interest in Randy Moss and Bradshaw says he feels the effects of all the concussions he sustained during his career.
Hopefully there will be some lockout news, as in the sides are coming to an agreement to end it. We will be here to run everything down with some analysis and commentary.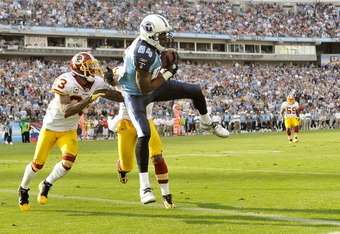 Randy Moss Rumors Are A Fungus
Randy Moss now is being linked to the Washington Redskins as a possible landing spot for his services in 2011. This comes on the heels of the rumors the Jets are interested in signing him.
Please tell me if there are any other professions in this world where you can be a complete scumbag, fail miserably, fail on purpose on occasion, and still have several bidders for your services.
Has Moss ever been on a team that won a Super Bowl?
Pat Kirwan threw out the possibility of another possible team during his weekly chat — the Redskins.

"The Randy Moss discussion is leverage against losing Holmes and Braylon Edwards," Kirwan said. "If Moss is willing to play for near the minimum with incentives, there could be some interest. Watch Moss in a Vikings or Titans uniform and you're not going to get too excited. He could get things going with a good offseason of work.

"One spot I would keep an eye out for is Washington. Bruce Allen, son of George, has always liked veteran players."

The Jets, Patriots and Redskins … Moss has been linked to half as many teams as he had receptions for the Titans last season.
The first thing Kirwan said tells you everything you need to know. Moss only will play for certain teams, and then he only plays when he feels like it, by his own admission.
Even if Moss is willing to play for the minimum plus incentives, which I doubt he is, if the team is not successful right out of the gate, history tells us Moss will quit. He will still show up and collect paychecks, but do not expect him to try hard on the field.
There is no reason for any team to sign Moss.
Everything else I have to say on Moss can be read here.
It is time for the Moss rumors to end. He is a washed up, entitled jerk who does not deserve to be given another multimillion dollar contract.
How about we talk about other things, like the Indians eight-game winning streak? It is baseball season and the NFL is locked out right now.
Read Matt Miller's Mock Draft Here
How about them Indians?
I am an Indians fan and I can not believe what I am seeing right now. I am enjoying it, and will continue to enjoy it for as long as it lasts because as a lifelong Indians fan, I anticipate someone pulling the rug out from under my feet long before fans of other teams would.
Let the good times roll!!
This article is
What is the duplicate article?
Why is this article offensive?
Where is this article plagiarized from?
Why is this article poorly edited?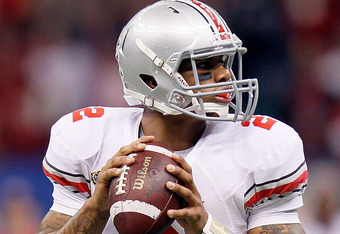 Ohio State QB Still Will Miss Five Games
I am going to do something I do not usually do, and that is talk about college football. I do not like talking about college football. The reasons are too numerous to go into here, but it has a lot to do with the level of hypocrisy in college sports.
Terrelle Pryor, Ohio State's quarterback, was rumored to be thinking about entering the NFL's supplemental draft, assuming there is one.
Pryor Tweeted this was not the case:
I'll be suited up at Lincoln Nebraska !! And first player at QB to meet with the Wolverines for the fourth time!!
The obvious question is how believable Pryor is, and the answer is as believable as the paycheck he might earn makes him.
If Pryor is told he will go in the first few picks of a supplemental draft and earn a good paycheck, he will leave Ohio State in a heartbeat. If he's told he will have a better chance of making better money by waiting until next year, even playing in a shortened season, Pryor will stay.
The first five games are not that big a deal for Pryor, the "big" games come in the second half of the season. All he really is doing is avoiding injury, and avoiding a Jake Locker situation where his draft level gets downgraded by a potentially poor performance against a bad school. If Pryor looks good in those last five games, and the Buckeyes make a Bowl game, it will not matter he missed the first five games.
Will Brinson of CBSSports.com also believes you have to take any Pryor news within the proper context:
Now, this doesn't necessarily mean that NO chance Pryor is leaving for the NFL. After all, there's still a (completely hypothetical) set of circumstances that could end in Jim Tressel getting fired, or Ohio State getting sanctions or Pryor getting suspended more than five games.

But as of right now, it looks like "T Peezy" is indeed headed back to OSU, and that any and all speculation about his NFL future was a bit premature.
The NCAA does stupid things at stupid times for no good reason and it all is stupid. Jim Tressell does not pass along an email so he gets a five-game suspension but Auburn suffers no penalty even though the NCAA found three times as much guilt there than in anything Ohio State did.
Read Matt Miller's Mock Draft Here
Pryor and the crew exchanged items they owned for tattoos. To me, it does not matter it was game-related items. It was their stuff to do with as they please. Would this be an issue if Pryor tried to sell his car?
The NCAA makes no sense, and their rules are arbitrarily applied.
This is why I hate college sports in general and stick to the pros, the lameness of the business end of the pros all is pretty much out in the open.
This article is
What is the duplicate article?
Why is this article offensive?
Where is this article plagiarized from?
Why is this article poorly edited?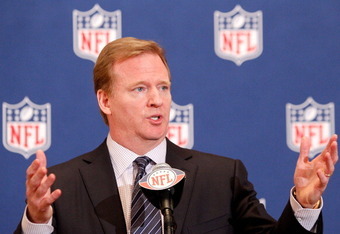 Court-Ordered Mediation Officially Begins On Thursday
The lawyers got together on Tuesday so they could do things only lawyers do: Talk about getting ready to talk.
Since no one involved apparently keeps records, the lawyers are meeting with the mediator in order to get everyone up to speed. Why they have to meet to do this is a question only the expense accounts can answer.
The federally mediated settlement talks between the NFL and the players got underway on Tuesday morning in the chambers of Chief Magistrate Arthur Boylan, with counsel for the Brady and Eller classes meeting with Boylan.

Judge Susan Nelson, who heard the Brady class' request for an injunction to the lift the NFL lockout last Wednesday, ordered the mediation on Monday and consolidated the cases of Brady et al v. National Football League and Eller et al v. National Football League.

The players' contingent included three lawyers from the Brady class and a six-man team, including Eller himself, from the Eller class. The Brady class was represented by NFL Players Association outside counsel Jeffrey Kessler, outside counsel Jim Quinn and local counsel Barbara Berens. The lead attorney for the Eller class, Michael Hausfeld, was also in attendance.

Boylan will use the next two days to get up to speed on the particulars of the issues between the parties, hearing the players' side on Tuesday, and the league's side on Wednesday, before bringing both sides together for the first time on Thursday morning.
As I have said before, and will say again many times in the future, only the lawyers are winning here. Instead of just getting everyone together today, they are waiting two more days so the lawyers can "get up to speed."
The truth is the lawyers could get up to speed on this case in an hour or two, so chalk this up as a minor victory for the lawyers as the fans again lose out.
Read Matt Miller's Mock Draft Here
If there is a settlement, the courts have delayed it two more days by giving in to the lawyers.
This brings me back to my original argument from several updates ago about how this whole process can be settled by doing two things: One is getting rid of DeMaurice Smith who will cut off his nose not only to spite his face, but to prove to the players how tough he is, and the other thing is to fire all the lawyers and just come to an agreement.
This process does not need lawyers, it needs two people willing to sit in a room and come to an agreement.
This article is
What is the duplicate article?
Why is this article offensive?
Where is this article plagiarized from?
Why is this article poorly edited?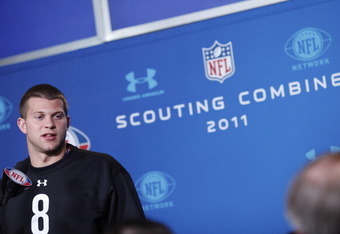 Plethora of Picks Gives Patriots A Lot of Options
As the NFL Draft approaches, there are a lot of rumors starting to float around, but this is no rumor: The New England Patriots are hosting Jake Locker this week.
The report comes from ESPN, a pretty reliable source the last time I checked:
Are the New England Patriots preparing for life without Tom Brady? According to sources, New England is exploring the possibility of adding an eventual successor in this year's NFL draft.

The Patriots are hosting a two-day visit Tuesday and Wednesday with top quarterback prospect Jake Locker of Washington, sources told ESPN.com. Locker, who threw for 2,265 yards and 17 touchdowns last season, is projected to be a mid-to-late first-round pick.
Let us review Tom Brady's recent history. After being thoroughly beaten by the New York Jets in the playoffs, the now long-haired Brady has been spotted doing things men only do when being completely whipped by their wife. In this case the wife is a supermodel, but the principle is the same.
Brady now uses conditioner in his hair, dances awkwardly at Brazilian parades, appears to wear makeup to interviews and was seen bawling like a baby on ESPN this past weekend for a really lame reason.
Oh, poor Tom Brady did not get drafted until the sixth round. Cry me a river, it took me 18 months to get my first "real" job out of college.
I am not saying Bill Belichick has seen the very feminine Tom Brady these past few months and decided it may be time too look at a successor, but I am saying if Tom Brady walks out on the field in a pretty sundress in August to not be surprised.
Either way, Brady is 34, and like Peyton Manning, these organizations have to think about the future. With six picks in the first three rounds, the Patriots have the luxury of picking a quarterback of the future this year.
This article is
What is the duplicate article?
Why is this article offensive?
Where is this article plagiarized from?
Why is this article poorly edited?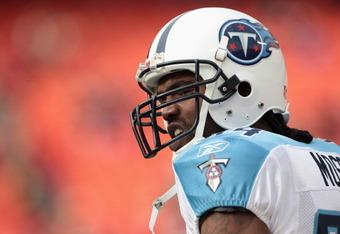 The Randy Moss Saga Could Get One More Year
Randy Moss, who wears his welcome out faster than Terrell Owens, could get one more year in the NFL despite bouncing through three teams in 2010.
According to NFL.com, the New York Jets have some interest in signing Moss:
It starts with the fact the New York Jets might not necessarily be a lock to retain their best big-play receiver, Santonio Holmes, even though prior to the lockout they placed the highest restricted tender possible on him should he sign with another team (first- and third-round draft picks). Holmes recently told reporters that the only way he would stay with the Jets is with a long-term contract, and that he has no interest in signing a one-year tender deal that, under the rules of the previous collective bargaining agreement, would pay him $3.5 million.

Talk is cheap in April, especially when no football business is taking place. But let's say Holmes sticks to his guns and refuses to play for a one-year contract. Let's also say that the Jets decide they don't even want to do a one-year deal with Holmes, who, for all of his talent, is still a worry off the field. Remember that four-game suspension he served at the start of last season for violating the league's substance-abuse policy?

That could leave the Jets looking elsewhere for veteran receiver help. Enter Moss, a free agent who spent parts of last season with the Patriots, Vikings and Titans.
Obviously signing Moss means you keep him out of New England. This assumes New England wants him back, though. But in the arms race that is the NFL, dumber things have happened than the Jets and Patriots racing to sign a wide receiver who not only is past his prime but is a known malcontent just so the other team does not get him.
It is enough to make anyone pull their hair out, assuming of course there is any hair left to pull out to begin with.
Yahoo! Sports agrees this is a case of one team trying to make sure the other team does not get the player in question:
The part about keeping Moss away from New England makes the most sense. Moss is clearly worth more to the Patriots than he is to anyone else. He loves the coach, he loves the quarterback, and he's motivated to bring his A game to the Patriots. I don't know if any other team in the league could be confident that they were going to get even 70 percent of Moss' best effort. The Vikings and Titans certainly didn't.

In a rivalry as close and as heated as the one between the Jets and Pats, it makes sense. I don't think Moss makes the Jets any better -- their offense is miles behind New England's, Mark Sanchez(notes) has neither a rapport with Moss nor half of Tom Brady's(notes) ability, and it seems like, at best, a crapshoot on whether or not Moss would show up and play hard.

But if it keeps a weapon away from the Patriots, it's probably worth doing.
Whatever either team ends up doing, I hope whoever ends up with Moss ends up going 0-16. I dislike Moss in just about every way. He is an entitled athlete who spent many years squandering his talent and looking down on other people as well as letting teammates down.
Read Matt Miller's Mock Draft Here
He is a scumbag who does not deserve any more chances, but what do I know? The NFL does what it does and fans like myself just have to sit here and wonder what they are thinking.
This article is
What is the duplicate article?
Why is this article offensive?
Where is this article plagiarized from?
Why is this article poorly edited?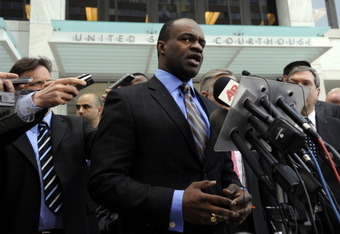 Court-Ordered Talks Hopefully Will Be Fruitful
NFL Fans everywhere should rejoice because a court is ordering the two sides in the NFL labor dispute to get together and have mediated talks.
Before I go any further, let me make a few things clear for those who do not ordinarily read my stuff:
1. I do not care about either side, I just want their to be football.
2. NOT-NFLPA Chief DeMaurice Smith is in over his head and no one wants to admit it.
3. I blame the players for the lockout because they are arrogant enough to think they are entitled to more than the average worker, even relatively speaking. They also walked away from the negotiating table first. So no respect from me, I hope they all go broke.
4. The owners are greedy thugs who practically dared the players to walk from the negotiating room, but it is their business and they can run it any way they want. The players fail to recognize this fact.The NFL is not a public service, it is a private business.
With that all out in the air, the two sides now are headed back to the mediation room. We all hope it works, but there obviously is pessimism after the two sides failed to reach an agreement last month.
Profootballtalk.com likes looking at the bright side of things:
Last week, Rich Eisen of NFL Network suggested on PFT Live that he believes the parties wish they could go back to March 10 and give settlement another try. With Magistrate Judge Arthur Boylan presiding over mediation, they will.

Besides, I know from first-hand experience that mediation, if entered into earnestly and in good faith, can be successful, no matter how far apart the two sides may have been when the process began. If the mediator sets the right mood and pushes the right buttons and ignores the folks in the room who are being unreasonable and if the parties decide to make real moves, the two circles of the Venn diagram possibly will make contact.
The problem here is the two sides both have believed the situation is best handled by the lawyers. This is the worst decision anyone could make when it comes to negotiations.
Read Matt Miller's Mock Draft Here
The lawyers get paid by the hour and therefore have no incentive to end the dispute. For them, litigation not only is the best way to end the impasse, it is the most profitable.
The only winners in any case are the lawyers and both sides have been listening to them far too much.
This article is
What is the duplicate article?
Why is this article offensive?
Where is this article plagiarized from?
Why is this article poorly edited?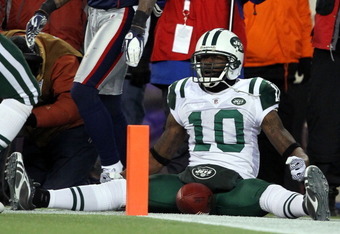 Holmes Wants His Big Pay Day Once A New CBA Is Signed
Santonio Holmes said he wants a long-term deal once a new collective bargaining agreement is signed.
It does not matter if it is with the Jets or another team, he said he has no intention of signing a one-year deal despite the franchise tender the Jets placed on him.
The Jets protected themselves in the event the 2010 rules remain by placing the highest restricted tender on Holmes, first- and third-round picks -- their compensation if they were to lose him. The one-year salary for that tender is $3.5 million, nearly six times what he made last season. Nevertheless, Holmes, 27, feels he has earned a long-term deal.

"I played five years to wait for my sixth year to come up," said Holmes, who was traded by the Pittsburgh Steelers last offseason because of off-the-field issues. "I don't want to play for a one-year deal. I wouldn't do it."
Holmes goes on to say if he gets identical offers from the Jets and another team, he does not know what he would do. That is not encouraging if you are a Jets fan.
Holmes also insisted in the interview the Steelers released him and that he was not traded. The technicalities of the transaction indicate he was traded, but I will go ahead and let Holmes view it any way he wants.
Read Matt Miller's Mock Draft Here
I once was fired from a job for a series of events completely out of my control but the company insisted I quit. I won the case to collect unemployment, meaning point of view is just as important as the technicalities.
Whatever happens with Holmes, it will be on his terms, and I do not think you will see him back in Pittsburgh.
This article is
What is the duplicate article?
Why is this article offensive?
Where is this article plagiarized from?
Why is this article poorly edited?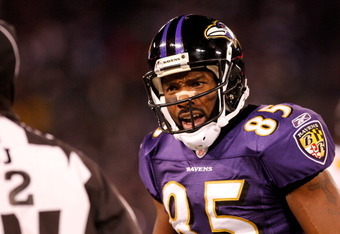 Mason Continues His Attacks On Roger Goodell
Free speech is a wonderful thing because it not only allows a person to speak their mind without legal recrimination, it allows people to sound like complete idiots.
I take advantage of the latter part all the time as I spout one opinion after another on this Web site. The difference between myself and Derrick Mason is I usually try and back up my observations with these little things called "facts."
Mason just wants people to pay attention to him, so his attacks on NFL Commissioner Roger Goodell continue for reasons only Mason understands.
Mason appeared on ESPN 2 and continued his tirade, transcript per Profootballtalk.com:
"Anybody that understands what's been going on in the game of football, on the inside, not just on the outside but anyone that's been in it, they understand that. Honestly — I'm not saying this to disrespect him in any way — what has he done for the game of football to move it forward? Everything that has been done has been done by Pete Rozelle, [Paul] Tagliabue, people that came before him. But the thing is, he hasn't done anything significant to change the game of football."
Mason makes a great point if only I could figure out what it is. He makes a grand statement like this then does nothing to explain what it really means. The reason is he can not do it. The statement does not make any sense.
Read Matt Miller's Mock Draft Here
Rozelle helped shape the game of football as we know it while Tagliabue helped usher it into the 21st Century. Granted Goodell does not have a legacy yet, but he only has been on the job a few years.
Here is the truth: Goodell wants to take away the great deal Tagliabue gave the players in an effort to have labor peace on the eve of his retirement. In addition, Goodell instituted the personal conduct policy because he was tired of seeing players getting arrested every other day during the offseason and thinking there would be no repercussions.
Mason never has been in trouble with the law, so I have no idea what to make of the latter part, but Mason seems to think directing a lot of hate and vitriol at Goodell is going to accomplish something.
It will not.
In fact, Mason is just making a bad situation worse by attacking Goodell when the players and the league should be trying to settle the labor dispute.
Although Mason said repeatedly that he wasn't trying to disrespect Goodell personally, it sure doesn't sound like he has much respect for Goodell. Mason is particularly bothered that Goodell is insisting on blood tests for human growth hormone, which Mason views as too intrusive and a distraction from the league's real labor issues.
What else is Goodell going to talk about since the players kept insisting any talks to settle the labor dispute had to be a settlement meeting with their attorneys?
Mason is afraid of the needle, or he is hiding something. Either way, this attack on Goodell and the HGH testing just shows why the players need smarter people to speak for them and represent them in labor talks.
This article is
What is the duplicate article?
Why is this article offensive?
Where is this article plagiarized from?
Why is this article poorly edited?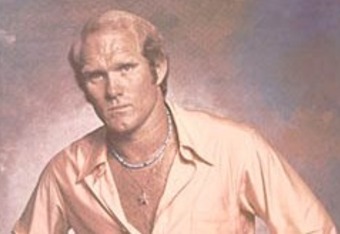 Bradshaw Says He Has Experienced Problems Lately
First of all, just take a look at that picture and feel terrible it still is not the 1970's. While I am old enough to remember the 1970's, I was too young to have appreciated the 1970's.
To the topic at hand, Terry Bradshaw recently revealed he has experienced some short-term memory loss and deterioration of his eye-hand coordination doctors trace back to his multiple concussions suffered during his playing career.
"I forgot the numbers. It's pretty staggering; if you play in the NFL and start for 10 years, it's not good. It is not good," Bradshaw said at Squire Creek Country Club in Choudrant, where he was in town for a fundraiser for his alma mater, Louisiana Tech University
Concussions have become a huge issue in the NFL as the league mandates more protections and institutes rules changes to better protect players from head shots. Some of the changes are good, others seem superficial.
What you can take from this, though, is the league is not going to stop changing things if they think it will reduce concussions. The helmet worn by Aaron Rodgers he credits for saving him from another concussion should become standard issue.
While you want to avoid a "balloon" helmet like the ones that occasionally pop up, the one Rodgers wears is fine.
Read Matt Miller's Mock Draft Here
If the players want to be a part of the process, they need to quit complaining and become more active in the process. There is no reason they can not become more involved.
In fact, the league would welcome more player input so there is less complaining later.
This article is
What is the duplicate article?
Why is this article offensive?
Where is this article plagiarized from?
Why is this article poorly edited?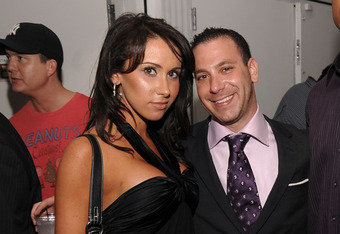 Jenn Sterger Doing What She Can To Get A Job
The Jenn Sterger-Brett Favre debacle is something that never should have happened no matter which angle you tackle the story from.
Favre never should have pursued Sterger the way he did, Sterger really should have done more thinking before talking to the editor of Deadspin and her lawyers should have come up with a better strategy.
In the end, Sterger is an unemployed media personality who is looking for work.
Mike Florio of Profootballtalk.com is preaching to the choir here:
Though she appears blameless for what occurred in 2008, she ultimately has only herself to blame for manner in which things played out in 2010. When she told the editor of Deadspin about being pursued by Favre via graphic photos, what did she think the editor of Deadspin would want to do with the information? And if she contends that A.J. Daulerio broke her confidence when initially publishing the story in August 2010, why didn't she say so at the time? And if, as she now says, she never wanted anything from Favre, why did she hire a lawyer who then hired a former FBI agent who went to work on proving that the messages came from Favre and that the Jets gave Favre her number? And why did the lawyer proclaim from Day One that he planned to pursue any remedies for Sterger, if she just wanted all of this to go away?
Florio and myself agree this whole situation was handled about as bad as you can handle any kind of public fiasco involving a famous person and sex.
Read Matt Miller's Mock Draft Here
What is funny is the continued plea for Sterger about what she really wants from all of of this.
From the story written in the New York Post:
Sterger, who now lives in Brooklyn and is looking for work, said, "I just want my life back. That's all I'm asking for."
Message to Miss Sterger: The moment you decided to talk to Deadspin, life as you knew it ended. Your resume is terrible, and the way you handled the Favre situation does not give employers any kind of confidence in you.
No one is arguing Sterger's right to not be sexually harassed, but she took the worst road possible in dealing with it. Instead of dealing with it right away, she waited months, then talked to a Web site that specializes in sensationalizing things like pro quarterbacks exposing themselves in lewd photos sent via cell phone.
Sorry, all my sympathy is used up.
This article is
What is the duplicate article?
Why is this article offensive?
Where is this article plagiarized from?
Why is this article poorly edited?