Kate Upton: 20 Ways To Involve Her in Sports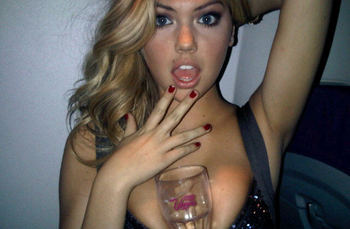 You've seen her in the Sports Illustrated Swimsuit Edition. She taught you how to "Dougie."
It's official—the sports community wants more Upton!
On the following slides, you'll find 20 ways we can keep Kate Upton in the realm of sports. And no, I didn't compose 20 slides that simply say, "For the love of Baby Jesus, somebody buy her season tickets to (insert your favorite team name here) games, and somebody else take pictures!"
Nor did I write about equestrian, though Upton was an accomplished rider before becoming a model.
Sorry Kate, but equestrian is boring.
Instead, you'll find 20 entertaining ways we can keep Upton in sports.
To the slides!
Photo courtesy of yfrog.com
The "Dougie"
In case you haven't seen this yet.
20. WAG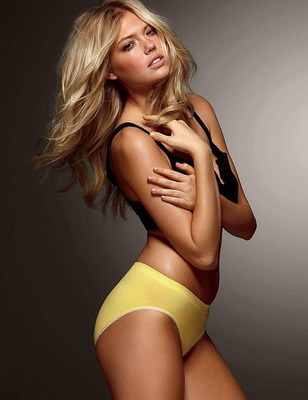 The most obvious way to keep Kate Upton in sports is also the most tragic, as it means she will be taken off of the market.
Unless—and stay with me here—we convince her that WAG really means wives and girlfriends of fans.
That's right, fans.
And not just any fans, but sports-obsessed, non-celebrity fans. Any hot woman can date some celebrity or athlete, everybody knows that, but it's all the rage right now to go for the "guy next door."
Brilliant, I know. Shower me with praises, for I shall lead you to the Upton.
19. Lingerie Football League
The second-most obvious option. As witnessed in this video, Upton keeps herself in shape, so she might be able to hang with the roughhousing.
She'll never know unless she tries.
18. Lingerie Hockey League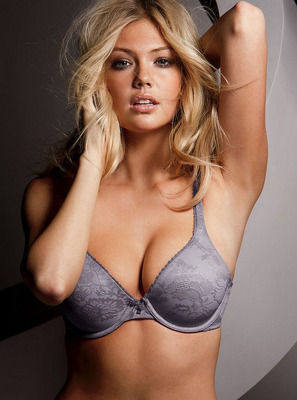 Then again, Upton may be more enterprising than that. She might want to start her own sexy sports league.
Kate, I have a suggestion—Lingerie Hockey.
Sure, hypothermia would be a slight issue. But darn it, if you are tough enough to be a sex symbol, you're tough enough to deal with some hypothermia!
You know the saying—if you can't stand the frostbite, get out of the walk-in freezer.
I believe that is the Canadian version of the saying, actually.
17. Sideline Reporter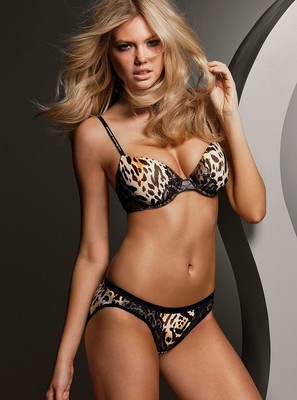 I'm not sure if Upton would want to make sports her career, but fans everywhere would approve if she became a sideline reporter.
Although, the chances of athletes catcalling her or sending her photographs of their junk would probably be pretty high, forcing her to embody the awkward juggling act faced by women in sports, as they strive to be taken seriously while inevitably being cast as a sex symbol.
Wait, what am I talking about? That sort of thing never happens.
16. Cheerleading Choreographer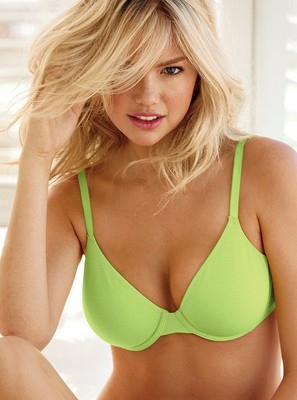 So she can teach cheerleaders everywhere her highly-touted "Dougie" routine.
Duh.
15. Cheerleader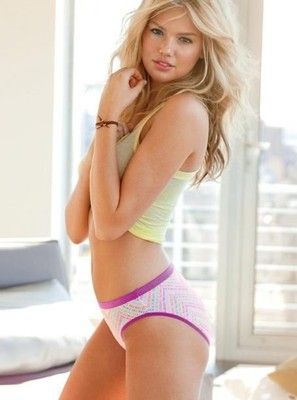 Or, she could just become a cheerleader.
Such a simple yet awesome idea.
14. Television Show: 'What's Upton?'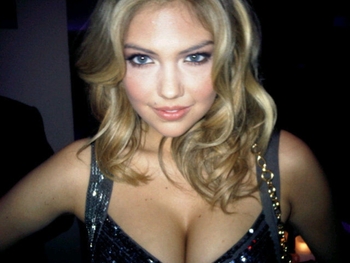 Basically, the show stars Kate, B.J. and Justin Upton, all living together in a house during the MLB offseason. The plot centers around the two brothers constantly arguing over who has the most potential and who deserves to win Kate's affections.
The joke of the show, of course, is that Kate is the only one of the three to fully realize her potential and dates other, more successful baseball players.
The show will get cheap laughs from B.J., as he is always picking on younger brother Justin, despite the fact that Justin is the better player.
Alternative title: Two Uptons, an Upton and a Baseball Field.
Deadpan narration will be provided by Joe Buck.
Photo courtesy of yfrog.com
13. Jock Jams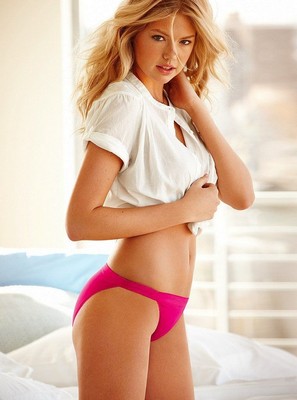 Oh, how I miss Jock Jams.
More importantly, how I miss the hilarious Jock Jams commercials.
We need Jock Jams to come back, and we need Kate Upton to promote the album and appear on the commercials, dancing along.

12. Kate Does That Thing Where She Pretends Like a Jersey Is a Dress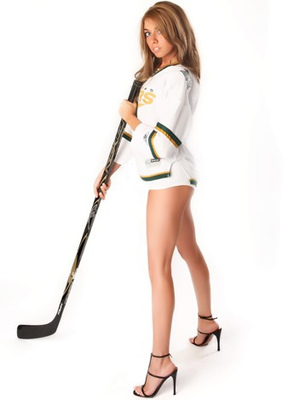 That photo isn't of Kate Upton. That photo is to help you develop the mental picture of Kate Upton modeling a sports jersey as a dress.
Nonetheless, you can put your tongue away now.
11. The Decision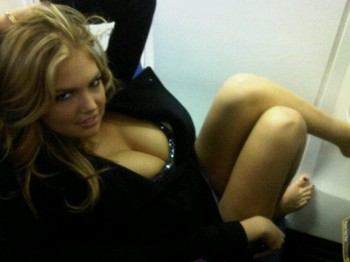 I think Upton should decide to become the ultimate fan of one NBA franchise. She'll watch games courtside and model in sexy versions of that team's gear.
In a perfect world, she will ditch Miami, where she got her modeling start (and is a few hours from her hometown of Melbourne, Florida), and instead choose Los Angeles or New York, where all of the other models live.
She'll go on national television to announce the city receiving her talents, leaving Miami to feel abandoned.
LeBron James will retaliate by writing an open letter in which he accuses Upton of narcissism and betrayal. He then shocks the world, claiming he will pose naked before Upton, which of course causes a media backlash he later apologizes for.
Photo courtesy of yfrog.com
10. LPGA Tournament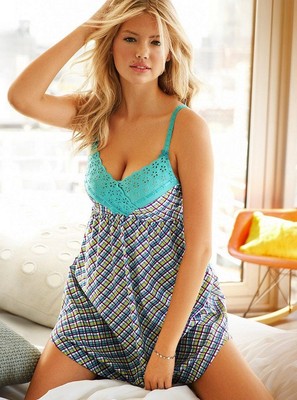 Have you seen the gorgous golfers in the LPGA these days?
She'll fit right in.
9. Reality Figure Skating Show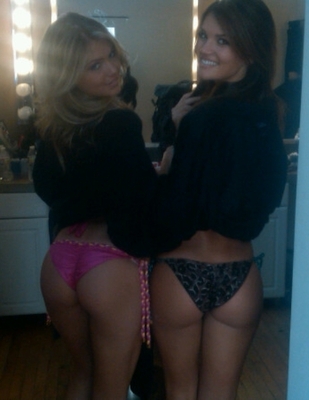 Kate could co-host a reality figure skating show with Johnny Weir about eight hopeful skaters and the struggle to make it to the top. Kate will host, and Weir will serve as the coach. Obviously, both will give them fashion tips.
I've got the perfect title: John and Kate, Figure Eight
Due to conflicts working together, however, Upton and Weir will have an ugly, public fallout, the show will get canceled and everyone will forget it ever existed.
Well, everyone except for the eight potential figure skaters who found themselves stuck in the public drama and had their skating development stunted due to all of the distractions.
Photo courtesy of Plixi.com
8. Color Commentator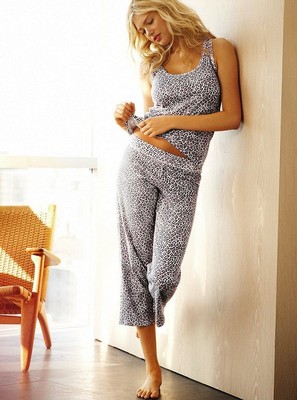 Basically, Kate could provide commentary during sports broadcasts to lighten things up.
If working with Joe Buck: "Gosh Joe, you're boring."
If working with Jim Nantz: "Gee Jim, your victory exclamations seem a bit contrived and, quite frankly, pretty corny."
If working with Gus Johnson: "Um Gus, if you are like this during games, how loud are you in bed?"
If working with Craig Sager: "Dude, where did you buy that pastel-colored jacket? Because I am going to burn that store to the ground."
I immediately like this idea.
7. Comedy Central Sports Host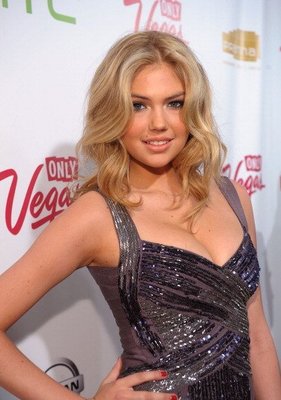 Basically, Kate reviews the highlights and main stories of the day.
In lingerie.
And just to see what happens, let's throw Dennis Miller in there—fully clothed, of course—to crack jokes that go over everybody's head and fall flatter than a penny on railroad tracks.
Due to the fact that shows attempting to combine sports and comedy always reach wild popularity and have lengthy runs, I feel confident that this will work.
Wait a second...
They can slot it in right after Norm McDonald's newest effort, Sports Show.
6. Movie Star: "Sirens in the Outfield"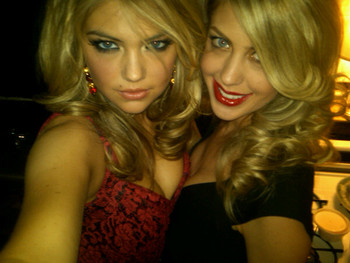 In a spin-off of the classic 1994 flick, Angels in the Outfield (which was a remake of a 1951 film of the same name), Sirens in the Outfield will star Upton as a sexy siren sent to help the hapless Pirates finally win a championship, after two young orphans pray that the team will get better.
But that's where the similarities end. Rather than help the Pirates directly, Upton and her crew of sexy sirens will distract the other team, playing sultry songs while dancing seductively, filling the heads of opponents with distracting thoughts.
Obviously, the only people able to see the sirens will be the opposing team and the two young boys, who will be ushered into puberty a bit prematurely.
Thus, opponents of the Pirates will begin to commit countless errors throughout the game, and the Pirates will go on to win the World Series.
Photo courtesy of Plixi.com
5. Pole Dancing
Whoa, whoa, before you go accusing me of being sleazy, watch the video.
Pole dancing is a sport.
Seriously.
There is even a movement to get pole dancing included in the Olympics.
I swear, I'm not making this up. I'm simply here to inform.
4. Tennis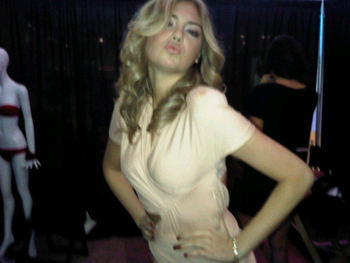 What happens if Upton realizes that the modeling game isn't working out for her and wants to try something different?
I say, try tennis. After all, if all of these tennis players can become models, why can't models become tennis players?
That's how this works, right?
The way I see it, all she has to do is date a couple of Russian hockey players and settle down with a Latin music star.
Seriously, that's how it works, right?
Photo courtesy of yfrog.com
3. WWE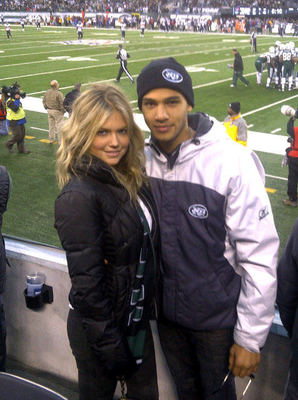 Kate Upton joins the WWE and tosses other women around the ring while wearing skimpy clothing.
Go on...
She becomes famous for her devastating finishing move, "What Goes Upton Must Come Down and Get Its Head Smashed Into the Ground Causing It to Get Pinned by a Dramatic Three-Count that Makes the Crowd Go Wild."
Vince McMahon later shortens the name to "The Upton Crush" for brevity's sake, and due to his love of the double entendre.
Photo courtesy of yfrog.com
2. Movie Star, Part Two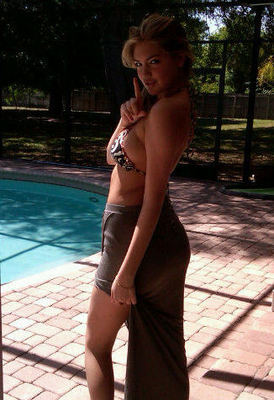 In honor of Kate Upton being named "Rookie of the Year" in the Sports Illustrated Swimsuit Edition, an enterprising director should star her in the would-be film, Rookie of the Year: Rounding the Bases.
The plot:
In the middle of a photo shoot, Upton trips over a boulder she has been laying on for the brand new Field and Stream swimsuit edition, titled the "Gee Whiz, She's Purdy" edition.
Upton falls on her arm, strangely developing the ability to throw a fastball at breakneck speeds.
She is brought on by the Washington Nationals, who—fearing that she could suffer a season-ending injury at any time, as they are under the impression that is what happens to franchise-saving pitching prospects—ask her to pitch in tight-fitting, skimpy uniforms in order to garner as much publicity and revenue from her as possible.
However, she eventually loses her abilities in a freak baserunning collision with Jayson Werth, who suffers a concussion and simultaneously realizes that he willingly signed with the Nationals, and offers to pay the Phillies to take him back during the postgame news conference.
Photo Courtesy of yfrog.com
1. Fantasy Sports Reality Show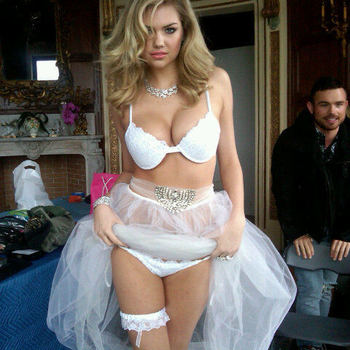 While the show will be about fantasy sports, more importantly, it will be a show Upton hosts about teaching fantasy geeks how to talk to women, go on dates—that sort of thing.
But along the way, she also teaches beautiful women about the appealing nature of the fantasy geek, and shows them the wonderful ways of fantasy sports.
And then hot women everywhere will suddenly realize how unbelievably sexy fantasy geeks are!
Foolproof, I know.
Photo Courtesy of yfrog.com
Be sure to hit me up on Twitter (@TRappaRT) along with the entire B/R Swagger team (@BR_Swagger)
Keep Reading