New Jersey Devils: Potential Coaching Candidates and the Odds They Get the Job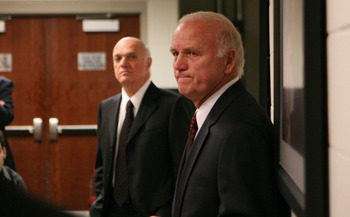 Bruce Bennett/Getty Images
The New Jersey Devils find themselves without a head coach for the third straight year and fourth time in the last five seasons. Jacques Lemaire retired after the last game of this past season, leaving the Devils for the third time. He had replaced John MacLean on December 23, 2010 to begin his third tenure as coach, which lasted 49 games. This followed his second tenure which lasted the 82 games of the 2009-10 season.
The Devils coaching history, which is pretty lengthy is as follows:
Billy MacMillian: June 30, 1982 - November 22, 1983
Tommy McVie: November 22, 1983 - May 31, 1984
Doug Carpenter: May 31, 1984 - January 26, 1988
Jim Schoenfeld: January 26, 1988 - November 6, 1989
John Cunniff: November 6, 1989 - March 4, 1991
Tommy McVie II: March 4, 1991 - June 5, 1992
Herb Brooks: June 5, 1992 - May 31, 1993
Jacques Lemaire: June 28, 1993 - May 8, 1998
Robbie Ftorek: May 21, 1998 - March 23, 2000
Larry Robinson: March 23, 2000 - January 28, 2002
Kevin Constantine: January 28, 2002 - June 13, 2002
Pat Burns: June 13, 2002 - July 14, 2005
Larry Robinson II: July 14, 2005 - December 19, 2005
Lou Lamoriello: December 19, 2005 - May 14, 2006
Claude Julien: June 13, 2006 - April 2, 2007
Lou Lamoriello II: April 2, 2007 - July 12, 2007
Brent Sutter: July 12, 2007 - June 10, 2009
Jacques Lemaire II: July 13, 2009 - April 26, 2010
John MacLean: June 17, 2010 - December 23, 2010
Jacques Lemaire III: December 23, 2010 - April 10, 2011
In the ensuing pages, I take a look at different potential candidates for the head coaching position of the New Jersey Devils. I look forward to discussing with the readers which candidates you like/dislike and why.
WANT TO DISCUSS THIS ARTICLE? COMMENT BELOW AND/OR FOLLOW ME ON TWITTER @ LEVINAKL
Scott Stevens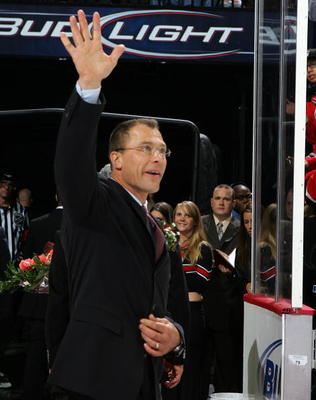 Jim McIsaac/Getty Images
As big a long shot as you can get, Scott Stevens is still involved with the Devils organization in a consulting capacity, but it's pretty clear at least for now, Stevens is not Head Coaching material. He's never even been an assistant coach, let alone a Head Coach, so this certainly would not be the right time to even consider bringing in Stevens to replace Jacques Lemaire. It wouldn't be the right fit nor the right time. Odds: 1,000,000,000 to 1 (Yes, 1 billion).
Ted Nolan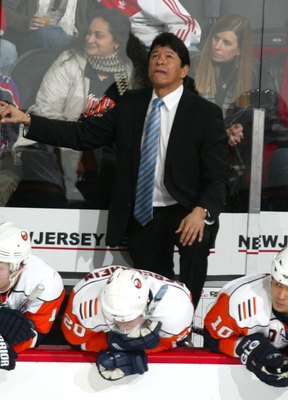 Bruce Bennett/Getty Images
Ted Nolan is a guy who has been a successful hockey coach behind the bench, but seems to have the reputation of having bad relationships off the ice, whether it is the rumors of his indiscretions with the wife of a player, or a rocky relationship with the front office, I believe its these things that have kept Nolan from being behind an NHL bench in recent years more so than his coaching ability.
With all the cloudiness around Nolan, I can't see the Devils and GM Lou Lamoriello coming anywhere near Nolan. You could also add to the mix that his son Brendon spurned the Devils as a draft pick in 2001 (3rd round pick) to re-enter the draft. Basically, there is no chance Ted Nolan becomes the next head coach in my opinion. Odds: 5,000,000 - 1
Kurt Kleinnendorst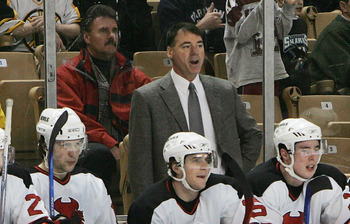 Bruce Bennett/Getty Images
A former assistant coach with the Devils in 2001-02 and a head coach with their minor league affiliate in Lowell for three seasons (2006-07 to 2008-09). He has been a head coach for four total seasons in the AHL, including this past season with the Binghamton Senators. He has done a lot of work for USA Hockey as well. The 50-year old Kleinnendorst is more likely to be a candidate in Ottawa than New jersey. He comes from Providence College, which likely meshes well with GM Lou Lamoriello, but doesn't have enough of a resume to command the respect that will be needed for the Devils' new coach. Odds: 1,000,000 - 1
Brent Sutter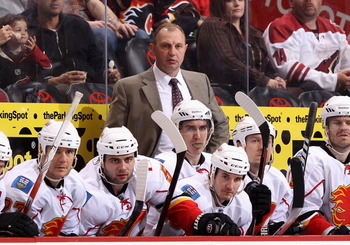 Christian Petersen/Getty Images
Sutter Part II? I wouldn't hold my breath for that to happen, but then again, Lou Lamoriello has certainly "recycled" his share of people, whether it's Jacques Lemaire, Claude Lemieux, Larry Robinson or Brian Rolston. If Lamoriello could bring back Claude Lemieux, he can bring back anyone. That being said, Brent Sutter would first need to be let go from his current job, head coach of the Calgary Flames. (Or would he? After all, he sort of left the Devils while under contract to move to the Flames.).
While I know Lamoriello has thought very highly of Sutter for a number of years, I can't see Sutter being brought back to the team he bolted from just a few years ago. Odds: 1,000,000 - 1
Mike Keenan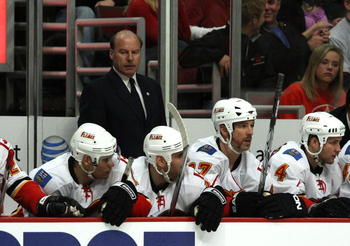 Jonathan Daniel/Getty Images
"Iron Mike" has been well traveled around the NHL and had his big moment with the New York Rangers in 1994, winning the Stanley Cup. He currently works for MSG TV doing Rangers broadcasts and working on the show Hockey Night Live. He has a reputation of being a disciplinarian, but also seems to be fond of goalie changes, something that definitely wouldn't be likely to work in New Jersey, with the likes of all-timer Martin Brodeur in place.
I can't see a marraige of Keenan and Lamoriello having any real chance of happening, although the 61-year old Keenan could be looking to mellow out a bit to get back into coaching. With eight stops in the books already in the NHL, I don't see the Devils having a reason to even interview Keenan, let alone hiring him. Odds: 1,000,000 - 1
Larry Robinson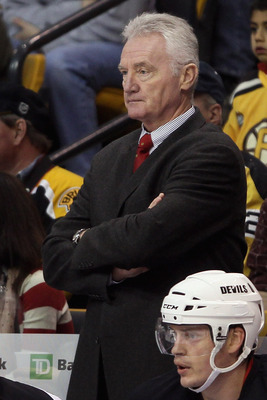 Elsa/Getty Images
Larry Robinson has already been head coach of the New Jersey Devils on two occasions. Both times, he left due to the stress related to the job and to also spend more time with his family. He was the assistant coach for the Devils under Lemaire this year. I would think if Robinson showed interest in the job again, Lamoriello would sign him up to be coach in a second.
That being said, I don't see it happening, I think Robinson enjoys a more hands-off role and if he isn't an assistant coach, he will definitely stay within the organization in some capacity. It just won't be as head coach. Odds: 500,000 - 1
Mike Kitchen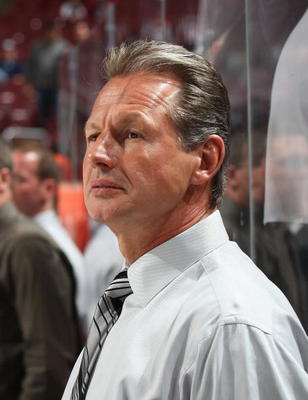 Bruce Bennett/Getty Images
Kitchen as a player was in the organization for his entire career, but it was mostly in Colorado. He's one of the few people to be connected to the franchise in all 3 stops, as he was a 3rd round draft pick of the Kansas City Scouts in 1976. He has a long history of being an NHL assistant coach, with stops in Toronto, Florida, St. Louis and Chicago totaling 17-plus seasons as an assistant. On top of that, he also had a run of parts of three seasons as head coach of the St. Louis Blues, with a disappointing 38-70-4-19 record 131 games and one quick playoff exit.
Kitchen has the resume to be in the mix for a head coaching position if he should want it, I just don't see it being in New Jersey as an ideal fit. His background as a defensive defenseman is about the only positive I see on his resume, I think the Devils require more of a leader and head coaching presence than Kitchen can offer at this time. Don't discount the chances of him possibly being considered in Florida. Odds: 100,000 - 1
Scott Gordon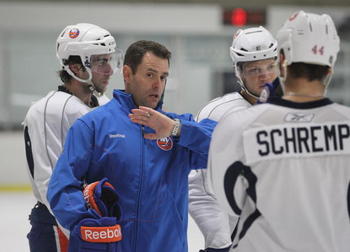 Bruce Bennett/Getty Images
A former goaltender for Boston College (and a short stint with the Quebec Nordiques), Gordon is an interesting coaching prospect. He got dealt a bit of difficult hand being coach of the New York Islanders, replacing Ted Nolan after the 2007-08 season. He lasted two-plus seasons with the Islanders but didn't finish out of last place in the division.
He does have a Coach of the Year award from the AHL level with the Providence Bruins, which led to his hiring by the Islanders. He still works for the Islanders as a special advisor to the general manager, but I don't see that as a potential stumbling block. I think Lou Lamoriello will seek out more experience or at least more of a successful coach than Gordon has to offer, but I do think Gordon is a guy who could easily get a look at one of the other jobs either in Dallas, Florida, Minnesota or Ottawa and deservingly so. Odds: 1,000 - 1
Dave Lewis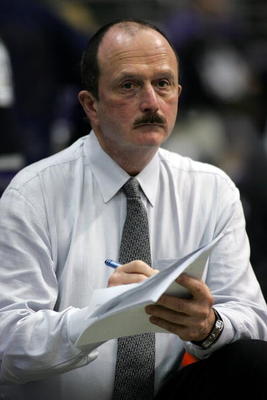 Victor Decolongon/Getty Images
Dave Lewis had a 15-year NHL career that saw him play in 1008 career games with the New York Islanders, Los Angeles Kings, New Jersey Devils and Detroit Red Wings. After his playing career ended, he started work behind the bench for the Red Wings as an assistant coach for thirteen seasons, where he won three Stanley Cup championships in 1997, 1998 and 2002. After Scotty Bowman retired as Head Coach, Lewis took over behind the bench, where he lasted two seasons of 48 wins, but not enough playoff success and his contract ran out after the lockout and he switched to scouting with the Red Wings.
In the summer of 2006, he was named head coach of the Boston Bruins, but one 35-41-6 season later, he was let go for the team's inconsistent play and last place finish. He spent one season behind the bench with the Los Angeles Kings as an assistant coach. He currently is the head coach for the Ukranian national team (his grandparents were from the Ukraine). It is a long shot that Lewis would appear to be a prominent candidate for the Devils' job, but he also seems to be off the radar enough that he could possibly appeal to Lou Lamoriello a la Pat Burns. My guess is he doesn't get much consideration in the end. Odds: 500-1
Kevin Dineen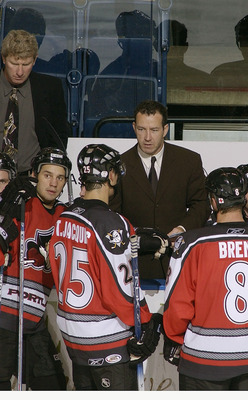 Lisa Meyer/Getty Images
Kevin Dineen is one of the up and comer AHL coaches that is out there. He has been the head coach of the AHL's Portland franchise since 2005. Along the way (having served under affiliations of both the Anaheim Ducks and Buffalo Sabres), Dineen was named the receipient of the Louis A.R. Pieri Memorial Award as the most oustanding head coach in the AHL for the 2005-2006 season.
At age 47, Dineen is a young enough candidate to be considered, "fresh," and he isn't very removed from the game, after all, he retired just eight years ago. He has five years head coaching experience at the AHL level and overall seems to be a coach on the rise. He was rumored to be in the mix for Lamoriello this time last year before John MacLean was hired, but then again, in the end it seemed like Lamoriello didn't venture far from his eventual choice MacLean.. Odds: 100 - 1
Guy Carbonneau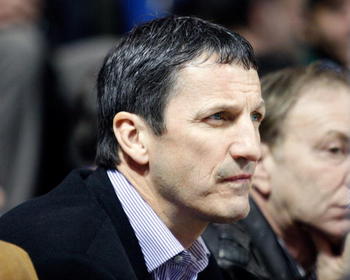 Richard Wolowicz/Getty Images
Guy Carbonneau played a long distinguished 20-year career with the Montreal Canadiens, St. Louis Blues and Dallas Stars, playing in 1318 career games and winning three Stanley Cups and three Selke Trophies along the way. After retiring with the Stars after the 2000 season, he worked for two seasons as an assitant with the Canadiens under Michel Therrien.
In 2003, he moved back to Dallas to be a special assistant to the GM. He was there until becoming head coach of the Montreal Canadiens in 2006. He spent two plus seasons at the helm of the Canadiens before being let go in 2009. He's been mostly in television since being let go, but he's definitely the kind of off the radar candidate I can see Lamoriello bringing in. However, there are rumors that he is not looking to get back into coaching, so that is something that is a potential obsticle. As a player and coach with history in Montreal, I would think that alone would appeal to GM Lou Lamoriello, who has gone down that road before with head coaches like Pat Burns, Jacques Lemaire, Claude Julien and Larry Robinson. Odds: 50-1
Mike Haviland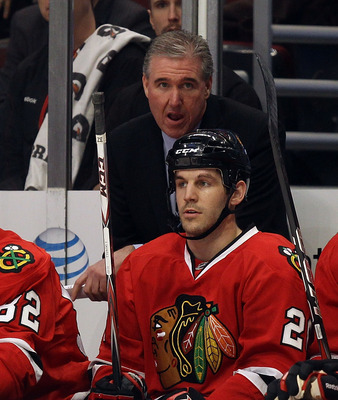 Jonathan Daniel/Getty Images
A New Jersey native, Mike Haviland is an interesting candidate to consider. He does not have a resume that includes being an NHL Head Coach, but he did have success in the minors at a few stops in the mi, nor leagues, making the playoffs in all seven years he coached in the minors. Coming off a Stanley Cup championship as an assistant coach with the Chicago Blackhawks, it was expected Haviland would finally be in a position to field NHL head coaching offers, but that did not come.
It is surprising to me that he didn't get any interest from New Jersey the last two off-seasons, but maybe the third time will be a charm for Haviland. I see no reason why Lou Lamoriello shouldn't at least bring in Haviland for an interview to see if there is any potential synergy between the two. Being he is from New Jersey, and his family still lives there, I'm sure Haviland would love to be a long-term coaching option for the Devils, so I think this year should be the year he is finally considered by the team that drafted him in the first round of the 1990 Supplemental Draft. Odds: 20-1
Craig MacTavish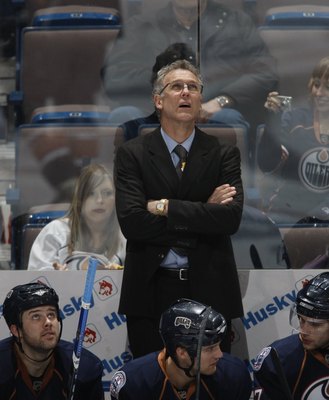 Dale MacMillan/Getty Images
Craig MacTavish has quite a pedigree compared to some coaching candidates and definitely is someone that should be considered by Lou Lamoriello for the Devils head coaching position. He had limited success in nine years as head coach of the Edmonton Oilers between 2000 and 2009, but he did not have the same level of talent he would have available to him in New Jersey either.
His defensive mind and knowledge would definitely should appeal to Lamoriello and should put MacTavish into the mix for consideration. He currently is an analyst for TSN, which is viewed by some as a stepping stone to a new coaching gig, so it wouldn't be a huge shock to see MacTavish become a head coach again if that is something he is looking to do. Odds: 20-1
Michel Therrien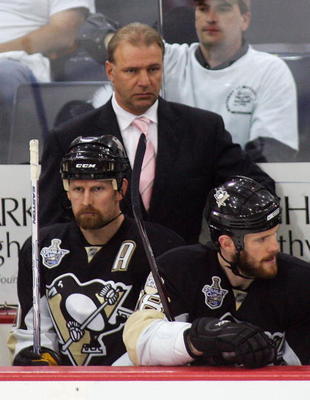 Jim McIsaac/Getty Images
Michel Therrien has seven years of head coaching experience with the Pittsburgh Penguins and Montreal Canadiens. His peak as a head coach was when he helped lead the Penguins to the 2008 Stanley Cup Finals before losing to the Detroit Red Wings. The following season, things did not work well with Therrien, and he was replaced mid-season by Dan Bylsma, on a team that eventually won the Stanley Cup with Bylsma later that season.
Therrien comes from the Montreal system originally and that is always a plus when dealing with Lamoriello. There were rumors last year that Therrien was close to accepting the position as head coach of the Devils, but those rumors were denied by Lamoriello, who insisted there were no other serious interviews outside of MacLean. Therrien may also may be a more likely candidate in Minnesota, where he currently is part of the scouting department. He definitely has a reputation of being more of the "bad cop" type which could be something the Devils need, but how long would it work for with the current crop of players? My guess is not long enough to last an entire season. Odds: 15-1
Kirk Muller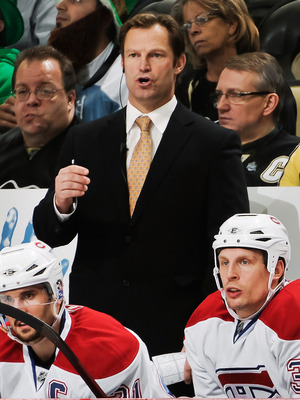 Jamie Sabau/Getty Images
"Captain Kirk" as he was known during his days with the Devils, has become a bit of a hot candidate in the last year, after the success the Montreal Canadiens had in the playoffs last year. Muller has done his time and appears to be ready for an NHL head coaching job. However, could his long-time friendship with John MacLean impact his decision to potentially want the New Jersey job? Better still, would Lamoriello be gun shy at all about Muller, given his relationship with MacLean and also the similarities of being a first time coach?
Muller seems to have been given a lot of responsibilities under current Canadiens coach Jacques Martin and has always had defense as a priority in his game, both as a player and an assistant coach. However, being the guy in charge is certainly a different thing than being the assistant, which is something John MacLean had some trouble with, so would Muller see the same problems? I guess that is something Lou Lamoriello will have to decide. Odds: 10 -1
Ken Hitchcock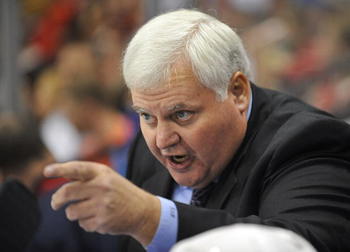 Tom Dahlin/Getty Images
I think at this point Ken Hitchcock is probably the favorite, but don't take that to mean he is a shoo-in by any means. With other openings out there, there is no guarantee that Hitchcock would even choose to be in New Jersey. His defense-first philosophy is one that stands out to Devils followers and he has a mostly no-nonsense approach, which also would tend to work with New Jersey's philosophy. Hitchcock is also known as a great admirer of Ilya Kovalchuk, so it's possible the two might mesh together.
One potential negative against Hitchcock is he doesn't have the reputation of being a teacher, which is something that worked so well with Jacques Lemaire this year, a lot of the players, especially young ones like Mark Fayne, Mattias Tedenby, Nick Palmieri and Jacob Josefson all seemed to learn a ton from Lemaire. Hitchcock also has a reputation for not working well with young players. This was a reputation that Jacques Lemaire had at one time, but he definitely adjusted well this season. If Hitchcock can show Lamoriello tha he can adapt with younger talent, the job of head coach may very well become his. Odds: 5-1
Field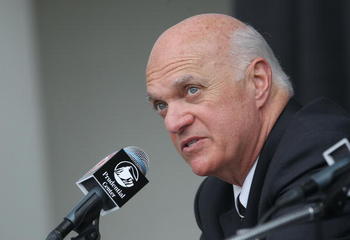 Bruce Bennett/Getty Images
Anyone else you might think of. GM Lou Lamoriello has certainly thrown a curveball before, so you have to certainly keep that in mind, its definitely possible Lamoriello knows of a candidate no one else can think of. It's how he ended with Jacques Lemaire back in 1993, or Pat Burns in 2002. Maybe he even thinks about himself again, but that would definitely be a total shocker to everyone, who sees Lamoriello trying to lessen his responsibilities, not take on more.
Some other names to throw into the mix are Tony Granato, Marc Crawford, Peter DeBoer, Todd Richards, Bob Hartley, Viacheslav Fetisov, Sergei Nemchinov or even Adam Oates. I don't see any of them being named head coach of the Devils for differing reasons, but that's the beauty of it all, only Lou Lamoriello really knows what he's going to do (beyond obviously the guy who gets the offer). Odds: 8-1
It's all part of the fun, who do you guys think will be the Devils next head coach? In the end, I think Hitchcock is the favorite, but I think I would choose between Kirk Muller, Craig MacTavish or Guy Carbonneau, discuss their plans for the team, and go with the best interview plan for the team.
Keep Reading

New Jersey Devils: Like this team?