2011 NFL Draft: 5 Offensive Players to Avoid at Current Projected Draft Spot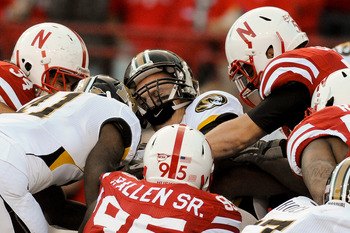 Blaine Gabbert could very well get swallowed whole in the NFL.
Eric Francis/Getty Images
To be clear, this article isn't meant to say these guys will be busts in the NFL. I have concerns with a few of them ever being great, but with time, most should actually perform in the NFL.
The concern with these players is that they are being tauted at draft spots that exceed their actual Saturday contributions...and what they will be able to produce on Sundays over the next few years.
It should also be noted that the first round of the draft is somewhat defense-heavy. This makes it all the more important for teams looking at offense to get the most out of their selections.
With the kind of money being paid to first round talent, NFL teams can't afford to wait two years for a player to be a regular contributor, and then risk losing him to free agency. Even worse, a top draft pick can make a huge difference in a team's fortunes.
As an example, look at the San Francisco 49ers and the two Super Bowl teams last season. The 49ers have struggled with their draft board in recent years, selecting Alex Smith over Aaron Rodgers in '05. Last year they moved up to get Anthony Davis and then took Iupati, leaving Maurkice Pouncey on the board (and Roger Saffold).
So what players are going to be selected high this year, when a team would be better off waiting to take someone else?
5. Mark Ingram, RB Alabama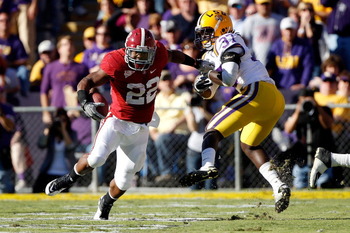 Chris Graythen/Getty Images
Despite injury concerns, Ingram is still likely going to end up a Dolphin. Miami is in a tough position, as they are in dire need of a RB and don't have a second round pick. This may send them looking for a trade partner, as they might be able to slide out of the top 20, gain a second or third round pick, and still get Ingram later in the first round.
Ingram doesn't have great top-end speed, but he does hold that strong initial burst that a RB needs to be successful. If he can stay healthy he could end up having a very good NFL career. But, the lack of top RB talent in this draft class could pull Ingram up a little more than he deserves.
Talent-wise Ingram looks to be very good, but given the break-down rate of pro RBs, he is a gamble in the first round.
4. Mike Pouncey, OG Florida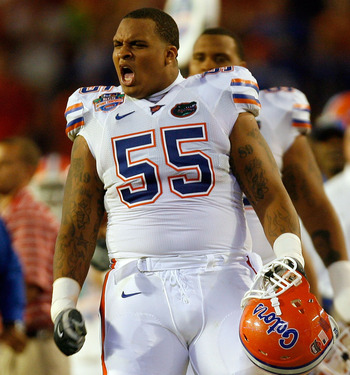 Eliot J. Schechter/Getty Images
Placement of Pouncey on this lists depends on whom one listens to. I placed him here based on the prevailing view by many mock boards that he'll be drafted in the 15-20 range.
However, if one is to listen to Pouncey himself, I'd quickly move him to the first spot. By now, most die-hard NFL fans are familiar with his Tweet..."Headed back to Pittsburgh ... would be shocked if i wasn't in a dallas uniform nxt year! The draft is april 28th so we will see ... To all the steelers fans i would love to be playing for the steelers and if i had a choice i would but it isn't my choice."
Could Pouncey himself even believe that Dallas is going to take him with the ninth overall pick in the draft? If he does, that makes one person.
Pouncey opted to return to Florida for his senior year to try to improve his draft status; he graded out as a late first or early second round pick last year.
Expectations were high for Pouncey for the 2010 season, but he didn't exactly rise to the challenge. Draft analysts chalk this up to him struggling at the center position.
There is some merit to that, as he did have issues with snaps, particularly in the first game. It took some of his concentration away from blocking, and perhaps a move back to OG will help his performance on the field.
My issues with Pouncey are simple. To begin, he was simply ran over at times by bigger, stronger nose tackles. He'll find even more of them in the NFL than in college, which will make this weakness a big issue at the next level.
Don't expect Pouncey to be a road-grader in the ground game, either. He doesn't have a track record of pushing guys off the line and clearing holes, which raised concerns about his strength. A good showing in the bench press at the combine would have helped his draft clout, but he did not participate.
Given his T-Rex arm-length of 32", Pouncey should be a bench-press machine. He did put 225 pounds up 24 times at his pro day, but that was two short of his brother's mark last year at the combine.
Short arms and strength issues are not good signs for an OG in the NFL. Granted, his brother has done very well in the NFL with arms that are only slightly longer, but it is hard to argue that Mike is as good as his twin.
One other item that will hurt Pouncey is there is a solid group of OGs in this draft, including Benjamin Ijalana, Marcus Cannon, Rodney Hudson, and Danny Watkins. With one of them available late in round two, a mid-first round draft pick for Pouncey is a stretch.
Someone will likely take the risk on him early, though, not wanting to be another team that passed on a Pouncey twin...twice.
3. Anthony Castonzo, OT, Boston College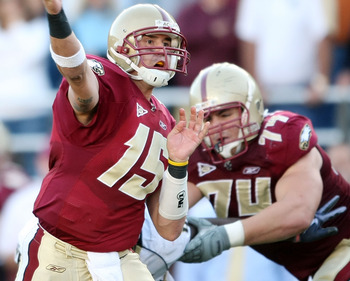 Elsa/Getty Images
I have nothing against Castonzo, and I think he will be a decent offensive lineman in the NFL...eventually. However, he has a similar theme to Pouncey in this draft. Whenever Mike is mentioned, there is an immediate tie to his brother.
With Casonzo, it is almost impossible to hear someone name him without the corresponding reference to Boston College's propensity for turning out quality linemen. It is a fair statement and a fair comparison. However, when looking for a top OT in the NFL draft, it is better to be known for your own block of work than that of your school.
Castonzo should be drafted towards the end of round one or the start of round two. However, a mix of need at the OT position, and a lack of first round depth has him going much higher than this in many mock drafts.
Castonzo played well in college, and is solid in most every aspect of the game. However, he isn't particularly great anywhere. That may change in time, but he doesn't appear to be an overpowering tackle. He needs to be stronger to play with the big uglies in the NFL.
2. Nate Solder, OT Colorado

Solder struggled against small but fast DEs and LBs in college...imagine when they are big and fast.

I have read and listened to what many draft experts have to say on Solder. I have also watched as much footage on him as I can find, which, admittedly, isn't as much as I'd like.
It is hard to pass judgment on a player without having more to go on, but when the same issue is recurrent, it creates a pattern that should cause concern.
With the importance of first round picks in the NFL, particularly those in the top 15 where many are projecting Solder, I assert too many experts are overlooking an issue that will catch the eye of most GMs in the NFL.
Solder consistently had issues pass-blocking against faster DEs.
Yes, he was able to get by in college, in large part due to being skilled in the art of holding. He also improved from 2009 to 2010 in his run blocking, and it stands to reason that the converted TE can continue to evolve as a pass blocker.
However, the NFL will be problematic. He will consistently face the type of competition he struggled with in college, and NFL officials will be quicker to throw flags when he has one hand on each side of the defender's body.
The Colorado website boasts that Solder only gave up five sacks in three seasons. While I haven't watched all 1,400 of his snaps, I have to question how they determined this number—he gave up at least three sacks in the game against Cal, and possibly a fourth (I am unable to find footage of the play, but the sack came from the man he was guarding most of the day).
Solder wasn't even tasked with blocking Cameron Jordan, Cal's best defensive lineman. He was consistently on the left side of the Cal line; Solder spent a lot of time blocking the 5'11", 213 pound Jarred Price, who had his only two sacks and forced fumble of the season vs. Solder. Solder was also responsible for Mychal Kendricks, who had two sacks on the day (at least one was allowed by Solder).
To be fair, one of the sacks credited against Solder on the day came after the QB was flushed by Jordan. Solder couldn't hold his block, and Price was there to finish the play. But Solder also missed a block, resulting in his QB being hit while he threw. Cal intercepted the pass, creating the second turnover from a missed Solder block
Solder also gave up a sack in the Senior Bowl. The NFL Network broadcast stated "Solder, with the feet that he has, should not make that mistake." The problem is, he made that mistake time and again at Colorado. Expecting that to change in his first season in the NFL is a bit of a stretch.
Solder may eventually build into a solid NFL pass-blocker, as his frame does have room to add size. But don't expect him to be able to step in and start in 2011, as 300 pounds is not big enough for a 6'8" OT in the NFL.
His strength concerns were highlighted in combine workouts. He turned in an expected, but still disappointing, bench press performance with just 21 reps. His arm reach is only 35.5", so it isn't as though he had to deal with an elite length in the bench.
The other concern is his quickness. He had difficulty with quick DEs at his current size. How is he going to fare with added bulk?
Despite the accolades, Solder is a project in the NFL and should be avoided in Round 1 of the NFL Draft.
1. Blaine Gabbert, QB Missouri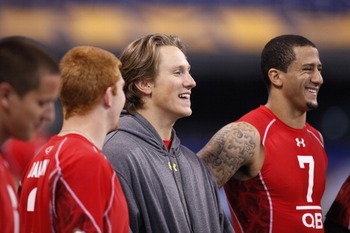 Gabbert spent much of the combine watching others go through drills.
Joe Robbins/Getty Images
If I was to present a spread QB who was dead last amongst the top 10 QBs with only 16 TDs last season as a first round talent, I might get a few funny looks. If I was to then push him into the top 10, there would be some serious questions. Take one more step, and call him the most pro-ready QB of the group, and you have exactly what has transpired with Blaine Gabbert.
Yes, I am calling Mr. Everything, Mr. Ready-Day-One QB Blaine Gabbert the most over-rated offensive player in the draft. I also recognize I'm about the only one...but that might change.
To be fair, I was drinking the cool aid early on. I believed the hype and excitement of a spread offense QB. He does throw a pretty ball, and has decent arm strength...what's not to love? Then I started looking at his numbers, which led me to look at his performances. Now I have to say, I don't get it.
Gabbert's numbers dipped last season...somewhat significantly. I won't bunch up this article with all the data, but you can find them in the link.
When looking for a drop in talent in his receiving options to explain the change, it is tough to find. He had one of the best TEs in college in Michael Egnew, who caught five of Gabbert's TD passes. It is hard to argue that the undrafted Danario Alexander was that much of a loss for Gabbert, as he did very little to help Chase Daniels the year prior.
Daniels brings an interesting point of comparison. He had better numbers all three seasons (sophomore - senior years) than Gabbert did either year. Daniels' low TD figure was as a sophomore with 28, and he threw 39 his senior year. If Gabbert has that extra push to play in the NFL, why didn't he fare better in college? There is a marked difference from 39 to 16 TDs.
Just for fun, I charted passes in a few games where I had access to all of his offensive snaps. Against Illinois, who was bereft of DBs at the time, he had what looked like great accuracy, hitting 34 of 48 passes. Two of the 14 incomplete passes were dropped, and a third was catch-able, but not thrown well. Looks like a great day, right?
But looking further into the performance, the stats are overstated.
15 of the completions were either behind the line of scrimmage or within five yards. Yet another 15 were between five and 10 yards down-field. That is 30 of 34 completions being short-range throws.
This type of distribution may fly in some west coast offenses, where accuracy and a quick release are important, but is that all a team expects from a top 10 draft pick?
Further into the passing stats, six passes of under 10 yards were incomplete and accounted for both of the drops. He completed four of five passes between 10 and 20 yards to open receivers, but missed on all five that landed more than twenty yards beyond the line.
Gabbert did have one particularly solid pass 35 yards downfield and Wes Kemp made a beautiful catch. However, he was called for pass interference on the play.
I can see Gabbert turning into a good west coast QB, and he may be attractive to the 49ers at pick seven or Washington at 10. However, that would be more of a testament to their state of emergency at the QB position.
In a normal year Gabbert would be looking at being taken late in the first or in the second round; any team expecting him to step in and start in year one will have a surprise in front of them.
As for Gabbert's Pro Day...yes, he worked from under center, and some analysts felt he looked good in his drop. In the limited portion that was televised, his footwork didn't appear to be there yet, but he has time to improve that aspect of his game.
Gabbert also hit most of his passes. But so did another player that has some interesting comparisons, Washington QB Jake Locker. Similar to Gabbert, Locker saw his numbers drop last season, and because of that Locker has fallen out of consideration as a top QB. In fact, their overall numbers are very close with the exception of completion percentage.
However, Gabbert runs a spread offense with a lot of bubble screens and swing passes to his RBs that kept his completion rate high, despite falling numbers everywhere else.
Locker ran more of a pro set and threw the ball down-field. As such, Locker's completion percentage was lower.
For me, Gabbert's worth starts and ends with what he did on the field. A spread offense is designed to be a high-powered, high scoring set. It worked that way before Gabbert, but not with him.
Throwing a nice spiral isn't enough to get it done in the NFL, and I just haven't seen anything from Gabbert to make him a top five pick.
Keep Reading