Stan Kroenke: Who Exactly Is Arsenal's New Majority Owner?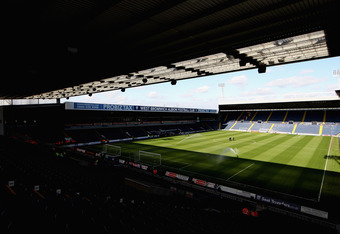 Scott Heavey/Getty Images
When news that American Billionaire Stan Kroenke was set to purchase control of Arsenal broke on April 10, many supporters were left scrambling to figure out exactly who the man was that looked set to assume control over their beloved Gunners.
Worth a reported $2 billion, the American property developer and sports owner whose wife is the daughter of Wal-Mart co-founder Bud Walton, and already owns a variety of professional franchises in the United States, including the St. Louis Rams of the NFL, the NHL's Colorado Avalanche, the Denver Nuggets of the NBA and Major League Soccer's Colorado Rapids.
The news raises many questions amongst Arsenal fans. First and foremost, what kind of owner will he be, and what does this mean as far as transfers and such?
Secondly, with the knowledge that under English law Kroenke must offer to buy all the outstanding shares, what does that mean as far the Arsenal Supporters Trust and the Fan Share initiative?
Will he be supportive of the current administration, or will he be looking to move the club in a different direction?
Nicknamed "Silent Stan" because of his publicity-shy nature, Kroenke has an outstanding reputation amongst fellow owners, and is regarded as having a hands-off approach, preferring to delegate day-to-day operations to managers and coaches, while focusing on the business end of things.
David Ramos/Getty Images
Now that he stands poised to assume control of one of the world's most storied franchises, Kroenke will find it harder to resist the glare of the spotlight. The Denver native will have to endure withering media scrutiny.
Named partly in tribute to baseball legends Enos Slaughter and Stan Musial, Enos Stanley Kroenke, born in Columbia, Missouri earned a BA, BS and MBA from the University of Missouri and founded the Kroenke Group, a real estate development firm, in 1983.
Kroenke Sports Enterprises
His first entry into the world of professional sport was in 1995, when he was among the group that convinced the ailing Los Angeles Rams to relocate to St. Louis, and purchased a 40 percent stake in the club. It proved to be a staggering triumph, and within five years, the Rams had earned the franchise's first ever championship, winning Super Bowl XXXIV in January 2000 over the Tennessee Titans 23-16.
After his success in St. Louis—whom he purchased their entirety in August 2010—Kroenke invested $450 million in the NHL's Colorado Avalanche, the NBA's Denver Nuggets and Denver's Pepsi Center, the home of both teams, in July 2000.
Under Kroenke's ownership, the Avalanche experienced success even faster than the Rams had.
Doug Pensinger/Getty Images
Colorado hoisted the Stanley Cup in 2001, the year after Kroenke bought the team. The Nuggets are the only team in Kroenke's stable who haven't won a title, but certainly not for lack of spending, as the Nuggets signed Allen Iverson and Carmelo Anthony—the latter later dealt to the Knicks—to large contracts with the team.
Closer to home for Arsenal fans is Kroenke's stewardship of the MLS' Colorado Rapids. Since acquiring the team in 2004, he has overseen the construction of Dick's Sporting Goods Park in Commerce City, Colorado, and the Rapids won their first MLS Cup in 2010.
While not often imposing his will upon his front office staff, Kroenke likes to stay abreast of even the smallest details, and a survey over his sports properties reveals well run and efficient organizations across the board.
So what does all this mean for Arsenal fans?
Clearly, Kroenke has made this move for control of Arsenal because it is a sound business decision. As his track record indicates, he generally opts to increase his profit margins by building winning teams, and he has been quite successful at it.
Already the club's largest shareholder before his purchase of Lady Nina Bracewell-Smith and Danny Fiszman's stake in the team, Kroenke's fingerprints are already all over the efficient, business-like manner with which the club has conducted its affairs the last few years.
Julian Finney/Getty Images
That being said, he also has a history of throwing his support behind the management already in place of team's he takes over. It seems unlikely that his takeover will have much impact on the Gunners this season, but its too early to speculate how he might approach the summer transfer window.
Arsenal Supporters Trust and the FanShare initiative
The Arsenal Supporters Trust (AST) owns about three percent of the team, and has close links to investors and board members, who have given the "fanshares" scheme, an arrangement that allows fans to purchase "fanshares" for a fraction of the price of whole shares, and gradually work their way up to owning a full share of the club and gain admittance to key club meetings, their support.
AST board member Tim Payton told the AP that the trust would oppose any bid for full 100 percent ownership by Kroenke, and would like to see fans remain as shareholders. According to Payton, Kroenke has praised the system in the past. Arsenal is the last major club where fans are still shareholders.
There has been nothing to indicate that the American has any designs on 100 percent ownership, and it should be noted that the offers to purchase the remaining shares that will be forthcoming are required under English law, and in no way signals intent.
Julian Finney/Getty Images
The largest shareholder left will be Russian Alisher Usmanov, and its not clear whether he would be willing to sell his stake to Kroenke.
It should be noted, that if Kroenke does opt to make an attempt at 100 percent ownership, the AST would be unable to block such a move on its own.
Once an individual owns 90 percent of the stock, the remaining 10 percent can be purchased compulsorily. The AST's three percent falls well short of being enough to block a complete buyout, and it would need to form some sort of shareholder coalition to intervene.
There is, however, nothing at all in his body of work that points to Kroenke acting so callously in regards to the fans of his teams in the past, and as he is undoubtedly a shrewd businessman; it seems likely that he will opt to keep the current arrangements in place, rather than risk drawing the ire of club loyalists and inciting a bitter feud a la Malcolm Glazer at Manchester United.
Business, never personal
Kroenke has purchased Arsenal because he has identified it as a profitable venture. This is in no small part down to the overwhelming fan support the club enjoys. Simply put: He needs the fans on his side, it's part of the business model.
While American owners have had mixed results in the Premier League, the fact remains, these clubs present an attractive option for investors.
Jonathan Daniel/Getty Images
While the Rams are valued at $773 million, they are in the bottom half of the league in that category, far behind teams like the Dallas Cowboys ($1.8 billion) and the New England Patriots ($1.4 billion). The NFL is also facing shrinking margins and serious labor disputes.
By contrast, Arsenal is valued at $1.4 billion according to current share prices, and is considered to still have tremendous global potential. So much so, that some analysts are foreseeing returns as high as 30 percent on the clubs. Far more than any American teams save for the bluest of the blue-chip franchises.
This equals interest from foreign investors, something that many EPL fans have been slow to embrace.
The fact is, the top-flight of English football is getting less and less English. Only nine teams are completely domestically controlled, and only Tottenham Hotspur are among the league's elite.
While certainly it is too early to guess at Kroenke's intentions, it is expected that some sort of official announcement will be forthcoming, and the American will no doubt be acting fast to allay the fears of the club's powerful and vociferous supporters.
Judging from the footprints he has left on the American sporting landscape so far, Kroenke looks like an owner who will be focused on the bottom line. But he has shown in the past an understanding that a team like Arsenal will never be more profitable than when they are winning.
The Gunners appear to be in good hands.
This article is
What is the duplicate article?
Why is this article offensive?
Where is this article plagiarized from?
Why is this article poorly edited?

Arsenal: Like this team?