MLB Power Rankings: "The Wave" and the 20 Most Annoying Fan Actions at Games
Al Bello/Getty Images

We've all been to games where we have to sit next to "that guy," who is arguably the worst fan ever.
As both a player and a fan, I have had a lot of experience dealing with annoying fans on both sides of the game.
I am also a Phillies fan and Featured Columnist and have seen some of the worst fans in the game (let me take this time to implore you not to judge all Phillies fans based on a select few).
So, with no further ado, I will count down the 20 most annoying actions by fans.
Begin Slideshow

»
It seems like every time I go to a game, there is someone who decides that the seat he/she bought isn't good enough, and they try sneaking into a lower seat.
While there is obvious reasoning behind it, wait until after the game has started, otherwise you are taking someone else's seat.
I have literally gone to games where people are in my seat and the usher moves them back up an entire deck back to their own. Then, the guy comes back down again and again until eventually the usher remembers him and tells the other ones to keep an eye on him.
While this was happening I found it hard to pay attention to the Mets vs. Diamondbacks game that I was at. Sitting in the wrong seat on purpose is just annoying, and it doesn't make you "cool."
While I am all in favor of trying to spend time with kids and teaching them baseball in hopes that they love it too, when you bring a five-year-old right behind the plate and they fall asleep, you both lose.
Seeing very young kids right behind the plate is such a waste because they will not pay attention for more than a few innings no matter how hard you try to keep them interested.
Bringing kids behind the plate essentially steals tickets from fans who would actually watch the game.
If you are going to bring young kids to baseball games, don't sit right behind the plate.
Now, if the player is a legend such as Babe Ruth, then it's OK to wear their jerseys. Otherwise, it makes you look stupid.
I always see a lot of people wearing Pat Burrell jerseys at Phillies games, and I always think to myself: "He's gone and he wasn't even all that good, get over it."
This is not just Phillies fans; I have seen it at every game I have ever gone to, including Yankee games, Giant games, Met games, Diamondback games, Rockie games, Cardinal games, Astro games and more. In these each stadiums, I always see at least a dozen people wearing old jerseys.
If you're going to wear a jersey, make sure the player is still playing!
It seems that there is always someone who is not paying attention to the game and decides to stand up right in the middle of a play, oblivious to everyone else's excitement.
I always feel bad for the person behind the "fan" who stands up at the worst times. I cannot say that I have been behind this "fan," and I am very thankful for that, but my friends have been behind them.
All I have left to say is: Please do not be "that guy," and be aware of the game. Don't stand up during a play.
This has only happened to me a few times, all at Phillie games.
When the Phillies were losing 12-0 in the fifth inning of a game, a few fans in the men's room starting chanting E-A-G-L-E-S. I can't even tell you how annoying it is to hear supposed "fans" of your favorite team chanting about the wrong sport because they have given up on your team.
I would have put this a lot higher on the list, but since it rarely happens, I felt that it could be no higher.
While I love seeing fans put their pride on posters, some of them are just way too big.
This time I can talk from personal experience. When I was at a game in San Francisco, I was seated behind a fan with a poster that was so big I couldn't even see past it.
I repeatedly asked the fan to put down the poster, but they did not, and I missed a good six innings of the game.
This guy just held up his poster as long as he could, and I was ready to stand up and grab the poster out of his hands.
One of the worst parts about the poster is that I didn't even find out what it said, but I wouldn't have liked it no matter what.
This is more of a universal one now.
While some nicknames are good, like the Flyin' Hawaiian (Shane Victorino) or A-Rod (Alex Rodriguez), there are always people who are trying to make up nicknames for the rest of the players, and they usually suck.
Usually the guy will just start shouting the nicknames as loud as he can in hopes that someone else will join in, but they never do.
If the fan has been drinking it's even worse, because the nicknames are even worse but he'll think that they are even better.
I've heard these nicknames in Chicago, Philly, New York and every game I can remember, and I absolutely hate them.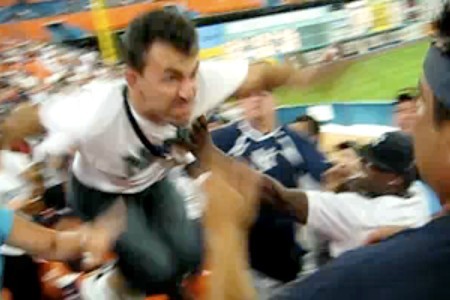 As a fan, a fight can be interesting at time, but as a player it is incredibly annoying.
I've have been pitching in games when fans have gotten into fights in the stands, and I can barely concentrate on what I am going to throw. As a position player the fights usually steal your attention from the game itself, and as a hitter you usually have to step out of the batter's box and have to start your methods over again.
For the sake of the players, keep the fights in the ring.
Cub fans are probably the most well-known for this, but there are some other fans who do it too.
I went to a Cubs-Phillies game in Chicago, although I did not wear too much Phillies apparel), and this happened. Shane Victorino was about to catch a fly ball, which would have pretty much sealed the game for the Phils, when a fan poured his beer all over him. Victorino still made the catch, but the fan was ejected.
Throwing food or drinks onto a player is incredibly annoying, and it won't work. These guys are professional athletes, and these things are not going to affect them as much as a regular person, and the umpire will call interference even if he does miss it. Just don't throw things on/at players.
This one really annoys me, but everyone does it.
When a good player or team comes to town, fans always decide to tell them they suck. As a competitor I know that when I am told that I suck, I usually respond by playing really well, and the professional athletes definitely know how to do this.
If a team is winning its division, or if a player is good enough to have 40,000 people chanting "you suck," they clearly don't.
When you tell players that they suck, you only motivate them. You don't get under their skin, and I wish that more fans would realize this.
A few teams have fans who do this, but there is no reason for it. Some fans feel that if a player has been doing poorly in recent weeks, they have the right to boo him before he bats.
At a Phillies game a few years ago, Pat Burrell came up, and before he even got into the batter's box he was booed. In his first at-bat, Burrell struck out, and got booed even more. His second time, he hit a home run and the fans finally stopped booing him. His third time up, Burrell was not booed, and he struck out, leading to more boos.
I can't stand it when fans only like their players when they are doing well. In my eyes, you should ALWAYS stand by your team and their players.
This one really gets under my skin. Some fans go to baseball games and just decide that every little thing calls for screaming profanities.
C'mon man, there could be children around.
Kids don't need to hear these things, and they certainly don't need to associate baseball with swearing.
There is no need to get so worked up over every out or strike when your team is batting, or every ball called when they are in the field. Some fans really need to clean up the language, and I can't stand it when they don't.
Just about every fan does this, and while there are some excuses, your team losing late is not one of them.
If you pay for a ticket into the game, you might as well stay for the entire game. If you are a real fan, you will want to stay as long as possible to watch your favorite team play the game you love.
During one of the games I went to in Philly, the Phils were losing by five going into the bottom of the eighth and "fans" started to leave. I refused to leave until it was over, however, and I was rewarded.
The Phillies were down by six heading into the ninth inning, and the stands were emptying like crazy. I still stayed for the game, witnessed a seven-run rally and the Phillies won 8-7.
When I see fans leaving early it really bugs me because the game isn't over until the Fat Lady sings, and even if it isn't the tune you wanted, you should still listen to the whole song if you paid for it.
While some people will disagree with me on this one, the wave is quite annoying.
I find this one annoying more because of the fact that some announcers and camera crews will pay more attention to the fans doing the wave more than they will the actual game.
Perhaps my annoyance with the wave stems from me wishing everyone would pay more attention to the game, perhaps not, but either way, it should be on this list. I can say for a fact that I am not the only one who feels this way, and I was surprised how many people say they hate the wave.
Many teams ban devices which interfere with the game, such as laser pointers and air horns. These devices are annoying to both players because they distract them, and fans because they can lead to a halt in the game.
I have not personally been involved in or attended any games in which these devices have been used, but I have watched them on TV and have talked to others who have played in games with them.
Fans always seem to try to find new ways to distract the opposing team, and some bring laser points to point in the players' eyes while they are batting. This leads to poor hitting because of a loss of vision, but they are strictly banned.
Whenever a fan decides to break the rules and try to get away with bringing one of these devices, I become frustrated because they interfere too much for me to enjoy the game.
It's just plain stupid to bring one of these since the punishments are so extensive, and I can't stand it when people do.
This is more of when a fan reaches over a railing to make a catch on a ball in fair territory either in foul ground or right in front of the home run wall. Interference is so aggravating because it shows that the fan is not paying attention, and it leads to changes in what would happen in the game.
I can't stand it when fans interfere because it hurts the legitimacy of the game, and the fan looks like an idiot (deservedly so).
I am personally in favor of moving seat three feet or more behind the walls in new ballparks to cut down on interference, but since that won't happen, fans need to realize what they are doing!
This one is just creepy and awkward.
Spandex suits are becoming increasingly popular in sports, and they are in baseball now too.
Wearing all spandex is both annoying and awkward, and all I can say is: "I'm sorry for the guys sitting next to that lunatic."
I honestly don't even understand why someone would do this.
I don't know if you've ever seen this guy at games, but he decides that he would rather go to the game to call his one friend to tell him what's going on while his other friend tells HIM what's going on.
I went to an ALDS game between the Tigers and Yankees in New York one year, and sat in great seats along the first base line. A guy right in front of me was the fan who calls his buddy the entire time. I had to go an entire playoff game listening to this guy's commentary (which was both awful and wrong), and I missed certain parts of the game.
If you have ever gone to a game with a fan like this, or ever will, you'll know what I'm talking about.
First off, let me say that I understand why people do this, but it's ridiculous.
Over 99 percent of fans are not lucky enough to catch a home run ball in their lifetime, and throwing one back is a slap in the face to those who want it.
When I caught a home run ball from a visiting payer at a Phillies game, I kept it. Just because your favorite player didn't hit the ball doesn't mean that it's worthless.
Remember this guy?
This is the Phillies fan who ran onto the field and held up play for so long that he was tasered.
Running onto the field is stupid and annoying because it stops play and never ends well for the fan.
The worst part is when a fan runs on the field when you are watching the game on TV, because you don't even get to watch the security guards catch the idiot.
Running onto the field is the most annoying thing a fan can do, and it deserves its number one spot on this list.