The 5 Best Flying Armbar Videos on YouTube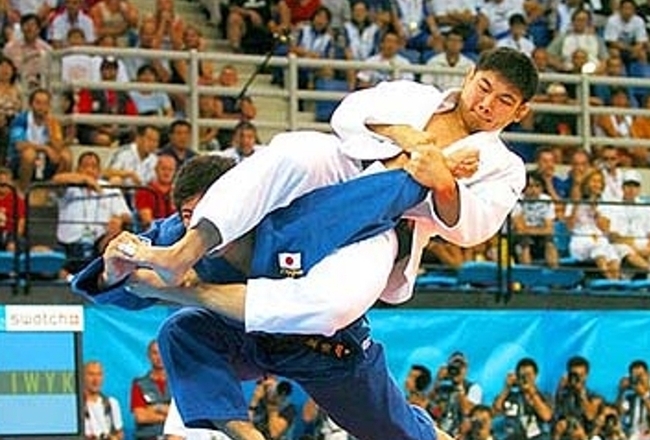 Watching highlights of incredible submissions is one of the most exciting parts of mixed martial arts.
The flying armbar is one of the most challenging submissions to pull off, mostly because it is a high-risk move and expends a tremendous amount of energy. Most professional MMA fighters would be too tired to even try the submission after the first round.
Although MMA rarely sees flying armbars done successfully, there are still some great videos on YouTube of people who have been able to land one.
Enjoy these highlights, because it's not every day you get to see such an exciting compilation as this one.
No. 5. Judo Flying Armbar
Many of the best submission experts in the world specialize in Judo.
During this Judo tournament, the fighter in white swings his left leg around the other fighter's head from the stand-up position, and then throws him to the ground, sealing the armbar.
You've got to be extremely flexible to pull off a move like this, and it hurts me just thinking about it.
No. 4. ADCC Flying Armbar

Submission at 1:25

This fight took place at the ADCC in 2009, where Vinny Magalhaes captured his second flying armbar of the day.
Both fighters looked good during the fight, but Mahalhaes was able to capitalize after he got a good hold on the wrist of the opposing fighter.
Pushing his head down and flinging his right leg over the face of the opponent, Magalhaes was able to finish the fight off in a fantastic way.
No. 3. Michelle Waterson on Extreme Beatdown
Michelle Waterson made quick work against Rosary Califano at Extreme Beatdown 6 last February.
Only 15 seconds into the fight, Califano caught Waterson's leg and pushed her against the cage. Waterson took hold of the arm that was pushing her, wrapped her right leg over the face of Califano, and took her to the ground.
She then locked the armbar in place by wrapping both legs over Califano's face, and it was only a matter of seconds before the referee stopped the fight.
No. 2. WEC Flying Armbar
Coty Wheeler defeated Del Hawkins at 1:57 of the second round during WEC 32 with a nice flying armbar that took extra work to pull off.
Wheeler got Hawkins in the clinch, and jumped onto his back while catching hold of Hawkin's arm. Once the two hit the ground, they struggled for a few seconds, until Wheeler rolled onto his stomach, ending the fight.
This is one of the best true flying armbar videos on YouTube, and is so awesome that I had to watch it 20 times before I could explain it.
No. 1. 5-Second Flying Armbar

Submission at 26 seconds

It's official, Rumina Sato is the winner of the most awesome flying armbar on YouTube.
In his fight against Charles Taylor, Sato was able to explode out of the gates, and get Taylor in the clinch in just a few seconds.
He then flipped his legs over Taylor's head, locking his arm into place while Taylor was still upright, making this highlight even more epic. Taylor collapsed only a second later, giving Sato the victory.
Keep Reading