The 25 Hottest WAGs in MLB History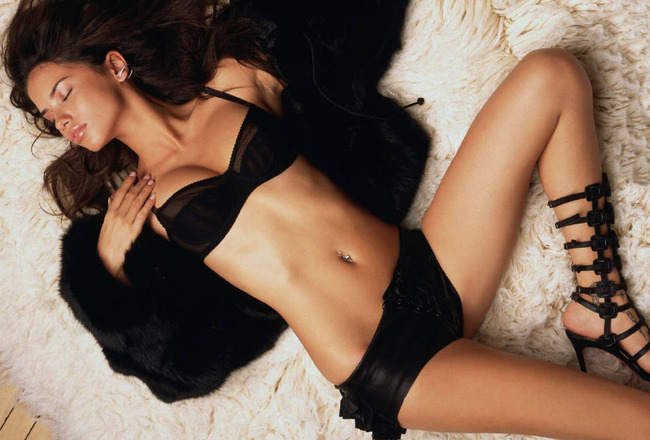 Baseball season is in full swing! Yet, there is still one question we don't know about the game of baseball as it stands today.
No, it has nothing to do about the current MLB standings or anything, but rather, about the hottest WAGs in MLB history.
Sure we all know of the many girlfriends and wives our favorite baseball players have had over the years, but which girls are the hottest?
Are some of today's current baseball girlfriends hotter than the girls of yesterday?
Or are wives the way to turn when talking about representing America's Pastime in the most sexiest way?
Forget bringing a ball and a bat to this game; just bring your best pair of eyes and hold on tight, for you are about to enter a ride through what it is like as a major leaguer.
Here now are the 25 hottest WAGs in MLB history. Enjoy.
25. Jennifer Jones (Brett Cecil)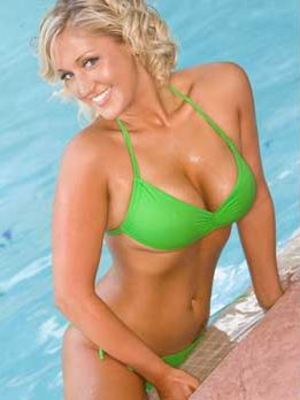 Toronto Blue Jays lefty Brett Cecil had a pretty solid season last year, going 15-7 with a 4.21 ERA. What's even more solid than that you say?
How about his sexy wife Jennifer Jones? Yeah, I'd say Cecil is doing quite well both in the majors and at home.
I wonder what a Blue Jays colored bikini would look like on Jennifer? But seriously, I'm sure nobody is complaining with her choice of bikini in this photo.
24. Julia Schultz (Brett Tomko)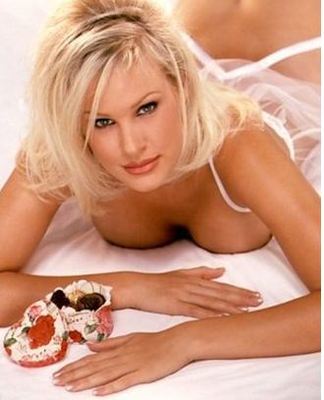 If you don't remember pitcher Brett Tomko, that's because he played no more than three years with a single club in his big league career.
Tomko played on nine teams during his 13-career, making stops in L.A., San Diego, Kansas City, and New York, before going back to California to end his career in Oakland.
I guess in reality he ended up becoming California Dreamin', as went on to marry Playboy Playmate Julia Schultz in 2003.
It was a no-brainer that Tomko would last longer with Schultz than he did with any major league team. He may not be playing any longer, but I'd say he's still winning in life for sure.
23. Stephanie McGwire (Mark McGwire)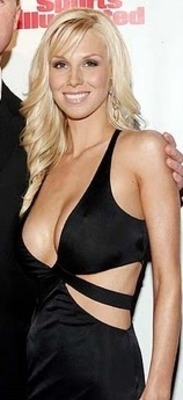 Say all you want about Mark McGwire and his steroid use, the guy has one of the hottest wives in baseball history.
I guess I now know why McGwire didn't say too much at the U.S. Congressional Baseball meetings a few years ago; he must have had his wife Stephanie on his mind too much. But really, do you blame him?
Baseball Hall of Famer or not, he sure has one stunning Hall of Famer as a wife.
22. Jennifer Lopez (Felipe Lopez)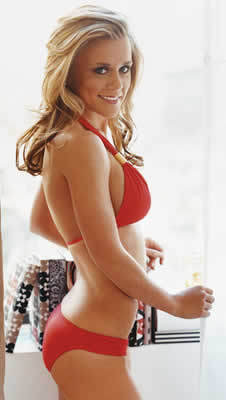 No, I know it's not the real J-Lo, but come on, are you really complaining?
I didn't think so.
Felipe Lopez has not only played for many teams over the last couple years, but has struggled at the plate over the last few seasons. Regardless of what he may be doing in the batters box though, he still will be remembered (at least by me) for his wife, FHM model Jennifer Lopez.
21. Laura Posada (Jorge Posada)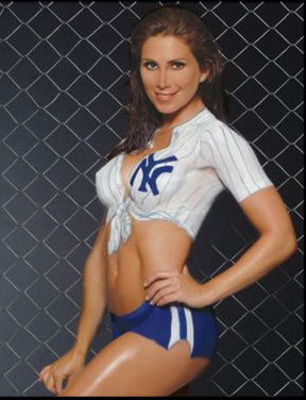 You can say all you want about New York with Alex Rodriguez, Derek Jeter, and Mariano Rivera, but catcher Jorge Posada has been the backbone of the Yankees for 17 straight seasons.
His wife Laura is no doubt one of the hottest WAGs Major League Baseball has ever seen. I'm really diggin' the Yankees body paint, and that New York logo she is sporting. That had to take some skill...and constant staring for hours.
It's no wonder Jorge has bad knees, I mean come on, who wouldn't be falling for a beautiful woman like Laura each day?
20. Jennie Finch (Casey Daigle)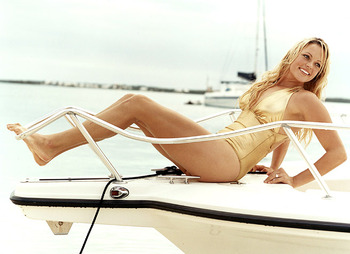 It doesn't matter if she's wearing a dirty softball jersey, some eye black, high socks, or a bikini, Jennie Finch is not only a smokin' hot MLB WAG, but arguably the sexiest female athlete of the past decade.
And she's married to former big league pitcher Casey Daigle, who is best known for...well, nothing. But hey, who needs a successful big league career when your wife is Jennie Finch?
For the record, that boat would be great to cast out some rods and do a little fishin'; but really there is no sense to put lines in the water, especially when the prized catch of your life is already on it.
19. Jamie Kotsay (Mark Kotsay)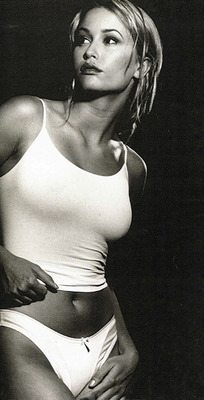 Jamie, Jamie, Jamie. No words can describe the gorgeous body of Jamie Kotsay with so few words.
Her husband Mark Kotsay has recently bounced around some teams of late, as he is nearing the end of his career.
Currently playing for the Milwaukee Brewers, Kotsay hopes he can have one more full season in the sun in 2011.
And since we're on the topic of the Brewers, why don't the Brew Crew try to use more images of Jamie around Miller Park? I mean let's face it, if Milwaukee puts a picture like this one near the slide out in left field, you will have fans lined up to go down the thing just to get a closer view.
Something to think about.
Jamie Kotsay Gettin' Dirty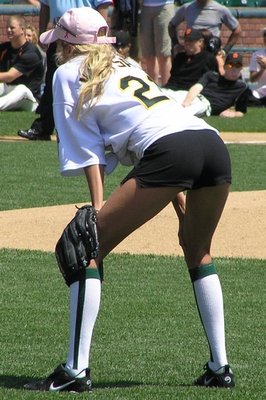 A little better angle of Jamie...from field level!
18. Heidi Hamels (Cole Hamels)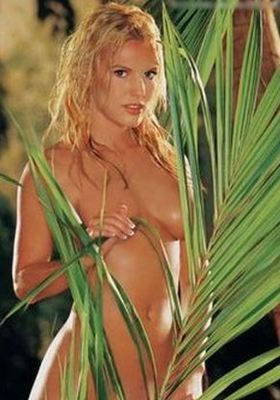 No reason to hide Heidi, you can come on out.
Seriously, as if Cole Hamels didn't already have enough going for him in life. Not only is he a big name in the major leagues today, but also a part of arguably the best starting rotation of the 21st Century, as a member of the Philadelphia Phillies.
And he has a Playboy model and Survivor star as his wife. Go figure.
What I would do to be Cole Hamels for a day, that's all have to say.
17. Rachel Reynolds (David Dellucci)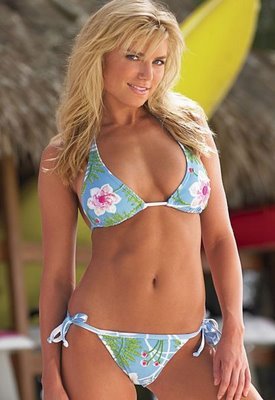 David Dellucci?
You betcha. The former Rangers and Indians outfielder must have out bid all contestants for Price is Right goddess Rachel Reynolds.
There's simply no price you could put on Reynolds, as she is simply priceless when being apart of MLB's hottest WAGs.
I really have to give it up to Dellucci on this one, he landed arguably today's hottest girl on daytime television.
16. Alyssa Milano (Brad Penny, Barry Zito, Carl Pavano)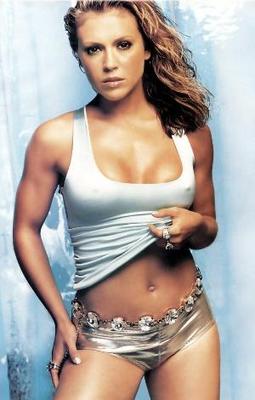 There's no question you know her. Could it be from her always entertaining re-runs of the television show Charmed? Or I know, maybe it could be because she in a sense is Mrs. Baseball supporting her own MLB clothing line, right?
Well no matter what the reason may be, Alyssa Milano has sure had her fair share of baseball players over the years--many of them starting pitchers.
Do you really blame more than one ballplayer for falling for her? I certainly don't.
For the record, you know you only watched her show because of Milano and the rest of the witches were freakin' hot. Or at least that's why I tuned in...sometimes.
15. Diana Roberts (Brian Roberts)
There's simply too much to like about the former Miss FHM 2006, Diana Roberts to not include her on this list.
One thing is for certain, Orioles second baseman Brian Roberts sure got himself one B-E-A-utiful woman. I guess it pays to be a switch-hitter in the major leagues, let alone one of the games best second basemen around today.
Diana may have not cracked the top 10 WAGs on this list, but she definitely has...well I'll let you finish that one.
14. Kate Hudson (Alex Rodriguez)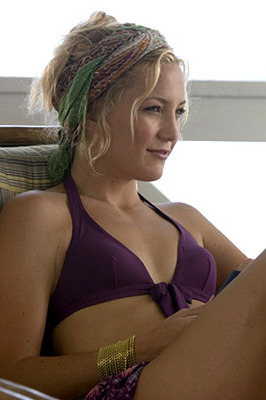 Cameron Diaz who?
Hey I'm sorry, Kate Hudson wins in any fight over Cameron Diaz in my opinion. Yes, Diaz is one of the Charlie's Angles, but honestly, there is just something about Kate Hudson that makes any man smile when looking at her sexy body from head to toe.
It's just too bad A-Rod didn't see that behind his 10-year, $275 million contract. Regardless, Hudson is definitely one of the hottest former MLB WAGs ever.
The Hudson Like You've Never Seen Her Before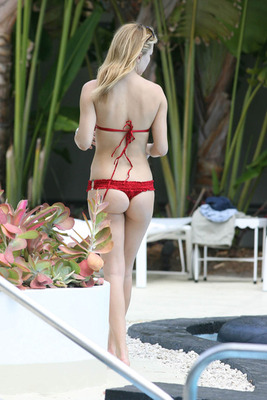 I'm sure some of you never seen this part of the Hudson before. Oh the things I would...nevermind.
13. Anna Benson (Kris Benson)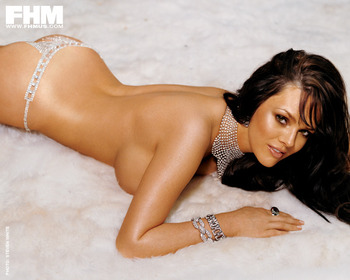 There's no doubt former Orioles pitcher Kris Benson is enjoying the luxury of retirement from the game of baseball this season. Sure he probably misses the overall aspect the game, but I'm sure there are many other reasons why he likes being retired as well.
His sexy wife Anna Benson? Well that's certainly more than one reason to enjoy life at home nowadays.
12. Marikym Hervieux (Russell Martin)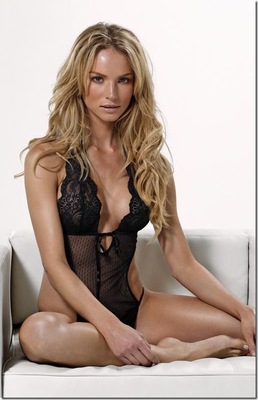 And why is catcher Russell Martin flourishing in his first taste of the American League as a member New York Yankees?
Maybe it's because of his girlfriend Marikym Hervieux. Yes, the sexy and talented model, Marikym Hervieux. Don't worry if you can't pronounce her name just yet, I'm sure you will be seeing her around the Big Apple eventually.
If it was up to me, I'd say she lights up my eyes brighter than Times Square...so how about we get her on one of those big video screens soon?
11. Laura Cover (Aaron Boone)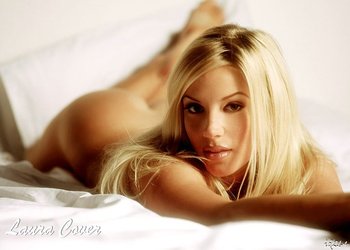 Aaron Boone. For Yankees fans, he was a hero. For Red Sox fans..well you know the story.
Former Playboy's Playmate of the Month back in 1998, Laura Cover was an easy lock on this list of the 25 hottest WAGs in MLB history.
It looks like Aaron beat out his brother Bret in this matchup.
All I know is, how would you like to come home to Laura after hitting a game-winning home run...dear lord!
10. Emily Kushar (Zack Greinke)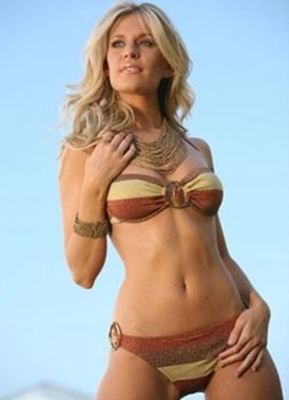 Emily Kuchar: A one time Dallas Cowboy's cheerleader and Miss Dayton Beach 2008. 'Nuff said.
9. Halle Berry (David Justice)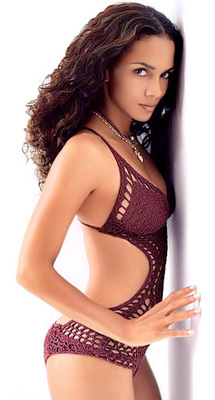 Arguably the hottest woman in America throughout the 1990's, Halle Berry will always be enshrined as a part of baseball history forever, thanks to one former player.
While they have since separated from each other, Berry married former Atlanta Braves outfielder David Justice in 1993. By 1996 though, it was all over for the two.
Regardless of how long ago it was, Halle Berry has still managed to keep her hot physique even into today's 21st Century.
8. Terrie Barr (Hunter Pence)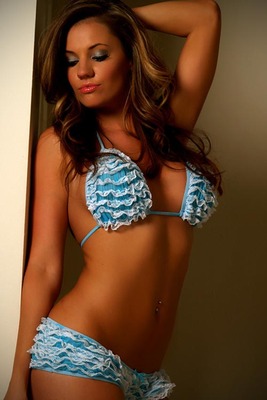 Why Hunter Pence? Why?
These are the questions I'm sure many of you guys out there have for Astros star Hunter Pence, as he is currently dating the absolutely gorgeous model Terrie Barr.
Honestly I knew nothing of Terrie Barr until I found out she was with Houston's outfielder, so for that I want to say thank you Mr. Pence.
On a side note, do you think those ruffles on the bikini are just as soft as they appear? I mean, I could...well let me just stop right there.
Absolute Heat Wave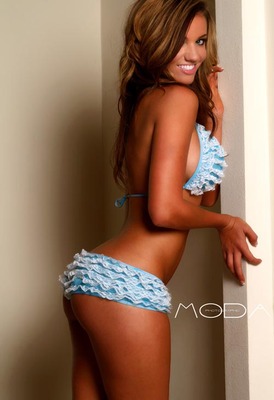 7. Jessica Alba (Derek Jeter)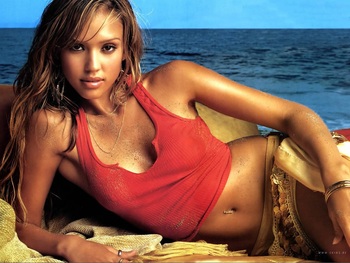 The Dark Angel herself.
Oh yes, none other than the always sexy and sleek actress, Jessica Alba.
Maybe it's just me, but everytime I want to rent a movie and Jessica Alba's name or face appears on the screen, that movie ultimately becomes a must watch for me in a very short period of time.
Unfortunately for the Yankee captain Derek Jeter, Jessica Alba was also a short period of time for New York's shortstop as well, as the two broke apart only after a few months with each other a couple seasons ago.
6. Minka Kelly (Derek Jeter)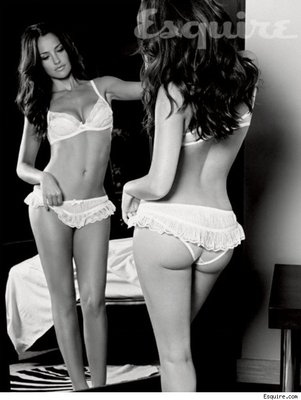 Minka. Her name just rolls off your tongue as easy as butter.
The sexy actress is currently with the one and only Derek Jeter, as things in a sense could get very serious pretty quickly between the two. She certainly could have been ranked a little lower on the list, but she is definitely one of the game's hottest women regardless or where she is listed.
FYI, this is probably the hottest Minka Kelly picture in the history of Mankind. As they say, sometimes things look better in black and white. If your Minka Kelly though, you're simply drop-dead gorgeous no matter what light you're standing in.
5. Rima Fakih (Ricky Romero)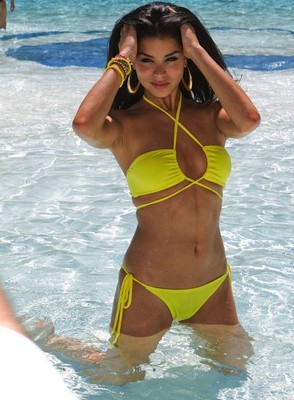 Well, where do I begin?
It became recently known that Miss USA 2010 Rima Fakih is currently dating Toronto Blue Jays lefty Ricky Romero. So how can she jump up so quickly in becoming one of the hottest WAGs in MLB history this soon?
That part is simple: Not only is she currently Miss USA, but she is also competing a wrestler on the hit show WWE Tough Enough.
Oh yeah and one more thing, she wants to fight Minka Kelly...because of me!
Check out that article here: Up Next: Battle of the Baseball Babes
I'll be the first to tell you I had no idea she was a wrestler at the time of my other story, which is why I'm taking in everything into consideration this time around. New girlfriend to Major League Baseball or not, there's simply no doubt Rima has placed herself as one of the hottest MLB WAGs of all-time.
And let's face it, any girl who says they can take anyone down in a match, let alone want to wrestle with Minka Kelly definitely has my attention.
4. Marilyn Monroe (Joe DiMaggio)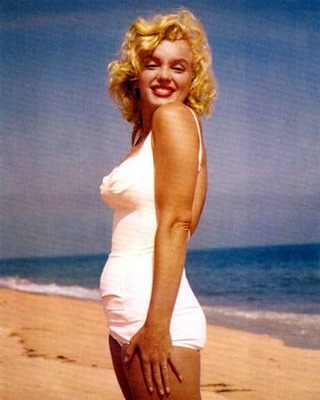 The only woman on this list who simply needs no introduction.
Really, what is there to say about Marilyn Monroe other than she arguably is the hottest WAG in MLB history. Believe me, it was one tough decision not to put her closer to hottest WAG at the end of the story.
It's just a shame her life ended way to soon for all of us, but there's no doubt we all know she's still smiling somewhere.
The Pose That Withstood the Times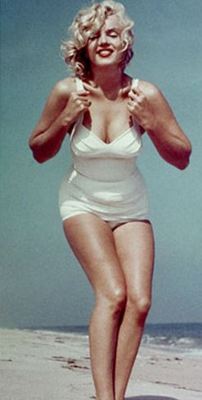 Sure we all know Marilyn Monroe was lucky to have a baseball star like Joe DiMaggio as her husband, but it's really a no-brainer the "Yankee Clipper" was even more lucky to have Monroe as his wife.
See what a 56-game hitting streak can get you in life?
Scarlett Johansson (Derek Jeter)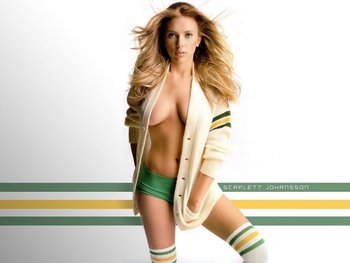 You know her from great appearances on the silver screen over the past decade. And there was simply no doubt in my mind when I put together this list, the always charming and seducing Scarlett Johannson would be a part of it.
Just like many before and after her, Scarlett was also linked with the Yankees Derek Jeter just a few years ago. To save even more possible trouble, can we just give the shortstop a Mrs. November already?
I'm Getting a Little Scarlett Myself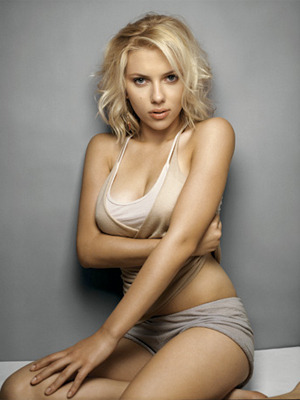 Scarlett in a sense looking like a modern day version of Marilyn Monroe.
May I add that I do favor the modern day over any other time period or era we have witnessed.
2. Adriana Lima (Derek Jeter)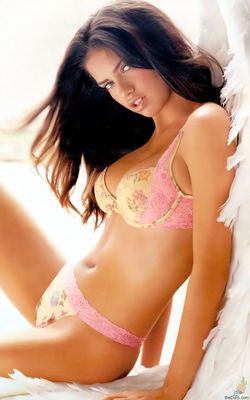 Adriana Lima...yet another former girlfriend of Derek Jeter. But let's face it, Adriana is by far the hottest MLB WAG the Yankees shortstop has had in his 15-year career.
From her stunning body, to her breathtaking eyes, Adriana could very well have been No. 1 on this list.
A Victoria's Secret Angel? More like a real angel if you ask me.
Adriana Lima Getting Ready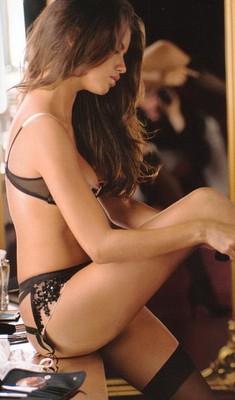 Those legs...
To quote the great singer Eric Clapton: "And I say yes, you look wonderful tonight."
1. Lisa Dergan Podsednik (Scott Podsednik)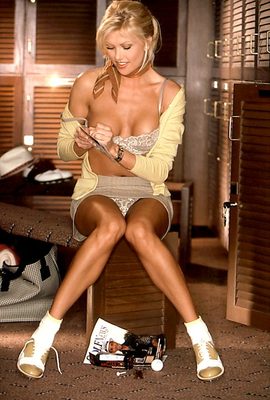 Talk about the definition of sexy who also happens to be a current MLB WAG.
For your hottest WAG in MLB history...it's none other than Scott Podsednik's wife, Lisa Dergan Podsednik.
Honestly, does anyone have a clue what she is even doing in this photo? Signing an autograph? Writing her phone number...to me?
Whatever it is, Lisa is so involved in it that she essentially falling out of her clothes!
The always speed threat Scott Podsednik and his heart-throbbing threat of a wife Lisa. There is simply no other WAG in baseball that could top her.
Lisa Dergan Podsednik at Her Best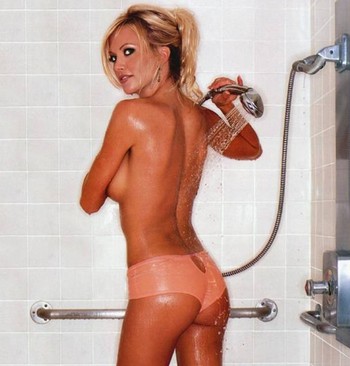 Well my friends, this historic show of the 25 hottest WAGs in MLB history has officially come to an end...NOW hit the showers!
And I mean that in the most friendliest of way possible of course. Hope you all enjoyed a look at what life could essentially be like as a major leaguer.
Keep your eyes out though, for you just may run into hot WAGs at a ballpark near you this summer.
Keep Reading