Gloria James and the Top 20 Assaults in Sports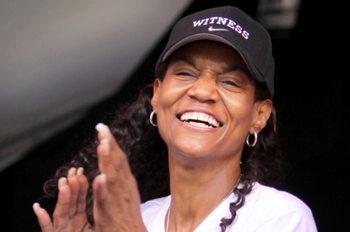 They say patience is a virtue.
Unless you're drunk, in which case, patience can go to hell, and so can its valet parking son.
Does that make sense? Whatever, I'll assault you if you say it doesn't.
LeBron James' mother, Gloria James, recently made headlines when she slapped Sorel Rockefeller, a valet worker, silly after he reportedly took too long to do his job.
Gloria, who allegedly had "alcohol on her breath," was taken into custody, and Sorel is now considering filing a lawsuit.
Usually, these matters aren't something to laugh at, and I'm sure Lebron James doesn't find this all that comical—but I do.
Some assaults are funny, some are sad, some look like they hurt, some miss their mark and some make you want to assault something yourself.
I'll be showing you my top 20 assaults in sports—in no particular order—and I'd like to think I got a little bit of everything into this slideshow. Hopefully, your bloodlust is satisfied.
Let's kick things off with what is easily my favorite moment ever in sports.
Honorable Mention: Rafer Alston Slaps the Evil of out Eddie House
I've used this video before in a past article, and I'll continue to use it until I feel the world appreciates it as much as I do.
It's the first thing I watch in the morning and the last thing I see before going to sleep. Even while making love, I'll think of it and laugh. And she'll leave, but that's OK, because I'm laughing too hard to notice at the time.
And when I'm on my death bed and that proverbial white light fills my vision, I hope to see Rafer Alston slapping Eddie House upside the head as I make my way down the tunnel.
God bless you Rafer Alston. You have completed my life.
Honorable Mention No. 2: Hockey Fight...kind of
This is more the assault that wasn't.
Oh, but if it did go down, well, you don't even want to know.
I wonder how long they would have circled each other if the refs didn't step in and "break up" the fight. And why the penalty? As far as I can tell, they didn't do anything wrong, other than lose the respect of their families and teammates—and maybe even their god.
Growing up, these are the guys who claim they can kick a lot of ass, and for a bit you buy into their tough facade, but then you realize that you've never actually seen them fight.
This is why.
20. Don't Throw Beer at Ron Artest
I don't even know where to begin on this one.
I'll start by saying, I don't believe a player should ever go into the stands and punch a spectator—seems like a no-brainer.
I also don't believe in wasting beer, so you can see why I find this to be so upsetting.
This incident showed us Artest at his most primal. We all knew it was in there somewhere, lying in the cut, waiting for an opportunity—just like his inner rapper. And that too lives in infamy.
It wasn't completely his fault, though. Throwing beer at a crazy like Artest might just result in this, especially after the situation had already seemingly hit its peak.
He's big, strong and fast and could probably rough you up good. I know you feel safe in those seats, but basketball players can jump really high. You know what that means?
Even if you're three rows back, they can still reach you with a running start.
19. Soccer Can Be Physical If You Confuse It with MMA
I grew up playing soccer, and contrary to what many Americans seem to believe, it's a lot more physical than you would think.
That being said, what Elizabeth Lambert did here is completely absurd.
On the field—shoot, even in a basketball pick-up game—you can expect your opponent to give you the business from time to time. An elbow here, a shove there, a trip or two, but damnit, if you blatantly punch me in the back or pull my ponytail, we're going to have a problem.
And no I don't have a ponytail. I'm not Tom Brady for goodness sake, but you get the point.
Can't soccer ever be recognized for something awesome, like this?
18. Rodman Hates Cameramen and Referees, And, I Assume, Himself
I never cared for Dennis Rodman.
The guy just seemed dangerously unstable—kind of like Artest. Or that ugly guy who showed up at a New York bookstore in a wedding dress in a horse-drawn carriage wearing a wig, claiming he wanted to marry himself.
Oh wait, that was Rodman.
He was the original Lady Gaga, the kind of person who would rather be known for doing ridiculously stupid, quirky things solely for the sake of being quirky, rather than for god-given ability.
Now if you'll excuse me, I've got to go rinse the salsa out of my hair and change out of this dress made entirely of used pampers. And to answer your question, yes the pampers are organic.
In the meantime, watch the video of Rodman kicking a cameraman. And here's one of him head butting a referee. It's exactly as it sounds.
17. Andre Johnson Roughs Up Cortland Finnegan
This one, too, is exactly as it sounds.
Cortland Finnegan had been giving Andre Johnson the business all day. And, as Elizabeth Lambert would be wise to take note of, this can lead to getting punched.
I know what I'd be thinking if I were Finnegan: "What's he gonna do? I'm wearing a helmet and pads."
Then Johnson ripped Finnegan's helmet off, and I'm sure he damn near wet his pants.
You don't want to be on the wrong end of an Andre Johnson swing.
Is it weird that what I remember most about this whole thing is Finnegan's 1990's haircut? It kind of looks like what Kobe had going back when he used to dunk on a regular basis.
I'll forever maintain it's all in the hair.
16. Zinedine Zidane Uses His Noggin...
Don't talk about Zidane's sister.
Seriously, not even compliments. OK, I'm not sure about that one, but I wouldn't dare try it. Your head is the most important part of your body. Any man who would risk injury to it just to hurt you isn't messing around.
It was later revealed that Marco Materazzi—the recipient of the head butt—told Zidane that he would "prefer the whore that is [his] sister," which I think would be enough to upset any man.
Unless, of course, he didn't have a sister, in which case dude needs to come up with better burns.
15. ...and so Does This Wrestler
As we witnessed earlier, referees are prone to head butt. But after seeing this one, what Rodman did was tame.
Bob West, the referee in this high school wrestling match, was just trying to defuse a potential altercation between two wrestlers when one of them head butted him, knocking him out cold.
And, as the video states, he even "stopped breathing for 10 seconds."
Now that's one hell of a head butt.
The wrestler was actually charged for assault in this one and sentenced to 30 days in jail. Nothing funny about that.
14. Tyler Brayton vs. Jerramy Stevens' Special Place
If you're a man, this is an assault of the highest caliber.
As a last resort, and I mean only as a last resort, should you ever punch, kick, knee or...head butt, a man in his money maker.
But that's exactly what Tyler Brayton did to Jerramy Stevens. Knee, that is.
This has to be a party foul or a breaking of the man code or, I don't know, something. Shouldn't he be chugging till his ass implodes into a black hole? I know that's what we did in college. It's why I have no lower body, and half of the universe is missing.
Not that Stevens is a cool guy or anything, but there's no place for this in a football game.
Now let's get real. That looked like a pretty vicious knee to me. It certainly was enough for his body to recoil, and I don't think that was acting.
Why didn't he go down? I can't imagine a cup offers this much protection...
13. Miami vs. Florida International
This was one hell of a fight.
As was alluded to in the Andre Johnson slide, fighting in football seems pointless. Everybody is wearing a helmet and pads. What kind of damage do you think you can inflict?
Well, Anthony Reddick, sophomore safety from FIU, found a way. At 0:48 seconds in, you can see him charge in using his helmet as some kind of hammer. Apparently, he felt one of the Florida International player's heads was sticking out too far and was a health hazard.
When all was said and done, FIU suspended 16 players and UM suspended 13.
Oh, and I'm pretty sure I saw current New England Patriots safety Brandon Meriweather stomping some guys poor head in there somewhere.
Speaking of Meriweather...
12. Brandon Meriweather Mistakes Head for Football
I consider this assault.
What are you going to argue? He was going for the ball?
Just look at No. 55 Brandon Spikes. He puts his hands up in the air, as if to say: "Why would you do that?" Looking back, perhaps the footage from the FIU fight should have been a red flag.
Look, I appreciate New England. I really do. I defend them any chance I get because I think Belichick is a genius and Brady, aside from Montana, is the greatest quarterback to ever play the game.
But come on, man. This was dirty, dirty.
If I was Todd Heap, as soon as I recovered—assuming I was still all there, of course—I would come for Meriweather, and I'd want some cocktail...fruit!
11. Baseball Brawl No. 1,892
What we have here is a game between the Class-A West Michigan White Caps versus The Lansing Lugnuts. And what a barn burner it was.
Put it this way: I can't think of a single context in which "brutal roundhouses find their mark" doesn't make me stop whatever I'm doing—whatever I'm doing—and watch.
You better hope I'm not defusing a bomb or delivering a baby—two things I commonly do.
This was a classic case of retaliation, which is common in baseball, and it resulted in a huge fight—also common in baseball.
One guy got punched in the face so hard that it...fractured his ankle. Yeah, figure that one out; I know I'm still trying to.
10. Tyson vs. Lewis vs. Sanity vs. a White Reporter?
And what would this list be without Mike Tyson?
He has since seemed to return to normalcy, if indeed he was ever normal to begin with, but there was a time where "profanity-laced tirades," as CNN reporter Laura Okmin would say, were just a part of the Tyson package—which, by the way, he was grabbing.
Tyson easily was one of the angriest human beings to ever walk the face of this earth; just listen to all of the wonderful things he said to the reporters (one in particular) during the press conference.
He would later be knocked out in the eighth round versus Lewis, and boxing has continued to spiral downward ever since.
Good thing he never made good on his threat to eat children. As far as we know...
9. Shaq Diesel vs. Brad Miller
This one hardly seems fair. Shaq vs. Anyone usually doesn't, though. But especially Brad Miller!
It's hard to see what exactly set this one off, but as far as I can tell, Shaq just loses his mind for minute. He throws a haymaker towards Miller that misses its mark, which is good because it probably would have left him in a coma.
Shaq can be a bit like a grizzly bear, which is kind of scary. One minute you're staring at it and you get that, "ah, it's so pretty" feeling. Then it comes out with Shaq Fu and your life's never the same. Plus, they're both ugly as hell, and Shaq Fu was actually kind of a cool game, so...
I honestly don't know what I was shooting for there.
By the way, did you recognize No. 15 on the Bulls? That's right, it's Ron Artest! Where he goes, violence isn't far behind.
8. Tennis Match Altercation: Pretty Boy vs. Lady and Grandpa
It's going down at the 2010 U.S. Open. I don't know about you guys, but when I think of tennis, I think of f-bombs, beer and grandpas getting shoved.
From what I gather, the woman is none too happy because super-cool pretty boy won't shut up during the tennis match. They exchange noises for a bit, then the woman's father slowly makes his way over and appears to want to strangle Pretty Boy.
The old man was no match, but he took Pretty Boy down into hell with him, otherwise known as the chairs in front of them.
Oh, and then security decided they were getting paid for a reason and separated everyone. Like I implied, it's tennis—you don't expect these things to happen.
Now let's forget about this whole thing and listen to Maria Sharapova make whatever the hell you want to call that noise she makes.
7. Phillies Fan Acts a Fool, Runs onto Field
I'll just say it. I have no sympathy for this man.
Let's get something straight about what happened here:
1. Nobody forced him to run onto the field and act a fool.
2. Once you cross that physical boundary that divides fan from field, anything that happens to you is fair game.
3. Tazing, tackles, clotheslines, etc. All constitute fair game.
The very fact that this was controversial disturbs me. He's like the robber who breaks into your house, tries to steal your TV, drinks all your beer, trips, then sues you.
He should never have been in the house to begin with!
There's a lesson here. If you don't want to be tazed then don't run onto the field, disturbing the professionals that are trying to do their job.
If someone ran through my living room right now and interrupted my writing this article, I might just have to punch them. Believe me, I'd rather taze them, but I don't own a tazer.
My doctor says I'm allowed one rant a year. This wasn't it. I'm saving that for if my Cowboys suck this coming season, especially since I expect them to be in the Super Bowl.
6. Junior Seau Gets Tackled by a Fan
This one's just odd.
Let's put ourselves in Junior Seau's shoes for a minute. You're wearing your Patriots jersey, mad chillin' with your single, curly hair hanging over your forehead, probably thinking about surfing and how much you hate driving when a crazy man wearing street clothes runs up and tackles you for no discernible reason.
For no discernible reason.
What would you do? Would you wish him a merry Christmas? Because that's what Seau did. A strange response to a strange act if you ask me.
As for the attacker, it was 31-year-old Todd Kobus, an Iraq war veteran. And that's about all that's known. Now let's look at girls jumping on trampolines.
5. Harvard and Yale Are at It Again
As I've shown you in a previous article, Harvard and Yale are some wicked smart pranksters.
That's exactly why no one expected a Yale student to go caveman and steal a flag from the Harvard cheerleaders. It was so simple that it was brilliant. That was until they tackled him and took it back.
Also unexpected.
This is exactly why one should think out the details of one's plans. You might just get embarrassed. Sometimes the cheerleaders fight back.
I cannot stress this enough.
4. Don't Kiss Your Opponent on the Lips Before a Fight
You know how sometimes before a fight two boxers get in each others faces and it looks like they're going to kiss but we don't have to worry about that because that would be the last thing in the world that would happen. But what if one of them actually does kiss the other and he gets knocked out?
That's exactly what happens here. And I mean exactly.
Yoshihiro Nakao, for reasons I can't comprehend, kissed Heath Herring on the lips during the pre-fight staredown during MMA's K-1 Dynamite 2005 show, resulting in him knocking Nakao out on the spot.
Or, as Herring eloquently explains to the officials: "He kissed me on the lips like a homosexual—I'm not gay." I laugh. What does that statement imply? That he would have been cool with it if he was?
I guess you're not really thinking things through after just being kissed seconds before you're expected to punch and kick someone.
3. Uzzy's Not Dancing No More
This video has become quite popular as of late, and for good reason.
Uzzy's dancing moves are second to none. Go right on ahead, take a minute to watch the video. Those giant shorts are wearing a human being, and his name is Uzzy, and from what I can tell he's sort of a boxer.
Wearing boxing gloves makes you a boxer, doesn't it? Just like wearing Troy Aikman's jersey makes me a three-time Super Bowl winning quarterback.
As if I had to tell you, Uzzy didn't win the fight. What tipped you off? Was it the dancing or his malnourished figure? Maybe he should have learned a lesson from LeBron James and realized that dancing and generally pissing your opponent off doesn't equal victory.
2. Max Pacioretty Gets Face Run into Pole
There's no denying that this looked like it hurt, and considering that Canadiens' Max Pacioretty left the ice with a severe concussion and a cracked vertebra, I'm betting that it did.
In hockey, running into things, mostly fists, is normal. That's why it was strange that this hit—delivered by Boston's Zdeno Chara—was actually under investigation by police.
However, nothing ever came from it. Good thing, I think. In a sport where you're allowed to punch each other in the face, it's hard for me to see how this is any different.
Sure, his head was run into a pole, and it may or may not have made an unusual noise, but that's no reason to get the cops involved.
1. Soccer Official vs. Everyone
First, a question: How many jump kicks does it take to bring down a referee?
At least more than nine, because that's how many I counted in this video. You could argue that the referee is easily the least fit person on the field, yet not a single player can connect their foot to his face.
How is that possible? Are they angry or what? I'll tell you something about a jump kick—you have to commit. You can't just willy-nilly jump and fling your leg out; that's no good. You either want it or you don't.
They didn't want it.
And thus, we're left with a video of a referee running for his life. For the life of me, I'll never know why anybody would want to officiate a soccer game anywhere outside of America. It's not just that the players are crazy—the fans are too!
I don't know about you guys, but if I'm at work and someone tries to jump kick me, I'm re-evaluating my life. Is there a more sure sign that you need a career change?
Keep Reading